Lakshmi Manchu on W/O Ram, upcoming projects: 'People haven't seen range of roles I can do'
Seven years after she made her debut in Telugu cinema, Lakshmi Manchu wears many hats today — actor, producer, TV host, philanthropist, among other things.
Seven years after she made her debut in Telugu cinema, Lakshmi Manchu wears many hats today — actor, producer, TV host, philanthropist, among other things. While most of her acting roles have been serious, it's a whole different story when you get to know her off-screen. She's a live wire; a businesswomen with a sharp acumen to spot talent and tell stories. It's little wonder that her ongoing TV show, Memu Saitham, has attracted some of the biggest names in Telugu film industry. And then, there are her upcoming projects — W/O Ram, a suspense thriller where Lakshmi plays a hapless woman seeking justice for her husband; Kaatrin Mozhi, the Tamil remake of Tumhari Sulu where she will be reprising Neha Dhupia's role; and a web-series which will be aired soon. It's a lot to handle, but, by her own admission, she needs the adrenaline rush to keep her going.
Although she has done a handful of films in Telugu, some of which she also produced, the actress is yet to taste a big hit. "It's important to have some big hits to your credit because that'll expand your horizons. So far, I have done a lot of serious roles and people haven't really seen the entire gamut of roles that I can do. Maybe a blockbuster will change all that," Lakshmi confesses.
Her debut film in Telugu, Anaganaga O Dheerudu, was a fairy-tale in which she played a sorceress. She followed it up with films like Mani Ratnam's Kadal, Gundello Godari, Chandamama Kathalu, Dongaata among others. "I have pretty much done serious roles throughout my career. I don't go specifically looking for them. A lot of times, it depends on the director's vision. In hindsight, I don't know how Prakash Kovelamudi envisioned me as a sorceress in Anaganaga O Dheerudu," she laughs, adding, "Now, I'm at a stage in my career where I am done doing serious roles and proving that I am a good actor. I want to just have fun."
Not surprisingly, she's thrilled about returning to Tamil cinema with Kaatrin Mozhi and is all praise for the film's lead star, Jyothika. "I think I have put on a lot of weight because of all the love from the team (laughs). On a serious note, I'm excited that I can be myself in the film and bring that joy and excitement to the character I'm playing. I've become a huge fan of Jyothika now. The way she transforms when she's facing the camera is nothing short of magic."
Ironically, her upcoming Telugu film W/O Ram, directed by Vijay Yelakanti, too is a serious drama. "As much as I want to find more joy in my work and do fun roles, I just couldn't say no to W/O Ram. It was too right and a timely film, especially in the wake of the #MeToo movement. I was supposed to do another film for the same production house; however, after a point, they felt that I should take up this film instead. Despite my initial reluctance, I was totally sucked into the drama when Vijay started narrating the story of W/O Ram," she says. Manchu plays Deeksha who runs from pillar to post to find the culprits behind her husband's murder. "It's a very dark film and it required a lot of effort from my end to find Deeksha and get through the pain."
Lakshmi has also co-produced the film and avers that working with a debutant director is as much an additional responsibility as it is about giving a platform for new talent. "When I was in the US, I had to prove myself to get even small roles. Getting an opportunity was like a blessing. Now, I'm on the other side of the table and I'm in a position where I can do something good. It's always wonderful when you work with new talents because the collaborative process pushes you to do something more every time. Every member in the team is involved in multiple tasks and when they go out, they are better equipped to handle a lot of things with ease," she adds.
Ask her about the relevance of #MeToo movement in context of the film, she ducks the question; however, she throws light on why it's necessary to be vocal about sexual harassment, family issues among other things. "There isn't a single woman who hasn't been violated, embarrassed, assaulted in some form or the other in the course of her life. It's vital to speak up about all this to spread awareness and bring a change in the society. It's necessary to change our mindset first. And when you are a celebrity with a good reach on social media, it's all the more necessary to communicate about such issues with a large number of people. I was among the first few in Telugu film industry who spoke about the #MeToo movement when it began in the US. Almost everyday, I meet scores of people who thank me for being who I'm because I give them a voice. And when that happens, you know that you are doing something right," Lakshmi explains.
Elucidating further about empowering women who come from different strata of the society, Lakshmi says that change begins from home. "I've a lot of people working at my home and each one of them has a story to tell. A lot of them aren't from happy families and they aren't well educated either. As a result, they are stuck with the choices they make and don't believe that life will be any better. But that's not true. It's my duty to push them to aim higher and do better in their lives. You have to be able to show them that they are quite capable of dreaming bigger and feeling that they are worth it," she adds.
Beyond films, it's her stint as a host of Memu Saitham that has been her most gratifying experience in recent years. "In an hour's time, we are able to change people's lives. Isn't that amazing? I'm not there to just give them money. I also make sure that the all the funds that we raise are being used the right way. A show like this can consume all your energy, but it's surreal when you see how people come forward to help others. The stories that I've heard through the show have filled me with a lot of sadness, but at the end of the day, I'm filled with hope that things will get better. We don't mingle much with people who are from different backgrounds. But Memu Saitham and my other initiative (Teach for Change) have given me that opportunity to look beyond my social circle. I can't explain the satisfaction I get when I see people smiling because of something that I have done," Lakshmi signs off.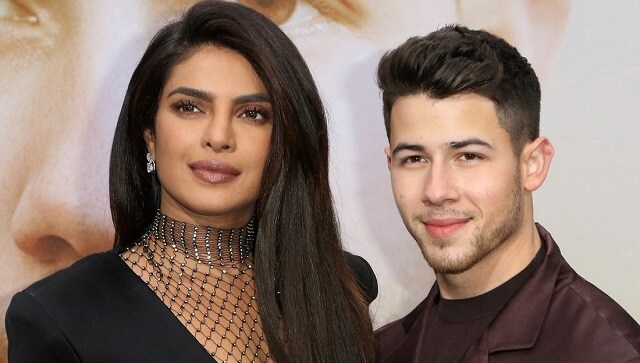 Entertainment
Netflix's new special The Jonas Brothers Family Roast saw Priyanka Chopra taking an aim at Nick Jonas.
Sports
WTA Tour chairman Steve Simon on Wednesday announced the "immediate suspension" of all its tournaments in China, including Hong Kong over concerns about the safety of female player Peng Shuai, who accused a top Communist Party official of sexual assault.
Sports
The episode shows that when presented with a potential pivotal #MeToo moment, Beijing is prepared to violate its own legal principles and respond with a state-media controlled operation aimed to chill any challenge to CCP authority