Koffee with Karan: Why Sara Ali Khan had a better debut than Janhvi Kapoor on the celebrity chat show
While Sara Ali Khan was brave enough to address her battle with PCOD on Koffee with Karan, Janhvi Kapoor failed to save a flippant conversation with real emotion.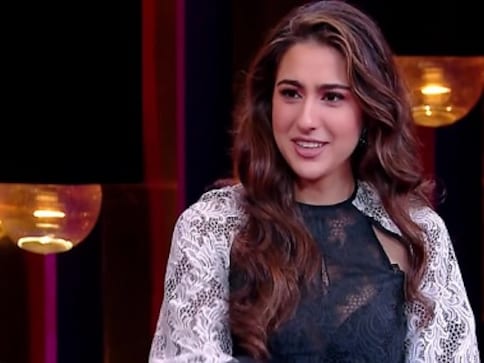 Koffee With Karan has held out the promise of interesting moments with two much hyped new actors, Sara Ali Khan and Janhvi Kapoor, making appearances. What one takes back after viewing Sara and Janhvi, is that despite having led similar lives in many ways,  both could not have been more different.
Both Sara and Jahvi have parents that make a living from the movies. Both have grown up steeped in luxury, in expensive, sheltered childhoods of posh schools. Sara has gone on to earn her stripes as a student at the prestigious Columbia University. Both are working in films that have Karan Johar involved, as a co-producer. Janhvi is a part of his talent pool. The differences in both though stand out in stark relief.
Sara comes across as confident and learned, beyond anything else. Not coiffured to perfection, dressed smart and carrying herself well during embarrassing video replays of childhood over acting, Sara's reactions to Johar's tricky questions were refreshingly genuine. What one cannot positively have failed to notice though is the air of formality that this young actor sported in the company of her father Saif Ali Khan. Saif always seems a little uncomfortable when speaking about his personal life to anyone. With Sara, he almost seemed out of sorts. At the same time, going to lengths to explain how positive and comfortable their family is with each other, Saif and Sara did reflect a new age family dynamic - one where non-interference and mutual respect have a role to play. Saif's straight-faced remarks on her prospective boyfriends ("Got money? Take her!") might feel off tune for most dads, but it is typical of him. He can be funny while looking completely serious.
Sara hit the ball out of the park when she stated that she suffers from PCOD (Poly Cystic Ovarian Disorder), a health issue common among teenagers and young women. Not once did she hesitate or seem uncomfortable in mentioning this, setting her apart in a crowded film industry where PR-polished pseudo speak often suffocates any interview or real interaction. If this Khan kid continues to tackle issues like a delayed debut and tricky questioning in this vein, then her tone is set right; for genuineness is a rare asset amongst celebrities these days.
Janhvi, to put it politely, bedecked and lacey, embodied everything one dislikes about the young and privileged. Vacuous and giggly at inappropriate points in her conversation with her brother Arjun Kapoor and mentor Karan, Janhvi's responses came across as limited. When it came to reacting to the immense loss that she has felt when her mother, the legendary Sridevi, passed away, Arjun did much of the heavy lifting. She barely reacted beyond maintaining a doe-eyed silence with perfectly mascaraed lashes demurely cast down towards the set floor. Was that a conscious choice by her now protective elder brother Arjun? It definitely was not the smart one, for letting in a bit of real emotion enter this flippant conversation would have lent it much needed authenticity.
Perhaps the rationale behind letting Janhvi speak less was also because of her visible ineptitude with talking. Questions around her relationship with Ishaan Khatter drew typical girly reactions of almost shrill denials. A weird but funny conversation about her habit of stealing fish from a five star hotel aquarium to get a kick of out it reiterated a consistent deflection of reality. There is a section amongst film folks (and the very wealthy in Mumbai)  whose children and families live lives that rotate between high priced eateries, gyms, spas, parlors, shopping joints and coffee shops. Their view of real life, and the world as it is, does not go beyond dark tinted glass that covers their SUV windows and sunglasses. Janhvi personifies one that has grown up and lives in this protected, reel tinted worldview. Her statements - "I don't know what hooking up means and then, I don't know what dating means" - were simply put, strange. Playing sweet and innocent reads as dumb in the 21st century, especially when social media tells one everything these days.
At one point in the show, she replied to the rapid fire question on nepotism, with, "RIP hopefully."For her sake, she must not hope for that. Nepotism might have been crucial in making her an actor in the scenario today, where talent speaks volumes, family connections not so much. Still she got a Dharma Productions debut, didn't she?
It would not be fair to declare either young actor as superior from just a chat show. But there is only so much physical perfection (a marble statue-like nose, perfectly filed lips) that works to a debutante's advantage. Spunk comes in spades with Saif's daughter. Karan, the immaculate host and conversationalist, would do so much better in media training his new find, Janhvi. Lending even one-tenth of his eloquence to this lady will hopefully dilute the giggles and breathy banal remarks. Manufactured beauty and stardom aside, digital exposure has minimised the potential of leading fake lives for celebrities too. Sounding genuine and believable will go a long way in determining one's fan base in the times today.
All images from YouTube.
also read
Entertainment
Hollywood veteran Harrison Ford has revealed that the upcoming film "Indiana Jones and the Dial of Destiny" will mark his last gig as the titular bullwhip-wielding adventurer
Entertainment
According to an announcement on his website www.georgewinston.com, confirmed by a spokesman, Winston died Sunday after a 10-year battle with cancer