Koffee with Karan: Shahid Kapoor reveals he has no social life post-marriage; Ishaan Khatter calls nepotism a 'menace'
After Arjun Kapoor-Janhvi Kapoor and Sonam Kapoor-Rhea and Harshvardhan, Koffee with Karan this season has had a number of celebrity siblings share the coveted couch. In the latest episode, Dhadak star Ishaan Khatter accompanied his elder brother Shahid Kapoor on Karan Johar's chat show.
While Shahid has appeared in all the five previous instalments of the show, Ishaan will be marking his debut on Koffee with Karan.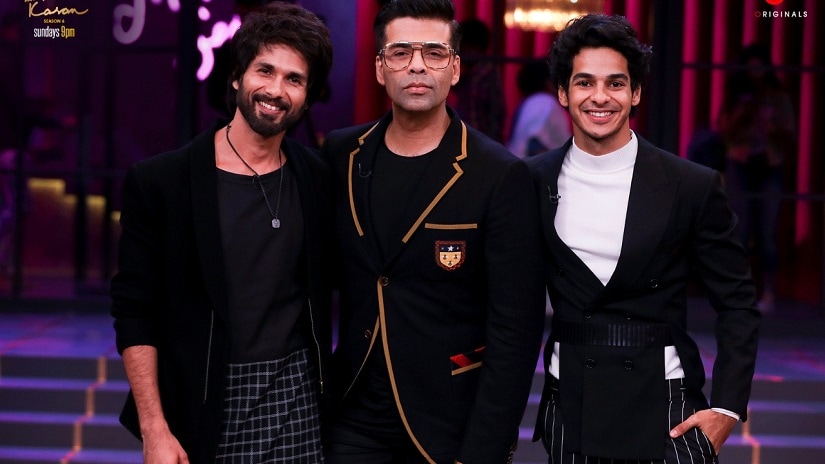 As usual, the host discussed their family lives and their relationships, beginning with how despite their parents' separation and remarriages, they have still managed to stay united. Shahid said it was because he had had pestered his mother for a younger brother. He revealed that he begged for at least two or three years till she finally gave in.
Shahid, who played Rajput prince Maharawal Ratan Singh in last year's Rs 200 crore blockbuster Padmaavat, was also asked about his dynamic with other members of the film fraternity. He admitted that his social life was only limited to his family members, especially after marriage. "My relationship status with most of the industry is zilch. Ever since I got married, I have literally not had a social life. I don't know if that's a good thing, I probably think it's a really bad thing. I have been recluse anyway and now I am so into my kids that every time I finish shooting, I am only with them."
Karan also asked the Haider actor about his former girlfriends. Shahid said that he had bumped into Kareena Kapoor and had wished Priyanka Chopra on her marriage to Nick Jonas.
The host also quizzed Ishaan whether he was romantically involved with his Dhadak co-star Janhvi, which she had denied in an earlier episode. Shahid jumped to his brother's rescue and echoed Arjun, who had said that Ishaan and Janhvi were always around each other. He said that his younger brother "buzzes around a lot of people" starting with their mother, then him and now Janhvi.
In the rapid fire round, which was won by Shahid, Karan asked him which ex's memory he would delete. But the actor said that those memories made him who he is and would not like to erase them. He also said that he preferred Saif Ali Khan as his co-actor. When asked to give marriage advice to Ranveer Singh and Deepika Padukone, he said that the former should have love for her as much as Ratan Singh did for his queen. And for Nick Jonas he said, "Never back down, you are with the original Desi Girl."
On the other hand, Ishaan said he thought Badhaai Ho was an overrated film; Deepika was his celebrity crush. For dating advice, he said he would approach his big brother, but for career related dilemma, he would go to Ranbir Kapoor. He said that nepotism was a true Bollywood stereotype and called it a "menace."
Koffee with Karan season 6 airs every Sunday on Star World at 9 pm.
Updated Date: Jan 14, 2019 10:12:26 IST