Koffee with Karan 6 episode 1: Deepika, Alia shed inhibitions, navigate show's obsession with gossip, relationships
Koffee with Karan kicked off a new season, with Karan Johar dressed in a satin tux and two leading ladies, Deepika Padukone and Alia Bhatt
There's only so much attention that one can give to a house party. But in the universe of Bollywood's stars and Karan Johar, house parties are considered unimaginably significant. Koffee with Karan kicked off a new season, with Johar dressed in a rosey, satin tux and two giggling beautiful leading ladies, Deepika Padukone and Alia Bhatt. While the show entertained in parts, it also revealed just how over exposed movie stars are.
First up, are the good bits. Karan Johar opens the episode with two heroines as an acknowledgement to a year that has so far belonged to the ladies. 2018 has had films top lined by women doing good business and winning audiences over, thereby bending age-old norms of Hindi cinema. Johar himself remains as entertaining as ever, effortless in his chat show hosting skills and natural effervescence. But the conversation rarely focused on what these women do, everyday or otherwise, to achieve success. Keeping with the show's character, gossip and personal lives became the point of attention.
The season's opening episode keeps teasing Deepika and Ranveer Singh's wedding (which was confirmed by the actors on 21 October), without giving out an exact date or confirmation. True to her nature, Deepika neither confirms nor denies but does call Ranveer family in the middle of a gaming segment. Alia Bhatt and Ranbir Kapoor are apprently together, and Alia's regular referencing of her beau, subconscious and direct, is quite a refreshing revelation; she is indeed, in love. Beyond that, there aren't big reveals. These days, celebrities systematically share juicy details on social media which leaves Karan Johar and the show's producers with little arsenal.
At one point during their banter, Karan Johar touches upon interesting aspects of both Alia and Deepika. His protégé, Alia, comes across as a secure person, one who doesn't pre-judge her contemporaries. Success rests easy on this very talented, focused, young actor's shoulders. Deepika's warmth towards Alia and admitted fondness for Alia's sister Shaheen, who has also dealt with depression, gives us a glimpse of the humane side of the poised star. Left out of the pressures of their day jobs, these young women can take off for a Coldplay concert impromptu and have a good time. It's when Johar tries to constantly steer the conversation back towards the fact that both dated Ranbir Kapoor that the episode begins to feel tired. The referencing begins with a house party, or shall we say, the mother of all house parties. A picture that Johar had shared on social media featured Ranbir Kapoor, Alia Bhatt, Karan Johar, Shah Rukh Khan, Aamir Khan, Deepika Padukone and Ranveer Singh huddled on a rather sturdy couch together. This was an unplanned get together at RK's house where everyone just had a good time. Johar witnessed love, respect and warmth that all shared, and in fact, recalled a moment where Ranbir and Ranveer Singh shared a happy, intense conversation about each other's movies and performances. The line from his film Kabhie Khushi Kabhie Gham couldn't help but reverberate through my mind- it's all about loving your family. Both his guests insisted that nothing between them was awkward. Why then reference back to their relationships and personal equations in nearly every segment?
Perhaps this focus on personal lives is because of the unending chatter around the private lives of Deepika and Alia, which is bound to draw eyeballs. In fact, Karan's move of sharing their social media feeds, particularly their Instagram photos, where they express mutual affection for their respective beaus, was a smart strategy. It has always boggled my mind (and I am sure, yours too), as to why a celebrity would feel the need to tease and court their partner on social media, when they could just express it in person? But then this is the age of everyday voyeurism. Now, even though every detail of every star's life is shared on a daily on a daily basis, relationship sagas and the power equations among them hardly drive fans crazy.
Having said that, there are three gaming and sporting segments in the hour long telecast, each featuring a new game. During these portions one gets a glimpse of the candid, fun-loving side of both these stars. Alia's confused expressions are both funny and cute, and Deepika's loud, happy laughter reveals a softer side. In all, Johar has managed to pull out a smart, millennial-friendly first episode of his latest season, although the content feels a bit 'been there, done that'.
A big positive of this episode is the candour and relaxed approach of both the actresses. Each time one watches a movie star or celebrity on an American or British talk show, one is impressed with just how chilled out they are. Deepika and Alia definitely shed inhibitions on this show. Perhaps, here's a start to more engaging, intelligent talk shows featuring Bollywood stars. Otherwise, there's just so much of them everywhere that a chat show around their personas and personal lives might feel like an overdose.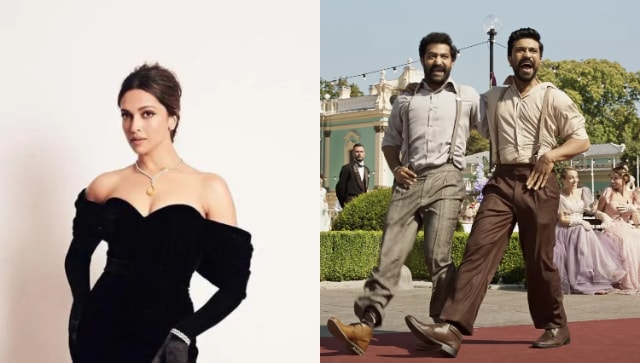 Entertainment
Deepika Padukone made her debut at this year's Oscars where she presented the Naatu Naatu song. 
Entertainment
The hashtag #BoycottBollywood raised its head right before Pathaan, the first major release of 2023, with a controversy over its song Besharam Rang.
Entertainment
Taking to her Twitter handle, the Queen actress shared a clip from Deepika's Oscar speech, praising her for carrying the entire country's image and reputation "so graciously and confidently."