Kannada film industry split over Sruthi Hariharan-Arjun Sarja sexual misconduct row; actress claims she's being threatened
After the Karnataka Film Chambers of Commerce (KFCC), met both the actors to understand the issue on Thursday evening, Arjun Sarja filed a Rs 5 crore defamation case against Sruthi Hariharan.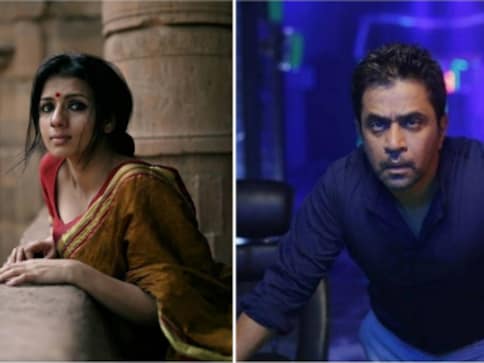 The #metoo row between Kannada actor Arjun Sarja and award-winning actress Sruthi Hariharan has been given a Hindutva angle as Sarja's team has filed a complaint with Bengaluru police on Thursday alleging that the claims made against him (of inappropriate behavior) is "motivated."
After the Karnataka Film Chambers of Commerce (KFCC), the apex body of the Karnataka film industry, met both the actors to understand the issue on Thursday evening, Sarja filed a Rs 5 crore defamation case against Sruthi, who says she will fight the case.  Though the Kannada Film Artistes Association urged the two actors to resolve the case "amicably", the actors are sticking to their respective stances.
"I had announced that I will fight this case in court. The KFCC and Artistes Association has asked me to wait till Friday. Now, I have decided to wait because of the respect that I have for them. However, I feel that a woman is easily victimised for no mistake of hers. It is unfortunate that society has stooped to such a low," Sruthi Hariharan said.
Just before the meeting started, Arjun Sarja's associate Prashanth Sambaragi claimed Sruthi's allegation against the actor was a conspiracy by anti-Hindu outfits as Arjun planned to build a Rs 25 crore Hanuman temple in Chennai and was raising funds in the US. Prashanth, who claimed to have detailed the conspiracy in a police complaint on behalf of Arjun, also alleged that two top actors were behind the episode. He alleged that lakhs of rupees were being spent to defame Arjun Sarja on social media.
Meanwhile, Sarja maintained his stance: "I will not compromise on this issue and I am determined to take this case to a logical conclusion."
Though the KFCC meeting started with the intent to bring about a solution, veteran superstar and former Union minister Ambareesh's flippant press conference later diluted the gravity of the issue. He was seen cracking jokes and subduing journalists who were asking him serious questions.
Speaking about the issue, he said, "I am not supporting any of the actors in this issue. If there is a problem, I have asked them to come to me for a solution. This is the first such case from the industry that has gone to the court. Earlier, people used to listen to us and took our advice. But these two aren't ready to compromise and have decided to take matters into their own hands."
The veteran actor also refused to form an Internal Complaints Committee in the Kannada Film Artistes' Association. Former president of KFCC and film producer Sa Ra Govindu told the media before attending the meeting that he wants the "issue" to end in a "compromise".
On Thursday, 25 October, Arjun's nephew Dhruva Sarja filed a Rs 5 crore defamation case against Sruthi at the Bengaluru City Civil Court. Prior to this, Arjun's manager filed a complaint with the cyber crime police alleging that the actor's email and social media accounts had been hacked.
Last week, Sruthi Hariharan shared her #Metoo story on social media. She claimed Arjun Sarja had touched her inappropriately during the shoot of the bi-lingual film Vismaya in Kannada and Nibunan in Tamil, two years ago. In her post, she claimed that he touched her without her permission and claimed that that his intent was 'anything but professional'.
Though Arjun Sarja and the film's director Arun Vaidyanathan denied the allegation, three crew members from the film supported of Sruthi's claims.
Since then, the male-dominated Kannada film industry has been divided. While she received support from some quarters, many people questioned the credibility of her accusations. Several fans of the actor started pointing fingers at Sruthi's 'character'. Arjun's fan groups have been on an overdrive ever since: from posting lewd comments on all her pictures to sending her hate DMs, messages and making aggressive/abusive phone calls.
A majority of the lead actors from the Kannada film industry, who are usually very active on social media, chose to stay mum about the issue.
"I am being threatened and my phone doesn't stop ringing even now. But none of these threats will deter me. Ultimately what I feel is that I am being targeted for raising this issue," Sruthi said.
Karnataka's Film Industry For Rights and Equality (FIRE) panel, established by actor Chetan, to check harassment cases against actors in the film industry, was backing Sruthi. However, on Thursday, president of the panel and actress Priyanka Upendra and member actress Veena Sundar stepped down from the panel accusing Chetan of 'not handling the issue properly' and called him 'hungry for publicity'.
Actor Chetan of Aa Dinagalu fame was one of the first people to come in support of Sruthi. However, there were also allegations that he is supporting Sruthi only to settle his personal scores with Arjun. Actor Prakash Rai too came in support of the actress, which now, is believed to be the reason why the issue is merged with political colours. Actors Shraddha Srinath, Neethu, Avantika Shetty and Samyuktha Hegde expressed their solidarity with Sruthi with the hashtag #WeAreWithShru on social media.
Meanwhile, Arjun's nephew Dhruva Sarja called Sruthi, 'Me Too Sruthi' and said that he knows his uncle doesn't care about what "any tom dick or harry" has to say about him.
Veteran actor and BJP leader Jaggesh told the media that he does not believe the allegations against Arjun and that Sruthi has made a mistake by naming Arjun. "Arjun Sarja is a simple man after Dr Rajkumar and Vishnuvardhan. He is a gentleman," he said. KFCC Secretary Bhama Harish said Sruthi is taking revenge now as she was not paired opposite Dhruva Sarja for a film citing age differences earlier.
As this issue unfolded over the past few days, local media was quick to refer to Sruthi as '#MetooSruthi' and Arjun, the 'Gentleman'. A few channels called the award-winning actress an attention-seeking woman. Sruthi has always been outspoken about harassment and the casting couch. During the India Today conclave in January this year, the actress, without taking names, accused 5 producers from Kollywood of casting couch and added that she stopped getting good projects after the episode.
Aravind Shwetha is a Bengaluru-based journalist. 
Entertainment
Samantha Ruth Prabhu and Chaitanya tied the knot in a destination wedding in 2017. After four years of marriage, the duo parted ways by announcing their divorce on 21 October, 2021 via social media that left their fans in a state of shock.
Entertainment
The success of the Tamil web series 'Suzhal' has proved that good content and performances is what the audience is seeking and supports.
Entertainment
R Madhavan's directorial debut Rocketry is a biopic on Nambi Narayanan, a former scientist and aerospace engineer of the ISRO, who was falsely accused of espionage.