Kangana Ranaut backs sister Rangoli on her allegations: Taapsee Pannu has said derogatory things about me
After Taapsee Pannu congratulated Kangana Ranaut and team for the Judgementall Hai Kya trailer, Rangoli called the Game Over actress a 'sasti copy' of her sister.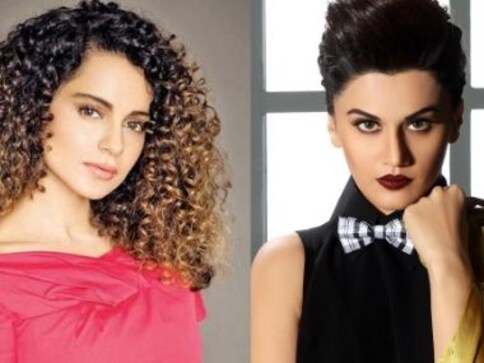 Kangana Ranaut has defended sister Rangoli Chandel's statements against Taapsee Pannu, the consequent argument Rangoli had with filmmaker Anurag Kashyap, and her tongue-in-cheek remark on Varun Dhawan. Kangana has stated that Taapsee has been passing comments about the actress being an extremist, reports Hindustan Times.
Comparing Anurag's protectiveness of Taapsee to Rangoli's need to defend her sister, Kangana adds, "I read Rangoli's tweets. She was lovingly teasing Varun (Dhawan) as he never responded to her when she urged him to speak about Manikarnika, and Tapasee has been saying derogatory things about me, like needing a filter and being an extremist, which Rangoli is clearly upset about. This has nothing to do with her JHK (Judgementall Hai Kya) tweet. The way Anurag is protecting Taapsee, my sister is protecting me! What's the matter, anybody(who) has problems with her tweets can unfollow her," as quoted by Hindustan Times.
Check out Rangoli Chandel's reply to Taapsee Pannu
Many Bollywood artistes congratulated Kangana and her Judgmentall Hai Kya co-star Rajkummar Rao on the unconventional trailer. Among them, Taapsee was one such well-wisher, who wished the entire Judgementall Hai Kya team for the film. To this, Rangoli replied saying Taapsee was a "sasti copy" (cheap copy) of Kangana. Kashyap, who had earlier expressed his appreciation for the trailer as well, shot back at Rangoli's statements against the Game Over actress, calling it a "desperate" move. 
Check out Rangoli and Anurag's Twitter exchange here
Entertainment
The trailer of Taapsee Pannu's upcoming film 'Dobaara' directed by Anurag Kashyap has been released.
Entertainment
After the success of Badla & Pink, Taapsee Pannu will now be seen in Dobaaraa which is a promising suspense thriller and is said to be one of the biggest turnouts of this year.
Entertainment
Ekta Kapoor has been associated with thrillers like Kucch To Hai, Krishna Cottage, and Ragini MMS 2 before, some may have faltered, many have been impressive successes.