Jumanji: Welcome to the Jungle — Dwayne Johnson's comedy becomes Sony's fifth highest grossing film
Rarely do movies make it to their sixth week but Jumanji: Welcome to the Jungle and The Greatest Showman are creating box office records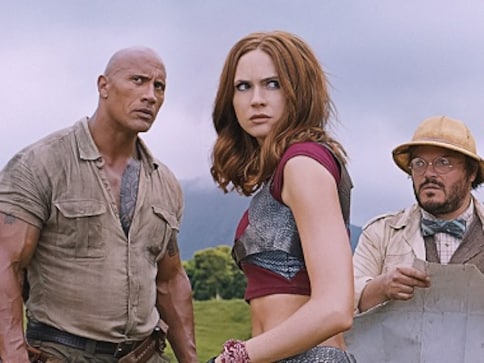 Rarely do movies make it to their sixth week but Jumanji: Welcome to the Jungle and The Greatest Showman are creating box office records.
Dwayne Johnson's Jumanji: Welcome to the Jungle is proving to be one of the top grossers for Sony. In its sixth week it has brought in another $16.4 million, bringing the domestic total to $338 million. This is one of the biggest sixth weekend collections of all time exceeded only by The Sixth Sense, Frozen, Titanic and Avatar, as reported by Forbes.
The worldwide total of the movie has reached $822 million beating Spider-Man's $821 million in 2002. Jumanji is now Sony's fifth biggest global grosser after Spider-Man: Homecoming, Spectre, Spider-Man 3 and Skyfall. The movie has also beaten the domestic collections of Warner Bros' blockbusters like Suicide Squad, Batman v Superman, It and Disney's Guardians of the Galaxy, which is a feat worthy of celebration in a box office that is usually dominated by superhero movies as per the same report.
Not to be left behind, Hugh Jackman's The Greatest Showman has also managed to make another $9.5 million in its sixth weekend taking its domestic total up to $126.475 million. Amongst the films which were released in more than 3000 screens, The Greatest Showman is earning praises for being one of the successful films of Hollywood ever. It stands as the fifth-leggiest film since Titanic and is expected to leave behind the likes of Forrest Gump and Good Will Hunting.
Entertainment
With the exception of Sean Connery, few Hollywood stars have managed to overcome burden of hit franchise outings.
Entertainment
Britney Spears and her husband Sam Asghari have reacted to the claims made by the pop musician's former partner, Kevin Federline.
Entertainment
Emmy-nominated actor Anne Heche is in very critical condition since her car crashed into a residential building and caught fire in the Mar Vista area of Los Angeles.