Isha-Anand wedding: Nita Ambani dances to 'Madhurashtakam' at couple's sangeet ceremony
After holding an 'Anna Seva' on 7 December, the Ambani family got together for Isha and Anand Piramal's sangeet ceremony in Udaipur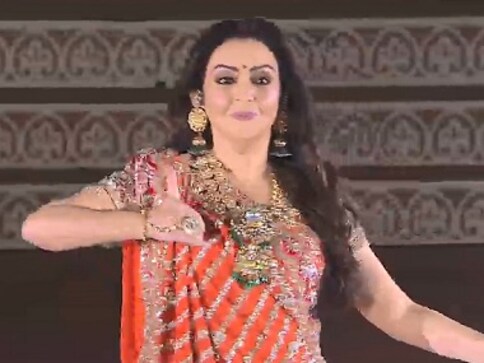 The pre-wedding festivities of Isha Ambani and Anand Piramal are underway in Udaipur, Rajasthan. Top politicians from across the world and renowned Bollywood actors touched down in the city on 7 and 8 December to partake in the celebrations.
After holding an 'Anna Seva' on 7 December, the Ambani family got together for Isha and Anand's sangeet ceremony which had several stars in attendance. Nita Ambani kicked off the celebrations with a traditional performance to 'Madhurashtakam', a devotional song sung in the praise of Lord Krishna, in Shreya Ghoshal's voice.
She was joined by a troupe of dancers and sitar players. Towards the end of her performance, she and a dancer dressed as Krishna played Dandiya Raas, the traditional folk dance form of Gujarat and Rajasthan. A huge statue of Lord Krishna was also mounted on the stage.
Family members, including husband Mukesh, sons Anant and Akash, were pictured sitting in the audience apart from a bevy of guests.
In addition, the pre-wedding festivities will also see the setting up of a specially curated exhibit called the Swadesh Bazaar that will showcase 108 traditional Indian crafts and art forms from all different regions of the country for the national and international guests. Isha Ambani and Anand Piramal are set to get married in Mumbai on 12 December.
Entertainment
Abhishek, who most recently appeared in the social comedy Dasvi on Netflix, will attend the 13th Indian Film Festival of Melbourne in 2022 to receive the Leadership in Cinema Awards.
Entertainment
While Vijay Maurya's Crash Course has put forward the real picture of the coaching institutes it sets apart its story from the glossy world of the coaching universe.
Entertainment
Annu Kapoor's daughter called him up and told him that she has stopped attending college for a few days. Here's how the actor reacted!