Irrfan Khan passes away: Amitabh Bachchan, Shah Rukh Khan, Aamir Khan, Priyanka Chopra Jonas pay tribute on Twitter
Irrfan Khan passed away in Mumbai on Wednesday at the age of 54 after battling neuroendocrine tumour.
Acclaimed actor Irrfan Khan passed away in Mumbai on Wednesday at the age of 53. He had been diagnosed with a neuroendocrine tumour in 2018, and had spent months for his treatment in the UK.
Several celebrities took to social media to pay tributes to the actor. Filmmaker Shoojit Sircar, who collaborated with Irrfan in Piku, expressed his condolences to the family.
(Also read on Firstpost: Irrfan Khan dies at 53: A rare and magnetic talent that held filmmakers, writers and audiences in thrall)
Veteran actor Shabana Azmi, who shared the screen space with him in Jazbaa, said it is a big loss to the entire film industry. Amitabh Bachchan, Taapsee Pannu, Mini Mathur, Karan Johar, Anushka Sharma, Dulquer Salmaan, and Shekhar Kapur were among the few personalities from the film industry who paid tribute to Irrfan.
Producer Dinesh Vijan, who backed Angrezi Medium, released an official statement mourning the actor's demise. He said, "We are thankful for experiencing Irrfan's resilience and spirit. We're thankful for being allowed to witness his love and passion for everything around him. So yes, all I can say is thank you to him for letting us be a part of his journey. There is no one like Irrfan and I'm going to miss him very much. Rest in peace my friend. I know that he could spread his wings and soar only because he had his wife Sutupa as his rock. My heartfelt condolences to her and his sons. We are always there for them and I know that they know this."
Hollywood director Colin Trevorrow who worked with Khan in Jurassic World recalled the last correspondence he had with the actor.
Deeply sad to have lost #IrrfanKhan. A thoughtful man who found beauty in the world around him, even in pain. In our last correspondence, he asked me to remember "the wonderful aspects of our existence" in the darkest of days. Here he is, laughing. pic.twitter.com/8eAsSOO9Ie

— Colin Trevorrow (@colintrevorrow) April 29, 2020
Filmmaker Ava DuVernay wrote about watching the actor on screen and appreciating his work as a fan.
A grateful fan of #IrrfanKhan here. Gone too soon. When he is on screen, you can't take your eyes off of him. He lives on in his films. pic.twitter.com/aA9RAjsxSl

— Ava DuVernay (@ava) April 29, 2020
(Also read on Firstpost: Irrfan Khan passes away at 53: From Piku to Maqbool, remembering the actor's most iconic performances)
Check out all the tweets here
My friend...inspiration & the greatest actor of our times. Allah bless your soul Irrfan bhai...will miss you as much as cherish the fact that you were part of our lives.
"पैमाना कहे है कोई, मैखाना कहे है दुनिया तेरी आँखों को भी, क्या क्या ना कहे है" Love u pic.twitter.com/yOVoCete4A

— Shah Rukh Khan (@iamsrk) April 29, 2020
The charisma you brought to everything you did was pure magic. Your talent forged the way for so many in so many avenues.. You inspired so many of us. #IrrfanKhan you will truly be missed. Condolences to the family. pic.twitter.com/vjhd5aoFhc

— PRIYANKA (@priyankachopra) April 29, 2020
The light in our lives is gone, and everything feels dimmer without Irrfan. Thank you @irrfank, for your big heart and your friendship. I hope that there is another side, and we will meet there again someday.

— riteshbatra (@riteshbatra) April 29, 2020
I feel deeply saddened and disturbed at this untimely demise of dear friend and colleague Irfan Khan. It feels horrible, under these circumstances, to not even be able to pay my last respects to this great artiste. My condolences to his family... REST IN PEACE dear friend!

— Deepti Naval (@DeeptiNaval) April 29, 2020
Remembering the first time I met Irrfan, for the first reading of QQS. It was his birthday, and the team got him a cake.
07/01/2017. pic.twitter.com/gvZOksc3Ef

— Parvathy Thiruvothu (@parvatweets) April 29, 2020
Riz Ahmed (The Night Of, Rogue One) on Twitter shared that Khan was one of his heroes, calling him "one of the greatest actors of our time."
Rest in peace one of the greatest actors of our time, Irrfan Khan. I never met him but he was an inspiration and a hero to me and millions of others. His work was consistently transcendent, he was a guiding light for so many of us. pic.twitter.com/BwobeLvNLn

— Riz Ahmed (@rizwanahmed) April 29, 2020
Very sad to hear about our dear colleague Irrfan. How tragic and sad. Such a wonderful talent. My heartfelt condolences to his family and friends.
Thank you Irrfan for all the joy you have brought to our lives through your work.
You will be fondly remembered.
Love.
a.

— Aamir Khan (@aamir_khan) April 29, 2020
#RIPIrrfanKhan sir.. pic.twitter.com/Njc7ILSXkO

— Ayushmann Khurrana (@ayushmannk) April 29, 2020
Sad to learn that Irfan Khan has passed away His death is untimely in the real sense of the word He had achieved a unique status after a long struggle n great perseverance . As an actor he was a voice not some one's echo. He still had so much with in him We all will miss him .

— Javed Akhtar (@Javedakhtarjadu) April 29, 2020
Such terrible news...saddened to hear about the demise of #IrrfanKhan, one of the finest actors of our time. May God give strength to his family in this difficult time 🙏🏻

— Akshay Kumar (@akshaykumar) April 29, 2020
My first ever acting was in a workshop for my first film where all I had to do was try to recreate a scene of Irrfan sir from Maqbool. And I failed. I keep trying that scene often. And I fail.
First face that comes to mind when we think Actor.
💔 #IrrfanKhan Sir RIP pic.twitter.com/TRs8sXWSHt

— Kartik Aaryan (@TheAaryanKartik) April 29, 2020
Extremely saddened to hear the loss of Irrfan Khan. May his soul rest in peace #RIPIrrfanKhan pic.twitter.com/JT6uWgagTj

— Mohanlal (@Mohanlal) April 29, 2020
Nothing can be more heartbreaking and tragic than the news of passing away of a dear friend, one of the finest actors and a wonderful human being #IrrfanKhan. Saddest day!! May his soul rest in peace. #OmShanti 🙏 pic.twitter.com/QSm05p7PfU

— Anupam Kher (@AnupamPKher) April 29, 2020
It's heartbreaking to know that an actor and human extraordinary passed away leaving us with an empty feeling of loss undefined. You will always be in our hearts for your humble love for the craft of storytelling #IrfanKhan

— Ashwiny Iyer Tiwari (@Ashwinyiyer) April 29, 2020
Swim, swim, float, fly, rest @irrfank . Thank you for this message and thank you for being YOU. Love to suttapa and the boys. No one may listen but please please give them some space and time. pic.twitter.com/803mqD7HvF

— Tillotama Shome (@TillotamaShome) April 29, 2020
T 3516 - .. just getting news of the passing of Irfaan Khan .. this is a most disturbing and sad news .. 🙏
An incredible talent .. a gracious colleague .. a prolific contributor to the World of Cinema .. left us too soon .. creating a huge vacuum ..
Prayers and duas 🙏

— Amitabh Bachchan (@SrBachchan) April 29, 2020
Very sad to hear of Irrfan's passing. An immense talent! An actor for whom I had great admiration. My condolences to the family. Rest in Glory!

— Abhishek Bachchan (@juniorbachchan) April 29, 2020
My dear friend Irfaan. You fought and fought and fought. I will always be proud of you.. we shall meet again.. condolences to Sutapa and Babil.. you too fought, Sutapa you gave everything possible in this fight. Peace and Om shanti. Irfaan Khan salute. — Shoojit Sircar (@ShoojitSircar) April 29, 2020
#IrrfanKhan 1967- forever pic.twitter.com/1GyYAfDvpd

— Gulshan Devaiah (@gulshandevaiah) April 29, 2020
With a heavy heart I post this tweet . A phenomenal actor , such an inspiration his performances have been for me . He battled for his life but sadly leaves us today . RIP Irrfan Khan . OM Shanti 🙏 — Anushka Sharma (@AnushkaSharma) April 29, 2020
Rest in peace @irrfank you have no idea what your kindness meant to me at a time I was at my least confident . My condolences to your family and loved ones.

— Sonam K Ahuja (@sonamakapoor) April 29, 2020
Thank you for those indelible movie memories....thank you for raising the bar as an artist ...thank you for enriching our Cinema....we will miss you terribly Irrfan but will always always be immensely grateful for your presence in our lives.....our cinema....we salute you🙏❤️😪 — Karan Johar (@karanjohar) April 29, 2020
When we thought nothing could make us feel worse,this happened. I think I will refuse to believe you are no more by watching all your work time n again n again n again. I have known you that way n shall continue to know you that way for ever. You ARE the best we have #IrrfanKhan

— taapsee pannu (@taapsee) April 29, 2020
Cinema will never be the same again! #gutted #IrrfanKhan https://t.co/jF1gMr8LBp

— Swara Bhasker (@ReallySwara) April 29, 2020
Gone too soon. Heartbroken for his family and for millions of his fans. Such a rare, genius actor. This is a huge loss and only tells us that life is rarely fair. Rest in peace dear #IrrfanKhan ... make the other side a better one! — Mini Mathur (@minimathur) April 29, 2020
Deeply saddened to learn that #Irffan Khan passed away this morning. Gone too soon .. such a powerful actor and how valiantly he fought back the cancer. Its a big loss not only to his family but to the entire film industry. RIP — Azmi Shabana (@AzmiShabana) April 29, 2020
Very sad to hear about #IrrfanKhan . A huge loss for the industry. just 54 ... he will remain forever cherished as one of the finest actors in the Indian Film Industry . pic.twitter.com/2iCfMeRBcZ — Onir (@IamOnir) April 29, 2020
An actor that every director wanted to work with. A human being that gave his best in every role. Indian film's most succesful export to Hollywood. A man loved by all. Sad to see #IrrfanKhan leave us, after what we thought was suucesfull fight against cancer. God bess you Irfan . — Shekhar Kapur (@shekharkapur) April 29, 2020
Heartbroken and a sincere loss of words. 💔😭 #IrrfanKhan — Kubbra Sait (@KubbraSait) April 29, 2020
अब ये दिल दोबारा नहीं जुड़ेगा।

शुक्रिया इरफ़ान, अपनी ज़िंदगी माटी के घड़े में कच्ची सड़क किनारे रखने और उसमें अपनी कला का मीठा पानी भरते रहने के लिए। हम प्यासे राहगीर इसके बिना कोई सफ़र ना पूरा कर पाते, ना कर पाएँगे।

जब कुछ नहीं रहेगा, तब भी पानी रहेगा। प्यार, नमन, ज़िंदाबाद। pic.twitter.com/E5MmBPUe6H

— वरुण 🇮🇳 (@varungrover) April 29, 2020
Saddened to hear the news about Irrfan Khan. One of the finest actors with a heart of gold. My deepest condolences to his family during this tough time.

— Madhuri Dixit Nene (@MadhuriDixit) April 29, 2020
Khan was recently admitted to a hospital in Mumbai for colon infection. He is survived by his wife, television writer and producer Sutapa Sikdar, and sons Babil and Ayan.
(Also read on Firstpost: Irrfan Khan passes away at 53: Remembering the actor's finest work with Tabu, from The Namesake to Talvar)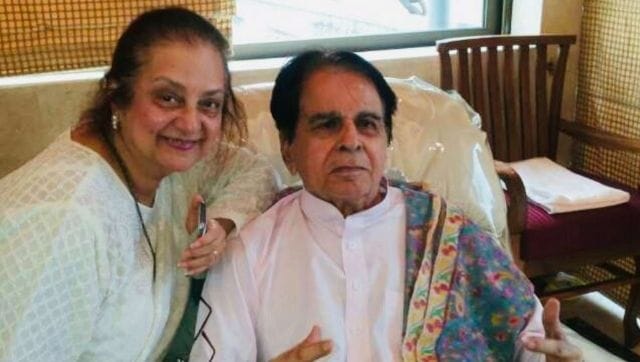 Entertainment
Earlier this year, Kumar was hospitalised for a routine health check-up.
Entertainment
Dil Chahta Hai or Zindagi Na Milegi Dobara, I don't care. As long as someone is making a film casting this trinity in the lead (Zoya Akhtar, are you listening?), I'm watching. With my girlfriends, of course.
Entertainment
Aamir Khan talks about 20 years of Lagaan, how the film changed him as an actor and producer, and why he does not consider losing the Oscar a big deal.