Indian Psychiatric Society demands change in Mental Hai Kya title, calls posters 'atrocious and insensitive'
Mental Hai Kya posters have angered mental health experts, who have begun an online campaign, demanding the producers to change the name of the movie.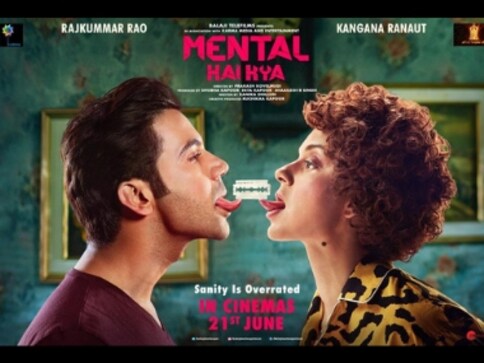 On 17 April, a new poster of Ekta Kapoor-produced Mental Hai Kya was released on social media. The quirky poster showed the lead actors Kangana Ranaut and Rajkummar Rao balancing an iron blade on the tips of their tongues.
While the film posters were welcomed by fans, the title of the film Mental Hai Kya has sparked up controversy. Mental health experts in India have termed it as atrocious and insensitive towards people who are actually suffering from mental health issues.
The Indian Psychiatric Society filed an official complaint to Prasoon Joshi, chairperson of the Central Board of Film Certification (CBFC), demanding an explanation on the posters and how the movie chooses to represent mental health.
The letter demands the removal of title, Mental Hai Kya, with immediate effect. The committee further writes, "We take serious objections to the title of the movie which is discriminative, stigmatising, degrading, inhumane in projecting mental disorders and people who suffer from mental disorders." It also shed light on the Mental Health Care act 2017 and claimed that the movie violates the section, further inviting legal action. Clinical Psychologists have took to social media and expressed their concerns. They have begun an online campaign, demanding the producer and director to change the name of the movie, where according to them, the word 'mental' stigmatises mental illness.
Entertainment
Filmmaker Anurag Kashyap said that if films from the south are resonating across the country, it's because the filmmakers have stayed true to the milieu.
Entertainment
NEXA Music Season 2, spearheaded by AR Rahman, makes a grand opening with their inaugural song "Rollercoaster" by the super winners of Season 1.
Entertainment
Bollywood star Varun Dhawan is all set to defend atrangi ilzaams being levied on him on Amazon miniTV's courtroom comedy show Case Toh Banta Hai.