Imaikkaa Nodigal marks Anurag Kashyap's Tamil film debut as an actor; trailer crosses 1 mn views in a day
Directed by R Ajay Gnanamuthu with music composed by Hiphop Tamizha, Imaikkaa Nodigal is all set to hit screens in July.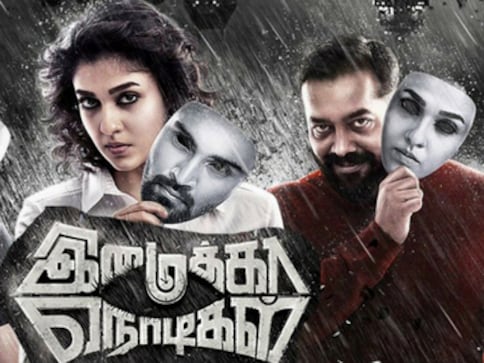 The trailer of Tamil film Imaikkaa Nodigal (Vanishing Seconds) is making waves, even though it has no big hero.  It crossed one million views in one day. The film has Nayanthara playing a CBI officer on the hunt for a serial killer played by Anurag Kashyap. The Ajay Gnanamuthu-directed film had a trailer and music launch in Chennai, and its producers Cameo Films is aiming for a July release.
The highlight of the trailer is the cat and mouse game being played out by Nayanthara and Kashyap, with lot of punchline dialogues that have become instant hits. The trailer begins with Kashyap playing a sadistic serial kille, looking at the screen and smoking. He makes his acting debut in Tamil (for which he was paid a bomb). Kashyap explains in the trailer that everybody has a love in life, but his love in life is to kill. "I love killing, I just love killing!"
The trailer ends with Kashyap's long dialogue in Tamil on how he would love to put a bullet in Baby's (Nayanthara) head. The trailer also shows the actress spewing expletives, including the F word, obviously referring to the killer.
Imaikkaa Nodigal, which reminds us of romantic Tamil film titles from the 70s and 80s, is said to be an edge of the seat 2 hour thriller. It also has Vijay Sethupathi in an extended cameo playing Nayanthara's lover, and he asks her romantically – "Are you okay Baby? ( a throwback to the pair's earlier super hit Naanum Rowdy Dhaan)". Atharva Murali plays her brother with Rashi Khanna playing his love interest.
The songs from the film tuned by Hiphop Tamizha have gone viral. The trailer has the necessary ingredients to hook the younger audiences and has potential to be another hit for Nayanthara.
Meanwhile, Kashyap, who could not make it for the trailer launch, had issued a statement earlier, saying "I chose to do Imaikkaa Nodigal as my first film in Tamil, as I found the character I was to play very interesting . Rudra isn't your usual villain; he is different in many ways and does not have the regular mannerisms of a bad guy a psychotic that you may have come across in earlier films. He is deadly, cunning and absolutely scary. That's what made me jump at the role, when Ajay Gnanamuthu narrated the story to me. The real test would be when the audiences watch the film and if I'm able to evoke the tiniest fear in them, my job is done."
The director, Gnanamuthu told Firstpost: "It is all about the crackling cat and mouse game being played out between the hunter (Nayanthara) and the hunted (Kashyap). Right from the beginning I had Nayan in my mind to do the cop's role and Anurag as the serial killer. It took me some time to get in touch with Anurag but after he heard the story and my character development he agreed to do it. My friend and director Magizh Thirumeni has dubbed for Anurag Kashyap in Tamil and his voice was in perfect sync with the character and enriched the performance. I'm confident that the film will work at the box-office seeing the kind of response to the trailer."
Entertainment
Sarkaru Vaari Paata reeks of simplistic snobbery associated with any film naive enough to pretend that it can solve a systemic issue in less than thirty minutes as its hero is strong and handsome.
Entertainment
Ratheena on her directorial debut Puzhu: 'The movie will make people think, while they may have different perspectives but they should think about what Puzhu narrates'
Entertainment
Starring Avani Rai, Dinkar Sharma and Manya Grover the teaser of Two Sisters And A Husband follows the characters of Tara, Rajat and Amrita and how they face complications that surround them in a rather twisted space.