House Arrest trailer: Ali Fazal's solitary life is disturbed by Shriya Pilgaonkar, Jim Sarbh in upcoming Netflix film
House Arrest marks the onscreen reunion of Mirzapur actors Ali Fazal and Shreya Pilgaonkar.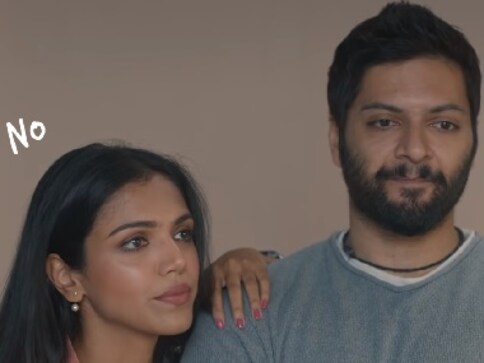 The trailer of Ali Fazal and Shriya Pilgaonkar-starrer House Arrest debuted on Thursday. This film marks their onscreen reunion after Amazon Prime Video India Original show Mirzapur. House Arrest has been directed by Ghosh and Samit Basu.
House Arrest follows a man Karan (Fazal), who has confined himself to his house for months at a stretch. The trailer shows how his neighbour Pinky (Barkha Singh) hands him a mysterious package to look after while she is away, even threatening with violence in case something happens to it.
On the other hand, his best friend JD (Jim Sarbh) is hell bent on getting him out of the house. He sends a journalist Saira (Pilgaonkar), who seems fascinated with Karan's isolated lifestyle, and even insists on continuing the conversation outside of his house.
The official synopsis shared by Netflix states, "Karan's not left his house in months. He insists he's happier home alone - away from the chaos of the world. Then one day, two women, a giant, and a small bubble wrapped gangster barge into Karan's well-arranged life and house, unannounced. What ensues is utter chaos as Karan realises that try as he might, he can't keep the world out forever."
Here is the trailer of House Arrest
Here we go! The #HouseArrest trailer is out from @NetflixIndia https://t.co/EUS7UGhQGD

— Samit Basu (@samitbasu) October 24, 2019
"It was a lovely 'experience' experiencing a Shashanka Ghosh-Samit Basu duo on this. Honestly, the idea of staying indoors is definitely daunting and haunting. But here's a man called Karan who seems to be getting this right. It's one of a kind but I wouldn't want to toot my own horn yet because I have been indoors on this one. Let's see what happens when it gets out," Fazal says in a statement.
House Arrest is produced by Trilok Malhotra and KR Harish of India Stories Media & Entertainment Pvt Ltd.
House Arrest is slated to premiere on Netflix on 15 November.
Entertainment
If Money Heist – which initially fizzled out on Spanish TV and then earned a revival with Netflix – ends on a satisfying note in the minds of the audiences, that may be the greatest heist of all.
Entertainment
The neighbourhood of Shtisel is just a 10-minute walk from my home in Jerusalem. But confined to a quarantined existence, I only caught its first glimpses on the hit Israeli show.
Entertainment
From its largely linear structure to its staid talking-head format, the film's benign treatment barely ever captures the true thrill of the sport.