Hindi Medium records higher box office opening than Dangal, Bajrangi Bhaijaan in China; Irrfan's highest grosser worldwide
Hindi Medium star Irrfan Khan already enjoys popularity in China, owing to his roles in global successes like The Jurassic World and The Amazing Spider-Man.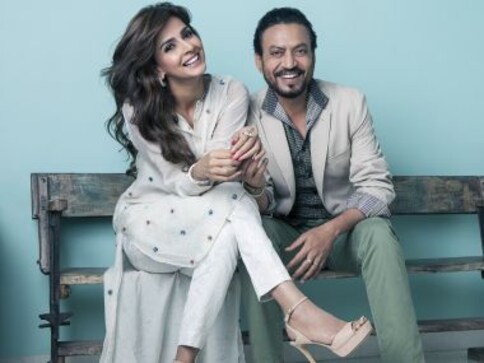 Irrfan Khan's commercially and critically acclaimed drama Hindi Medium, which landed in China on 4 April for the Qingming festival weekend, has taken a flying start at the box office. The film has amassed a peachy day one cumulative of $3.43 (Rs 22.25 crore), which is roughly the earnings grossed in its opening weekend in India when it hit screens last year in May 2017.
The opening day gross of Hindi Medium has comfortably outpaced the day one theatrical ticket sales of Aamir Khan's Dangal ($2.55 million) and Salman Khan's Bajrangi Bhaijaan ($2.24 million). It has now set a record for the second biggest opening ever for an Indian film in the Middle Kingdom, only behind Aamir Khan's recent China blockbuster Secret Superstar which set the cash registers ringing with a smash opening day gross of $6.97 million.
The terrific response for Hindi Medium from Chinese moviegoers once again substantiates the fact that they are mostly heedful of positive word-of-mouth than star power. The opening day gross of Hindi Medium has also out-grossed the cumulative China box-office receipts of Shah Rukh Khan's three outings in the mainland – My Name Is Khan, Happy New Year and Fan – that earned a paltry total of $680,000 approximately. The Saket Chaudhary-directorial has also supplanted the lifetime China revenue of Aamir Khan's PK ($1 million), Dhoom 3 ($3.1 million) and 3 Idiots ($2.2 million).
Hindi Medium, which is jointly produced by T-Series and Maddock Films, continued its glorious performance with a day two gross of $6.26 million (Rs 40.6 crore) yesterday, taking the running China total to $9.69 million (Rs 62.85 crore). Now, the foreign sum of the film, including the two-day PRC takings, stands at $11.69 million (Rs 75.83 crore) and the worldwide gross has quietly vaulted over the Rs 150 crore mark to touch a whopping Rs 172.48 crore, factoring in the lifetime India revenue of Rs 96.65 crore.
Now, Hindi Medium has become the highest grossing Indian film of Irrfan Khan globally, outshining his previous money-spinner The Lunchbox. Currently, the film enjoys a worthy 9.1 rating on China's largest online movie ticketing and fans rating portal Maoyan.com. In fact, Bajrangi Bhaijaan ranked 9.1 on the eve of release, and after it saw the light of day in mainland theaters, it reached a fantastic 9.6. In Douban, China's powerful social networking-cum-movie-reviewing platform, the Irrfan Khan-starrer holds an 8.1 score from approximately 23,000 reviews.
In its two-day run in China, Hindi Medium also managed to grab the second spot in the daily box-office chart for two consecutive days, only below Steven Spielberg's globe-trotting blockbuster Ready Player One, which is minting money at the ticket window. The film, which stars Saba Qamar and Deepak Dobriyal in critical roles, also braved homegrown Qingming releases such as Wrath Of Silence, Nuts, Cats and Peachtopia and the Chinese-Russian co-production The Snow Queen 3: Fire and Ice to firmly hold its place in the box office chart.
The 83 per cent Wednesday to Thursday increase in box office receipts clearly indicates that Hindi Medium is all set to surprise trade pundits once again. In fact, the two-day gross of $9.69 million is higher than the cumulative two-day total ($7.75 million) of Aamir Khan's Dangal – hailed as China's leggiest import film ever. And it is safe to say that Irrfan is already a mildly familiar actor in the Middle Kingdom, thanks to his notable appearances in international films such as Jurassic World, The Amazing Spider-Man and Life Of Pi to name a few.
The five-day weekend of the film is expected to quickly rocket past the $25 million mark, taking the running global total to more than Rs 270 crore. After the extended opening weekend run in the PRC, Hindi Medium will undoubtedly enter the all time top ten highest grossing Indian films in overseas markets. And if the film manages to accomplish the Maoyan's forecast of 300 million yuan ($47.57 million), then it will dethrone all-time blockbusters, such as Sultan, Dhoom 3, 3 Idiots and Padmaavat to name a few, in the highest overseas earners list.
Arts & Culture
One of India's first couturiers celebrates 50 years of being in the business.
Entertainment
According to a report, the singer fell from a building staircase. He cracked his ribs, broke his elbow, and also hurt his head.
Entertainment
The judge declared the two legally single at Kardashian's request in March, ending their eight-year marriage, but issues of property and custody remained that were to be worked out in a trial starting Dec. 14.