Gurmeet Ram Rahim Singh's ode to himself: Reading The Messenger through his MSG
Gurmeet Ram Rahim Singh — now best known as a rape convict — revealed more about himself through MSG The Messenger than he would have realised or intended
"Kya karein, Pitaji? Aapse pyaar ho hi jaata hai." (What is one to do, Daddy? One can't help but love you.)
The giggly coyness with which the woman uttered those words as she lasciviously eyed him will never leave me. Did she just call him "Pitaji" as she flirted with him? Ugh!
Other bad films have been made, some so bad that I have been in splits while watching them. With MSG The Messenger though, the hysterics came after the viewing. First came the stunned disbelief. My reviews are my notes to myself, and I remember writing about this one: "I did not laugh… I sat through its running time frozen in open-mouthed disbelief. A human being actually made this film about himself and then released it in theatres so that the entire world could see it! … And he has followers! In real life! Yes he does!"
Those three hours or so back in 2015 may have been traumatic for a cinephile, but they were educational too. Because the director-cum-hero of the film, Gurmeet Ram Rahim Singh — now best known as a rape convict — revealed more about himself through that vanity project than he would have realised or intended.
Singh subsequently made four more films starring himself: MSG-2 The Messenger, MSG The Warrior — Lion Heart,  Hind Ka Napak Ko Jawab: MSG Lion Heart 2 and Jattu Engineer. In years to come, medical professionals and academics will perhaps study all five. Let us leave the psychoanalysis to them. This article is merely a common sense assessment of what MSG and its successors tell us about the 'guru' who made them.
He Is A Narcissist
In one of the tellings of his tale, Narcissus – son of the river god Cephissus and the nymph Liriope – spurned the nymph Echo's advances, for which he was punished by Nemesis who caused the legendarily handsome youth to fall for his own reflection in the water of a spring. His love being unrequited and unrequitable, Narcissus pined away and became the flower now bearing his name.
You do not need to interview Gurmeet Singh to know what he sees in his mirror. Like Narcissus of Greek and Roman mythology — from whose name is derived the psychiatric term "narcissistic personality disorder" — it is clear that this man is in love with himself. In my 'umble opinion, as a composite of Uriah Heep and Tina Turner might have said, unlike Narcissus, Singh ain't no Mr Universe, but what's my 'umble opinion got to do with it got to do with it?
Singh clearly holds himself — his physique, his personality and his intellect — in high esteem. He preens like a peacock in MSG, strutting around as would a man who believes he is worthy of international catwalks. Unmindful of his awkward gait and chunky figure, he filled MSG with grand shots of himself striding towards the camera, the kind that Indian cinematographers usually reserve for the likes of Rajinikanth. He was credited as the film's co-cinematographer, but since it is evident that the reins were in his hands, there is really no one else to blame. What Daddy Singh wants, Daddy gifts himself.
Daddy also changes outfits more often in MSG than Sonam Kapoor in Aisha. Ms Kapoor's costume designer was clearly not in charge of his wardrobe, though, as is evident from that array of gaudy pedal pushers, sleeveless blouses and body-hugging, spangled rock-chic outfits he wore in the film.
Autobiographies tend to be an individual's rose-tinted view of her/himself, but MSG puts tinted glasses in the shade. It is the cinematic equivalent of Mayawati erecting her own statues across Uttar Pradesh while she was the state's chief minister. It would have been bad enough if a devotee had made a hagiography of Singh, but this is worse: this is Singh making a hagiography of himself — literally, in the true sense of the world "literally". His name actually appears in the film's credits as Saint Gurmeet Ram Rahim Singh Ji Insan, "Insan" (meaning: human) being the surname adopted by all members of Dera Sacha Sauda (DSS), the cult he helms.
In this autobiographical fiction, Singh portrays himself as a religious leader blessed with magical powers, charisma, superhero strength, the ability to fly and absorb electricity in the palm of his hands, and more. His disciples adore him, a political leader describes him as a national youth icon and a drug lord's instructions to kill him are greeted with the response, "Unko maarne ka matlab poore Hindustan se panga lene ke baraabar hai." (Killing him would amount to taking on the whole of India.)
Okay then.
Delusional? Well only to the extent that in his imagination, he extended his following beyond his Dera and across the Indian populace. Even if you do not buy the claim that DSS has 5 crore adherents, as MSG insists ad nauseam (contrary to some media reports this week that have cited a figure of 6 crore), the fact is Singh has a massive support base. Any laughter at the memory of this film must be tempered by the saddening realisation that mobs of disciples bought into his bullshit enough to risk their lives for him, as we saw in the fatal violence in Haryana following his rape conviction on 25 August.
He Is A Control Freak
Singh not only starred in MSG, he co-directed the film with a Dera inmate called Jeetu Arora Insan. According to the credits, Singh also wrote the story, screenplay, dialogues and lyrics, composed music and sang songs for it, and was the co-art-director, co-choreographer and (as already mentioned) co-cinematographer.
By his third film, MSG The Warrior — Lion Heart, he had extended his repertoire of filmic activities. The trailer of MSG 3 carries this boast: "The most versatile person in the history of world cinema, Saint Dr Gurmeet Ram Rahim Singh Ji Insan" (yes, there's a "Dr" in there by now) before going on to list his presence in "30 categories" in the film's credits: "actor, director, scriptwriter, singer, choreographer, production designer, special effects, costume designer, dialogue, lyrics, editor, director of photography, sound editor, screenplay, music composer, action director, art director, background scorer, voice over artist, VFX creative director, sound designer, music director, publicity designer, visual promotion, creative director, casting director, DI head, stunt performer, make up and hair designer, prop designer."
By his fourth film, Hind Ka Napak Ko Jawab, the number had been extended to 42.
For the moment let us ignore the hilarious repetitions in the listing above, designed to make it appear even longer than it already is. I mean, among other things, c'mon, "music composer" and "background scorer" being specified separately when he is already the music director! Consider instead what the credit rolls of these films say about this man: either he is incapable of delegating or he does not like to share the spotlight with anyone or both. Combine that with his inability to recognise his own absolute lack of talent, and what you get is an egomaniac and a control freak who has surrounded himself with people either blinded by love into genuinely believing he is gifted or too afraid to tell the Emperor that he is not wearing clothes.
His Ego Is Self-Destructive
Gurmeet Ram Rahim Singh is not the first talentless person to produce a film and star in it. In my book, The Adventures of an Intrepid Film Critic (2012), I had tracked down many such wealthy individuals who financed films to give themselves starring roles, since no established producer was willing to cast them and no established producer in their right mind should. One was a Mozambique-based businessman called Vipinno who backed a Bollywood film called Tum Hi To Ho and gave himself the central role (though he insisted, when I interviewed him, that he was not the producer, contrary to what the team of the film told me).
The difference between these people and Singh is, first, that the latter was already well-known in the media when he ventured into filmmaking, and second, he plays himself in more than one film. Not that he had much of a reputation to protect in the world beyond the Dera — the rape charges against him, for instance, came to light in 2002 — but since he was, after all, a public figure, it is telling that he made an ass of himself through these films instead of investing his vast resources in hiring the right people to put out whatever message he was hoping to spread.
It takes a special kind of billionaire to recognise his limitations and hire experts to do jobs he is incapable of doing. Singh — he of the self-destructive ego — is obviously not that person.
His View Of The Father-Daughter Bond Is Disturbing
Not so far in living memory has a man so openly given expression to his incestuous tendencies on the Hindi screen, as Singh did in MSG The Messenger. The woman described in the first paragraph of this article addresses him as "Pitaji" (Daddy/Father) as do all his devotees in real life. There is no accounting for tastes, but it was still a mark of this charmless man's vanity that he featured in his film — one in which he was playing himself — an attractive and youthful woman clearly lusting after him. Fair enough, though amusing. What was unsettling though was/is his supposedly paternal position vis-a-vis her and all his other disciples in the film and in real life.
A religious leader's relationship with a devotee is one of utmost trust and reliance, much like the doctor-patient, teacher-student and parent-child relationships. This particular leader positions himself literally as a father to his flock. Yet that same father turned predator with no qualms, as detailed first in an anonymous letter sent in 2002 to various authorities, written purportedly by one of his female followers who he raped for three years.
The "Pitaji" label that this man has proudly flaunted for years is like the Rakhi bhai-behen front that some men and women in the north have been known to adopt to camouflage a forbidden sexual liaison. The latter though is a relationship of consent. The women of the Dera — not just the two for whose rape Singh has now been convicted, but others too as the anonymous letter alleged — were, however, forced into sex. In the film, it is a woman bhakt who purrs out the word "Pitaji" while making no effort to mask her carnal desire for him. In the real Dera, we now know that Singh was the one playing that game.
It is almost as if he wrote an alibi and a defence into MSG: that a chap as attractive as he is is the target of the female faithful and not the other way round. Note how he is not shown making a pass at them at any point. No, "Pitaji" just beams his beatific smile, speaks of saving the youth from drugs and bashes up bad people with a force that rivals Sunny Deol's handpump-uprooting muscle. The fault lies with those darned amorous women, I tell you.
Remember that the first film starring Gurmeet Singh was released eight years after the CBI filed its first chargesheet in the rape case against him. In retrospect, MSG 1 seems like an effort to build a case for himself beyond the courts, and the spate of five films from him in a span of two years appears to have been a PR exercise to counter the investigations — an exercise that went horribly wrong, of course, considering the public response to his gross cinematic ventures.
In the end, Singh's arrogance did him in. He was not unaware of the reactions to his films. If you do not mind the torture, go to Youtube and watch the trailers of all five. The quality remains consistently nightmarish, but the hero's sheep-like hairy arms in MSG 1&2 give way to smooth, hairless, oiled and muscular arms from Film No. 3 onwards, and in Film 4 even the wild mop on his head has been considerably tamed. Clearly, Singh took it to heart when mainstream media critics and the public on the social media mocked his excessive fuzz.
His decision to heed such a superficial aspect of our criticism, but ignore our contempt for his cinema as a whole and continue to churn out trash, tells us something about the man that he is: vain, shallow, deaf to naysayers and egotistical.
In fact, if you look beyond the garishness of these films, what you see of Singh perfectly mirrors the character sketch that has emerged in the past 15 years from investigations into the various criminal cases against him. Watching MSG The Messenger (the only one of the five I suffered in its entirety) and trawling through trailers and music videos of its successors has been no different from reading Facebook posts by acquaintances over time: we may think we are projecting a favourable image of our choice on the social media, but try as we might to fake it we will, sooner or later, reveal ourselves for who we are.
"Saint Gurmeet Ram Rahim Singh Ji Insan" outed himself via his films right from the word go.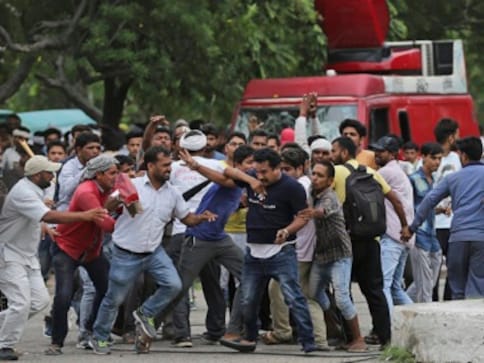 India
All schools in Uttar Pradesh's Shamli district, bordering Haryana, will remain closed on Monday in view of the sentencing of Dera Sacha Sauda chief Gurmeet Ram Rahim Singh, convicted in a rape case.
India
The youth brigade of Dera Sacha Sauda, the spiritual organisation, is out in force to protect the revered saint Gurmeet Ram Rahim Singh's "honour" at any cost.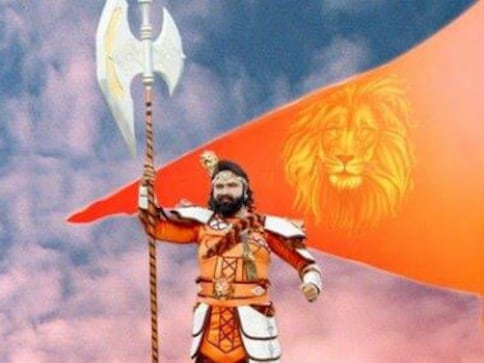 Entertainment
It is not enough to say that MSG: The Warrior — Lion Heart is a horrible movie. If you want your child to turn into a sexist, racist, communal, self-obsessed non-vegetarian hating fool, then this is the film for you.