Gurmeet Ram Rahim Singh Insan's on-screen gems: A what-did-I-just-see trip down memory lane
A two-day ban — on 24 and 25 August — has been imposed on vehicular movement on roads near Haryana's Panchkula district court complex in view of a verdict in a rape case against Dera Sacha Sauda chief Gurmeet Ram Rahim Singh.
The sect chief, who has lakhs of followers in Punjab, Haryana, and other states, has been accused by a former female follower of raping her more than once inside the sprawling Dera campus on the outskirts of Sirsa town in Haryana, 260 km from Chandigarh.
But we're not here to discuss the verdict of the rape case against (who we will refer to from now on as) Insan ji. Since it's Thursday (official the day of the week you're allowed to be nostalgic about anything), we're here to take you on a what-the-f*ck-did-I-just-see trip down memory lane.
For those of you who follow what Insan ji does on the big/small/phone screen, you'd know he has a colourful filmography (?). But even for the amount of laughter it induces, chances of you remembering words or phrases from his films, trailers and/or songs are rare.
So what do you do the next time you want to link a friend or colleague to one of Insan ji's bizzare gems? Worry not, here's a compilation of five of his best appearances. Let your jaw drop now:
MSG The Warrior — Lionheart 
His third film is called MSG The Warrior — Lionheart and the film sees its hero (and also scriptwriter, director, dialogue writer, costume and prop designer, playback singer, VFX supervisor etc) battling not social evils, but evil from a whole other dimension.
Gurmeet Ram Rahim Singh Insaan aka the Lionheart Warrior is a 'top secret spy'. He is pretty much invincible, as we see when he blows up a whole lot of cars and a fortress, all with one shot from his weapons. Insan ji's role in this film (?) is pretty much modeled on a North Indian Rajinikanth.
Read our full trailer review here.
Don't miss: The end credits, which point out Insan ji superhuman powers that make him the sole credit owner of more than 30 titles including, director, actor, editor, but also publicity designer and music director, among other such jobs.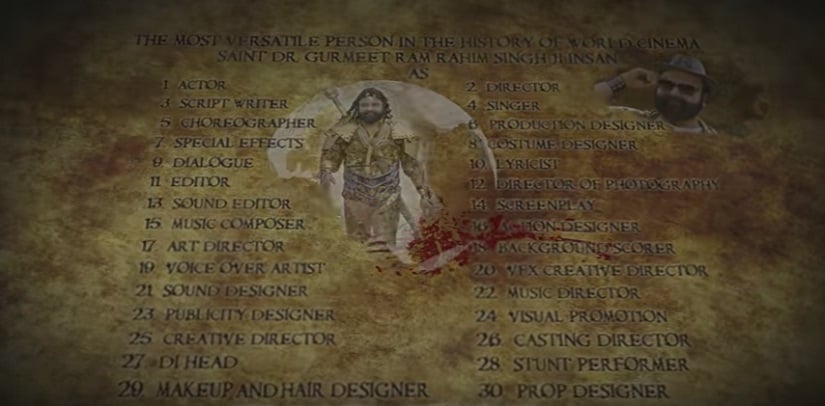 Hind Ka Napak Ko Jawab - MSG Lionheart 2
At the end of MSG: The Warrior — Lion Heart (do you even need a spoiler alert?) aliens attack earth and it is up to the Gurmeet Ram Rahim Singh Insan's character to save the day.
This trailer is everything you expect it to be: An overdose of bright and shiny colours, cringe-inducing ridiculous gadgets, pathetic stunts and the attempt to convince people that Insan's character is the next messiah.
Apart from these usual MSG traits though, the trailer is full of three other things: Hyper-nationalism, hyper-nationalism and (you guessed it) hyper-nationalism.
Read the full trailer review here.
Don't miss: Insan ji's mustache or whatever that tuft of hair on face is.
System Hil Gaya
'System Hil Gaya', a song from the above mentioned film, features apart from Ram Rahim Singh ji — one dancing diva, several back-up dancers, up to four costume changes, a hair do that would make a certain Indian music director go green with envy (and at least one US President), an oyster throne, a shiny crescent moon, giant flowers, a fake waterfall, furry boots, and enough thumping beats to make it the instant favourite of every autorickshaw driver this side of Borivali.
Read more about the song here.
You need to watch this for yourself.
Don't miss: Insan ji driving in what looks like half a car with glittery hearts in the background.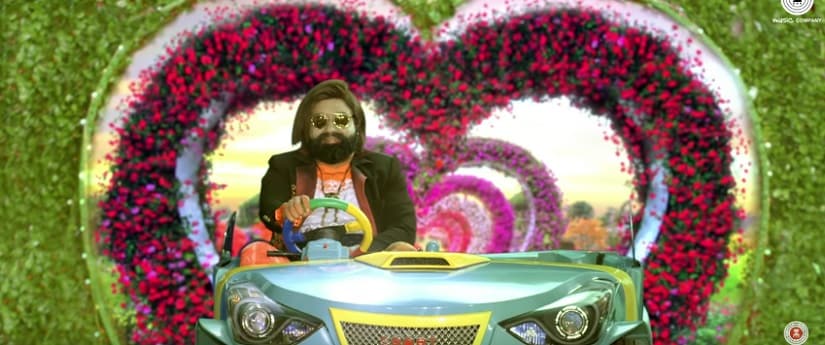 Love Charger
One of Insan ji's most famous songs from the film MSG 2, 'Love Charger' brings all the vibrato lovers to the yard.
It's a song that allows Gurmeet Ram Rahim to boast about his singing talent (or lack thereof). It's the sort of noise that pierces through your sense of judgment, and you are unable to use words like good, bad, no, yes. All you care about is, who is this person and can I get the kind of funding he does?
Don't miss: His curly arm/back/chest/every-other-inch-of-his-body hair. Yay for body positivity.
Jattu Engineer
Here's Firstpost's review of Insan ji's latest film.
"Jattu Engineer is set in small-town India, the kind that's instantly recognisable from the wafting aroma of cowdung in the air. The rustic nature of this village is brought out with unbearable sensitivity. It's something no man could do, only Insaan could. And Insaan does. In the hands of a lesser person, this is where it would end. But with Insaan, this is where it begins. He suffuses the film with instantly recognisable characters. Who among us hasn't shared a table with a man who talks in donkey-like brays? Or with that typical small-town character who always — every single time — mixes up the front and back side of an animal? Insaan brings his own personal sensibilities to every frame."
Don't miss: Scatalogical humour and Insan ji using every chance he gets to feel up the people around him.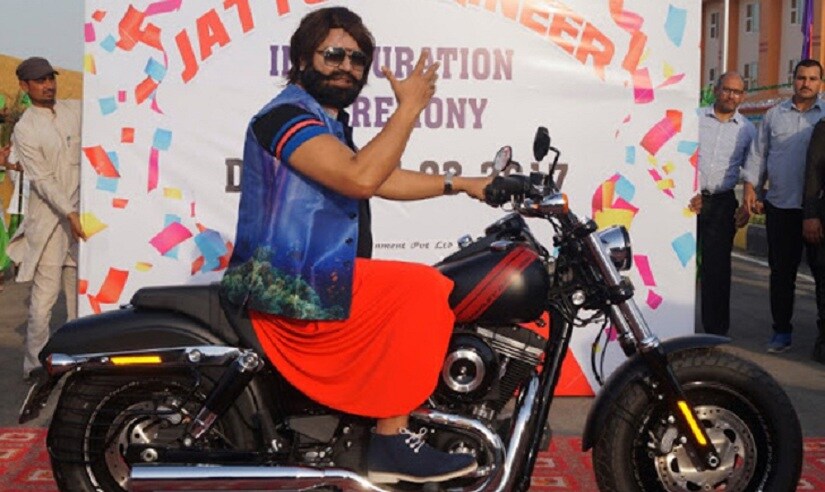 (with inputs from IANS, Anshu Lal and Ashray Hariharan)
Updated Date: Aug 24, 2017 14:53 PM