Godzilla: King of the Monsters trailer shows terrifying creature as only saviour of human race
Godzilla: King of the Monsters will release in English, Tamil, Telugu and Hindi on 31 May.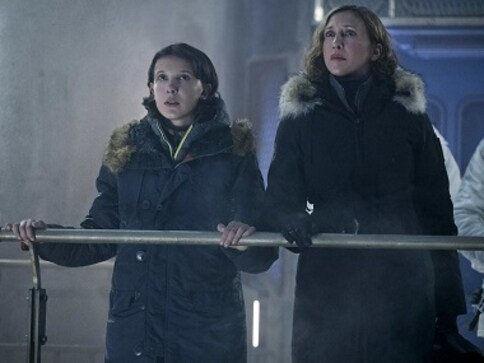 The final trailer of Godzilla: King of the Monsters was released on 23 April and shows the terrifying creature as the last resort to save the planet from destruction.
The story follows the efforts of a crypto-zoological agency Monarch where Vera Farmiga's Dr Emma Russell also works to fight 17 God-sized monsters, including Mothra, the winged beast Rodan and their alpha, the three headed King Ghidorah. The trailer shows that the only way to fight them is by joining forces with the mighty Godzilla, who spits blue fire.
Stranger Things star Millie Bobbie Brown plays the character of Madison Russell, who is the daughter of Vera Farmiga Dr Emma Russell, an employee of Monarch. Oscar nominee Sally Hawkins, Kyle Chandler, O'Shea Jackson Jr, Ken Watanabe and Bradley Whitford are also part of the film's cast.
One King to rule them all. #GodzillaMovie - in theaters May 31. pic.twitter.com/8pQGue3OU6

— Godzilla: King of the Monsters (@GodzillaMovie) April 23, 2019
Michael Dougherty's movie is part of Warner Bros' MonsterVerse, which launched with Gareth Edwards's 2014 Godzilla and Kong: Skull Island from 2018.
The epic action adventure will release in English, Hindi, Tamil and Telugu on 31 May.
Watch the trailer here.
Entertainment
Based on a comic book about a pandemic-fueled apocalypse, Sweet Tooth decidedly takes analogue approach to create a fantastical world of hybrid creatures that would seem to demand digital solutions
Entertainment
May December, which will be shipped to international buyers at Cannes, will start filming next year.
Entertainment
Ernie Lively passed away due to cardiac complications in Los Angeles on 3 June.