Game of Thrones creators David Benioff, Dan Weiss on season 8: It's the biggest thing we've ever done
The makers said though the last installment of Game of Thrones has only six episodes, the fans will soon get to know why filming was taking so much time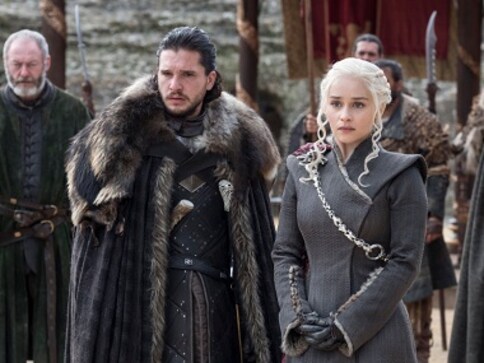 Los Angeles: David Benioff and Dan Weiss, the showrunners of Game of Thrones, explained why the eighth and final season of the show is taking a long time, saying it was the "biggest thing" they have ever done.
The writer-producers said though the last installment of the HBO series has only six episodes, the fans will soon get to know why it took them forever to shoot, reported EW.
"The final season's taking a long time because it's the biggest thing we've ever done. It was nearly a full year in Belfast either prepping it or actually shooting it.
"I think when people see it they're going to understand why it took so long. The last season is far beyond what we've ever attempted before, Benioff told reporters backstage at Primetime Emmy Awards.
GoT bagged its third Emmy for Outstanding Drama Series Monday, 17 September, after winning in 2015 and 2016. The show won total nine trophies, the highest, at the award ceremony, including a third win for Peter Dinklage in the Outstanding Supporting Actor in a Drama Series.
Author George RR Martin added that he wanted the series to go longer.
We could've gone 11, 12, 13 seasons. David and Dan have been saying for like five seasons that seven seasons is all they would go. We got them to go to eight but not any more than that.
"There was a period like five years ago when they were saying seven seasons and I was saying 10 seasons and they won, they're the ones actually working on it," Martin told Variety.
GoT recently wrapped filming its final season after getting underway late in 2017. Part of the extra time was for a battle sequence, which is being touted as by far the most elaborate the show has ever filmed.
The show is expected to premiere in the first half of 2019.
Entertainment
Guru Randhawa says, "I am thrilled to be releasing a lyrical animated video for 'Mountain Peak.' The song has heartfelt lyrics with catchy beats, so I can't wait to see how the audience reacts."
Entertainment
Tulsi Kumar mentioned that all the songs in this series are dedicated to her loving fans and is a treat to them for all the undying appreciation and support that they have shown her throughout her career.
Entertainment
Baldwin's legal team in February sought to disqualify special prosecutor and Republican state Rep. Andrea Reeb of Clovis based on constitutional provisions that safeguard the separation of powers between distinct branches of government.