From stereotypes to superheroes: The changing face of African American actors in Hollywood
From the historically exaggerated black caricatures (under the guise of supposed empowerment) to emotionally complex characters and superheroes, black actors have come a long way in Hollywood.
There was a time in Hollywood when black actors were merely situated as shadow figures in relation to white actors. The women were confined to the kitchens and the men were out tending to the gardens of rich, white families. When the films were set in the cities, they were typecast as pimps, prostitutes and muggers to symbolise the seedy underbelly. This was because these films were primarily made for the white gaze. To borrow Simone de Beauvoir's idea from The Second Sex, the white man occupied the role of the self, or subject; the black man was the object, the other — who existed mostly to explore racial themes. In defining black people exclusively as Other, white people effectively denied them their humanity in cinema for decades.
Sidney Poitier, of course, did his best in the '60s to change the way the world perceived African-American men. But the rise of independent filmmaking amid social upheaval and insecurities in the '70s paved the way for blaxploitation flicks. While these films featured black actors in lead roles and catered to mostly urban black audiences, they glorified not only the ghetto excesses of its black characters but also the violence and mistreatment of women.
Real change only came in the '90s when actors like Morgan Freeman, Denzel Washington and Will Smith became guaranteed box office draws starring in popular blockbusters and critical hits. Since then, Hollywood has made great strides to make up for the years of marginalisation, typecasting and silencing of black actors. Jordan Peele's part horror, part social commentary Get Out (2017) perhaps best represents this trend. Peele subverts many movie tropes — particularly the "white saviour" and "black guy dies first" — by satirising white guilt over racial inequality in America, not just Hollywood.
However, it took another decade for Hollywood to develop a social consciousness when it came to women, who were still reduced to playing the stereotypical mammies and angry women. Over the past 20 years, Academy Award winning actresses Octavia Spencer and Halle Berry and, more recently, the Grammy-nominated singer Janelle Monae have taken on some challenging multidimensional roles while on TV, Viola Davis, Kerry Washington and Taraji P Henson have led the way by playing strong, sophisticated women in How to Get Away with Murder, Scandal and Empire respectively.
Characters for black actors are no more written in relation to white characters but they now narrate themselves into existence. In recent years, we've seen black men star in some intimate character studies that do justice to the complexities of the African American identity. A year after #Oscarsowhite (about the lack of African-American representation in the acting categories), the 2017 Academy Awards ceremony marked a dramatic course correction as voters nominated a record seven black actors. Moonlight, a coming-of-age film about a gay black man in an impoverished Miami neighbourhood, won not just the Best Picture (despite the major gaffe that saw the statuette being momentarily given to La La Land) but also Best Adapted Screenplay (Barry Jenkins and Tarrell Alvin McRaney) and Best Supporting Actor with Mahershala Ali becoming the first Muslim actor to win an Oscar. It was also the first film with an all-black cast and the first LGBT film to win Hollywood's top prize. It was a monumental night that officially recognised the creative work of black actors.
Quentin Tarantino's Django: Unchained was a Spaghetti Western-inspired revenge flick where a slave (Jamie Foxx) kills white oppressors in a bid to save his wife from a villainous plantation owner in the Deep South. The film was commended for its bold depiction of slaves as more than just a defeated and abused people and for not being too steeped in a "white saviour" narrative.
As Thor hangs up his hammer, it's also good to see more black superheroes taking centre stage, rather than being reduced to sidekicks and being in the background of their white superhero counterparts. In Marvel Studios' upcoming Black Panther, Chadwick Boseman plays T'Challa, the new king of fictional African nation Wakanda, who also happens to be a superhero. The character, which first featured in the Marvel's comic books in the late 1960s, is finally getting his own movie. Boseman had spoken of how American films had too many "damaging and untrue" portrayals of Africa and he was determined not to add to them. Black Panther is not only directed by a black director, Ryan Coogler, its soundtrack is also produced by rapper Kendrick Lamar.
Luke Cage, another popular black Marvel superhero, also had a revival through a popular TV series on Netflix in 2016. Starring Mike Colter in the lead role, Cage became the first black superhero to have his own TV show. Last week also saw the premiere of Black Lightning on The CW network. Based on the DC Comics character of the same name, Black Lightning follows Jefferson Pierce (Cress Williams), an African-American educator who uses his superhero abilities — to generate and control lightning — to protect his family and community.
Adilifu Nama, the author of Super Black: American Pop Culture and Black Superheroes, told The Philadelhpia Tribune, "I would put this all in the context of a zeitgeist where race and issues concerning African Americans [are] a very vivid backdrop for these black superheroes. We're living in a very racialised moment. With these black superheroes coming out, they are dynamic to [the audience]."
From the historically exaggerated black caricatures (under the guise of supposed empowerment) to emotionally complex characters and superheroes, black actors have come a long way in Hollywood. While inclusion continues to improve, the struggle for racial equality is far from over. Selma director Ava DuVernay, at the 2018 NAACP Image Awards, perhaps put it best, "This is our time. We can say we were here when all this gorgeous art was happening, and that we supported it — that we lifted each other up, that we did as Dr King said we would do: Live the dream. We're the dream."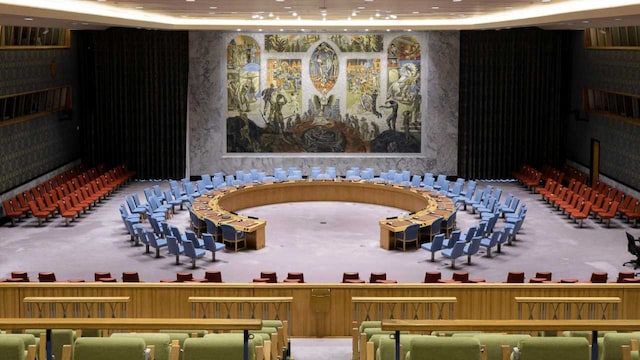 World
The US, UK, France, Russia, and China make most decisions among themselves because each can veto any council position for any reason. This unchecked power has undermined the Security Council's credibility
India
China has been using artificial intelligence as its strategic weapon to leapfrog ahead of the United States and achieve global domination
Entertainment
Ghostbusters: Afterlife asks a profound question by merely existing. Why do we bring things back to hold on to cultural zeitgeist?