From singer Rakesh Unni to the 'Dancing Uncle', social media is helping uncover India's secret superstars
Talent shows on TV are not the only route to recognition. Mobile videos uploaded on YouTube — despite their rough edges — are clearly the new platform for discovering gifted individuals.
Until last week, only the birds and fellow workers at the rubber estate in Nooranad in Alappuzha district in Kerala had heard him sing. Today, Rakesh Unni's eyes brim with tears and his voice chokes with emotion as he struggles to come to terms with how far his songs have travelled.
On Tuesday (3 July 2018), Unni was at Kamal Haasan's office in Chennai, singing before him a song from the Vishwaroopam soundtrack, the one that catapulted him to social media fame. Last week, during a water break from his work at the rubber estates (he helps cut the trees and load them on to a truck), Unni sang the soulful 'Unnai Kaanadhu Naan' number which his truck-driver friend Shameer recorded on his cellphone. Shameer's sister Shameela subsequently uploaded the video online. This was the first time Unni had recorded any of his songs.
Shankar Mahadevan, who originally sang the track, took to Facebook to trace Unni. "This is called fruit of labour! When we hear this, it just makes me feel so so proud of our country that produces so much talent and is so rich in culture. Who is this guy? How can I trace him? Need help and would like to work with him," Shankar wrote in a post.
This didn't prove to be very difficult. Unni's video had already been shared by Kerala-based music composers Pandalam Balan and Gopi Sunder; Kamal Haasan happened to see the video and got in touch with Sunder, and also shared Unni's contact details with Mahadevan.
When Unni told Mahadevan he wanted to meet him, the latter said: "Why (just) meet? We will sing together!" Haasan too has promised to give Unni a song in one of his forthcoming productions, as has Ghibran, the composer for Vishwaroopam 2.
When the two met, Haasan made Unni comfortable by speaking in the latter's mother tongue, Malayalam.
Unni told the superstar: "I don't know what to say to you".
Haasan replied: "Don't say anything. You only need to sing."
As Unni launched into song, Haasan reportedly joined in as well, singing "Kanmani Anbodu Kadhalan" from his film Guna. This musical meeting went on for two hours, after which a visibly moved Unni spoke of his "good fortune at having met such a big man", his favourite actor.
"Kamal Sir told me I have a future in playback singing. He said my voice touches the soul and that it is praiseworthy for someone untrained to sing so well. I learnt music only by hearing my two older brothers singing," Unni says.
The irony of social media unearthing new talent at a time when the same communication tool is being abused to disseminate fake news — resulting in deaths by lynching — was not lost on anyone. Unni has become a Secret Superstar of sorts, discovered by the power and reach of social media.
Talent shows on TV are not the only route to recognition. Mobile videos uploaded on YouTube — despite their rough edges — are clearly the new platform for discovering gifted individuals.
Just such a video of Sanjeev Srivastava's cool dance moves made this professor of Electronics an internet rage in June. Dancing to the Govinda number from Khudgarz helped him get on television shows with Salman Khan and Madhuri Dixit. Srivastava not only got to meet his idol, Govinda, but also became the brand ambassador of the Vidisha Municipal Corporation.
The digital space has proved itself the medium for the talented common man, where an absence of nepotism and casteism ensures no one needs to be a modern-day Eklavya.
"It is helping create a society that is merit-based, not class-based," says brand consultant Harish Bijoor. "Social media has terrific potential for the aam aadmi because anyone can publish, market, advertise. That helps make great discoveries and in that sense, it is the ultimate in democracy and a great leveller."
As Sheril Kadavan, an accounting teacher at the Kochi-based Indian School of Commerce discovered in September 2017. A video in which Sheril and a group danced to the Malayalam song 'Jimmiki Kammal' on the occasion of Onam, has clocked over 4 crore views so far, bringing her offers for Tamil films.
In 2017, two security guards — Shauwik from Kolkata and Ratan Gadhavi from Ahmedabad — and Maharashtra police constable Sanghpal Tayde, make the world sit up and take note of their talents.
Meanwhile, Rakesh Unni is now back in Nooranad, where he shyly admits, he has become quite a star. Life promises to look up for this 31-year-old bachelor, who earns Rs 200 every day for nine hours of labour. At work at the rubber estate, all he would like to say now is "touch wood".
Subscribe to Moneycontrol Pro at ₹499 for the first year. Use code PRO499. Limited period offer. *T&C apply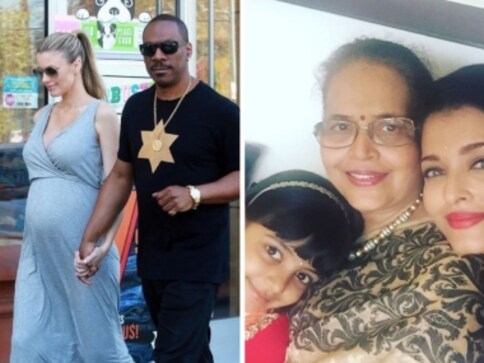 Entertainment
Social Media Stalkers' Guide: We stalk, you read. Deal? This week includes the latest sneak peeks into the life of Eddie Murphy and Aishwarya Rai Bachchan.
Entertainment
India's 'dancing uncle' aka Sanjeev Shrivastava, whose wedding dance video went viral, has now released another video
News & Analysis
In the world full of hot coffee drinkers, isn't it great when someone says "hello frands, chai pi lo".