First Take: With Hansal Mehta's Faraaz out now, looking at his 'Shahid' and 'Omerta' & the trilogy on terrorism
Shahid is a much gentler film than Omerta. Shahid is the sort of rare raw unnerving journey into a socio-political reality that our cinema needs to undertake regularly, but it seldom does. Our filmmakers largely veer away from doing films whose redolent realism could ruffle political feathers.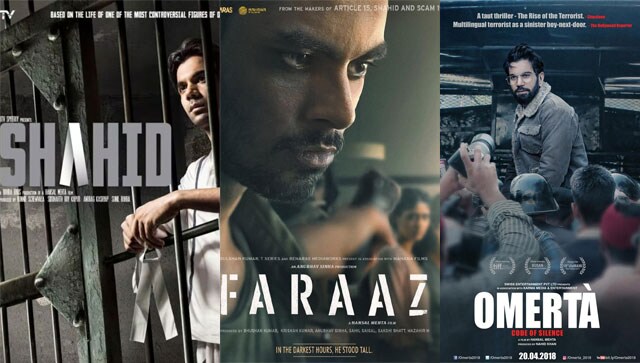 As Hansal Mehta's Faraaz releases, it seems an opportune time to look back at Hansal Mehta's other two films Shahid and Omerta from his trilogy on the anatomy of terrorism. Both feature Hansal's favourite actor Rajkummar Rao but in distinctly polarized parts.
Shahid is a much gentler film than Omerta. Shahid is the sort of rare raw unnerving journey into a socio-political reality that our cinema needs to undertake regularly, but it seldom does. Our filmmakers largely veer away from doing films whose redolent realism could ruffle political feathers.
First and foremost, Hansal Mehta's film on the real-life slain lawyer Shahid Azmi is a fearless work.Fearless and unfettered, Mehta wastes no time in establishing the monstrous marginalization of the Muslim community in a society where terrorism has blurred the majority community's sense of propriety to the extent of unmitigated bigotry.
Shahid is a mutely ireful meditation on abject isolation. There is a harrowing sequence of police brutality in the film where the film's Muslim lawyer-hero sits on the hard floor of a police station stark naked shivering as the cop repeatedly accuses Shahid of terror activities. The protagonist's absolute humiliation at that point in the narration hits us where it hurts the most.
Predominantly, Shahid is about an impatient society anxiety to find scapegoats for the growing violence all around us. In a language that embraces the complexities pertaining to the issue of Islamic isolation Hansal Mehta's film cracks open the code of that unexplored genre of cinema known as the drama of persecution.
In a brilliant documentary Inshallah Football, a bright football player is stopped from pursuing his dreams because his father is a suspected terrorist. Shahid Azmi's dreams are far less self-serving. Life is not what we want it to be. It's the sum-total of various circumstances, many of them not in our own control. In Shahid Hansal Mehta chronicles the life of suspected TADA offender turned defender of suspected TADA offenders, with the kind of deft clenched directness that one encounters in the docu-dramas of Costa-Gavras or nearer home, the searching searing cinema of the uprooted and isolated individual that Adoor Gopalakrishnan specializes in. The silence of the night is punctured by the shrill sound of the phone. Slurred threats are hurled.
Taking the abuse on his chin the crusading lawyer, played with scintillating austerity by Rajkummar Rao sits stoically at the centre of the debris of destruction and distrust as he undertakes a jehad to prove the innocence of the arbitrarily accused.There are some highly poignant electrifying courtroom sequences shot with the languorous devastating dinginess of courtrooms that have killed off all chances of justice for the damned.
What would those wretched TADA under trials, locked up and left to languish for life, have done without Shahid Azmi to fight for their lives? Now I ask you, what would Shahid Azmi's character have been like if was not portrayed by the very gifted Rajkumar Yadav? This brilliant actor whose forte is underplaying, imbues Shahid's role with the kind of tightly-reined tumult and an unspoken anguish that actors in our cinema seldom get a chance to put forward in the characters they play. Here is a performance that deserves a standing ovation, primarily because it doesn't scream for attention.
In comparison the other performances appear pale and distant, albeit authentic and thoughtful. Tigmanshu Dhulia is notably powerful in a brief cameo as an eminent lawyer. Shahid's relationship with the divorcee mother is never satisfactorily rounded up nor assimilated into this courageous man's fight for justice for those who are condemned not only by law but by social stigmatization.
What comes across with forceful impact is the protagonist's yen for justice. This man who has suffered the worst humiliation and suffering in custody won't allow the same shame and pain for those who are wrongfully confined. This man means business. We must hear his story.
Of course he pays with his life. Whether it's Romeo or Shahid, all true heroes must come to a suitably sticky end. That's what you get for trying to be a hero. Sometimes while you try to be larger than life, life creeps up on you to make its own outrageous claims.Shahid is a crucial document of our troubled times. It builds an incredibly gripping case-study of persecution and vindication. The treatment of the topical subject is never ponderous or polemical. Hansal Mehta has set out to convert the slain lawyer's valorous tale into an authentic exposition on the residue of retribution.
But what to do, if the end-result is so darned gripping? Shahid is a must-see film with an absolutely impeccable subtext that can be read as an urgent warning against the politics of isolation practiced by many political parties. Be warned. You might be voting for violence.
Shahid is not a such a tough film to watch. Omerta is not an easy film to watch. The violence that grips the heart of the protagonist seems to clamp itself around the narrative creeping up on the plot points ladling the terror-ridden violence with a staggering inevitability. The film is shot like a sweeping arching documentary, creating a screen secreting slivers of silent screams.
Terror and terrorism have afflicted our cinema in ways that are both life-changing and long-lasting. Omerta takes both the routes and comes up with some dead ends in the narrative, much like what often occurs in violent lives where the only certainty is sudden and brutal death. Ironically Omar Sheikh lives at the end, in spite of all the unimaginable violence that he perpetrates. And perpetrates with such conviction.
The film has many loose ends, threads from the theme of violence hanging around uneasily, suspended in midair as globules of gore collide and split apart our sense wrong and right.At the centre of this skewed universe of tantalizing thought-processes and damning aggression is
Rajkummar Rao playing Omar Sheikh, the kingpin terrorist so sure of what he thinks is wrong with the world that he makes us, the pacifists, question our belief in nonviolence. Rao's is a deeply disturbing performance. It is cool and persuasive. Brutal and unscrupulous, his portrayal of Omar tears into the innards of the anatomy of terrorism and comes up with very disturbing truths.
In the sequences with his father in London, Omar comes across as shy and inhibited. This is a man who sees humanism in barbarism and salvation in terror. Some of the on-screen violence is unbearably brutal. And I wonder what the censor board would make of it.
Omerta is a pain-lashed brutal and blunt exposition on terrorism. It offers no hope for the end of violence. In fact it tells us that violence won't go away even if we want it to.In the end we hear the nightmare-inducing sounds of man's throat being slit open, halaal style. Nothing prepares us for the cold blooded brutality of Hansal Mehta's chilling chronicle of Ahmed Omar Saeed Sheikh, the British-Pakistani terrorist who planned and executed the murder of Daniel Pearl.
In a sequence of violent love-making Rajkumar Rao had to not only strip himself fully he also had be shown making love on screen as though he was declaring war on all humanity.In fact so savage was the sequence that Rajkummar Rao "lovemaking" partner was impossible to find.The sequence required an actress who would be willing to portray the most violent kind of lovemaking ever seen in any film…at least, nothing like this has ever been shown in an Indian film.Having seen the uncut version of the film I can vouch for the savagery of the sequence.
This is not the first time he has stripped himself naked .In Shahid too there was a scene where Rao is completely naked when his character is in police custody and he is being tortured.But again the nudity was needed…not just for the character but also as an actor to understand his humiliation and what all the pain he has gone through.In this case too it was needed .
Rajkummar Rao is all praise for Hansal's level of commitment. "Hansal sir is a very fearless director and he is amazing in whatever he does and I completely trust him .So when he asked me to do something like this and get completely naked, I know it is done for some reason and just not for the heck of it and I don't mind doing it if it is very important part of the narrative."
Subhash K Jha is a Patna-based journalist. He has been writing about Bollywood for long enough to know the industry inside out.
Read all the Latest News, Trending News, Cricket News, Bollywood News, India News and Entertainment News here. Follow us on Facebook, Twitter and Instagram
Entertainment
Sushmita Sen recently shared that she suffered a heart attack a few days back and underwent angioplasty. 
Entertainment
Baldwin's legal team in February sought to disqualify special prosecutor and Republican state Rep. Andrea Reeb of Clovis based on constitutional provisions that safeguard the separation of powers between distinct branches of government.
Entertainment
Martin Garrix, the world's No. 1 DJ, in an exclusive interview with Firstpost, spoke about his shows in India, earliest memories of the country, and what we can expect from him in 2023.