Farhan has surprised me, was extremely worried about him: Javed Akhtar
The eminent Urdu poet said unlike his daughter Zoya — now an acclaimed filmmaker — who he believed was 'strong', he had his concerns about Farhan, the 'shy' and 'quiet' one.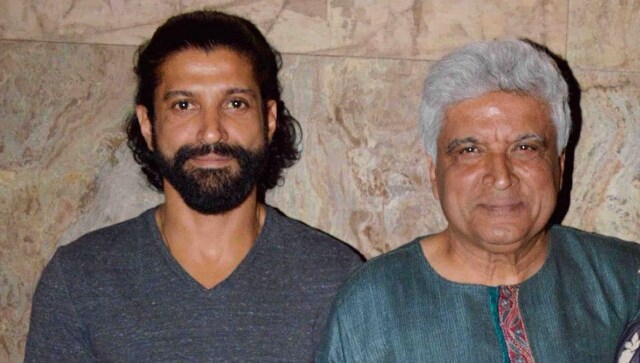 The success and growth of actor-filmmaker Farhan Akhtar has surprised his father and veteran lyricist Javed Akhtar, who in his new book "Talking Life" admits he was "extremely worried" about his son.
In the book, the eminent Urdu poet said unlike his daughter Zoya — now an acclaimed filmmaker — who he believed was "strong", he had his concerns about Farhan, the "shy" and "quiet" one.
"Farhan has really surprised me. Because I was extremely worried about him. I was not worried about Zoya. Right from her childhood, Zoya was strong and precocious. Even when she was six or seven, she argued logically.
"On the other hand, Farhan was very quiet and shy… He was not a kid who argued and fought. In fact, he was intimidated by Zoya," said Akhtar about his multi-hyphenate son.
"Talking Life", a freewheeling conversation between Akhtar and documentary filmmaker Nasreen Munni Kabir, sees him speaking about the ups and downs of his extraordinary life — from his childhood, his struggles in the 1960s as an aspiring writer trying to break into the film industry to his later years as a husband, father, and successful songwriter and poet.
According to Akhtar, Farhan, who he thought didn't have "resilience" in him, became a different person when he turned 23.
View this post on Instagram

"I did not know that even in his childhood, he had another persona when he was among his peer group. I came to know much later about different aspects of his personality. Both my children have strong ideas. Their sense of values is impeccable," said the industry veteran about his 49-year-old son.
While Farhan, who wears multiple hats, is well-known for his 2001 directorial debut "Dil Chahta Hai" and his portrayal of legendary sprinter Milkha Singh in "Bhaag Milkha Bhaag", Zoya is a successful filmmaker and writer with hit films such as "Zindagi Na Milegi Dobara", "Dil Dhadakne Do" and "Gully Boy" to her credit.
Akhtar, who along with former writing partner Salim Khan is credited for scripting several iconic films including "Deewaar", "Don", and "Sholay", said he enjoys his children's success more than his own.
"It may sound dramatic, but it's a fact that the success of my children gives me greater happiness than my own success. I feel proud of Zoya and Farhan. Honestly, I have never felt proud about my own work in the same way," he added.
According to the 78-year-old poet-lyricist, he sees his traits in both of his children, whom he shares with former wife, actor and writer Honey Irani.
"Zoya and I tend to think logically and try to analyse things objectively. Farhan and I share a sense of humour, a happy-go-lucky attitude, taking things in a lighter vein, not making things into an issue. Many people have told me I could narrate a screenplay well. I think that was the latent actor in me. I may have had some acting talent that Farhan clearly has," he noted.
"Talking Life", published by Westland, is currently available for sale across online and offline stores.
Read all the Latest News, Trending News, Cricket News, Bollywood News, India News and Entertainment News here. Follow us on Facebook, Twitter and Instagram.
Entertainment
Sushmita Sen recently shared that she suffered a heart attack a few days back and underwent angioplasty. 
Entertainment
Baldwin's legal team in February sought to disqualify special prosecutor and Republican state Rep. Andrea Reeb of Clovis based on constitutional provisions that safeguard the separation of powers between distinct branches of government.
Entertainment
Martin Garrix, the world's No. 1 DJ, in an exclusive interview with Firstpost, spoke about his shows in India, earliest memories of the country, and what we can expect from him in 2023.