EXPLAINED: Why Miley Cyrus and Dolly Parton's Rainbowland banned from Wisconsin first-grade concert
A Wisconsin first-grade teacher lashed out at the school authorities for banning Miley Cyrus and Dolly Parton's Rainbowland song from the concert.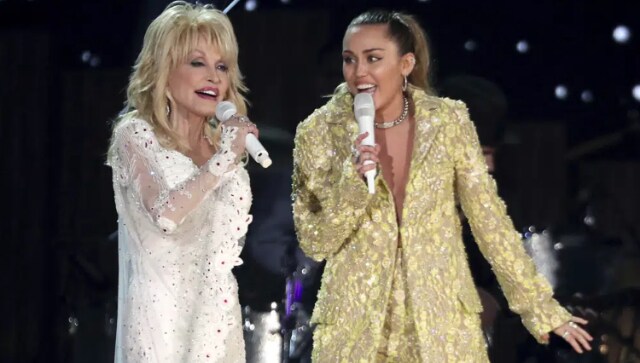 Dolly Parton and Miley Cyrus are two of the biggest names in the music industry across the globe. Their melodious voices often garner love, praises and accolades from their admirers and fans in reel and real world.
However, an American school board named Wisconsin elementary has banned their track Rainbowland (which promotes LGBTQ acceptance) from its spring concert setlist saying the song "could be perceived as controversial."
Superintendent James Sebert, confirmed the news to Fox6 that administrators had removed Rainbowland from the first-grade concert because it might not be "appropriate for the age and maturity level of the students."
View this post on Instagram
First-grade teacher Melissa Tempel said she chose the song because its message seemed universal and sweet. The class concert's theme was The World and included other tracks like Here Comes the Sun, by The Beatles and What a Wonderful World, by Louis Armstrong.
"My students were just devastated. They really liked this song and we had already begun singing it," Tempel said. Expressing her concern, she added that parents were upset after the song was removed and the ban and other district policies against expressing LGBTQ support will affect the mindset of the students.
"These confusing messages about rainbows are ultimately creating a culture that seems unsafe towards queer people," she said.
Social media came in support of the song and suggested that it should be included in the concert. While one netizen wrote, "it means that wouldn't it be nice to live in a world where negativity doesn't exist, a place where you can reach our full potential & be true to yourself. which part was controversial," another user commented, "How surprising. Finding happiness and being free to be who you are is considered "controversial."
With inputs from AP
Read all the Latest News, Trending News, Cricket News, Bollywood News, India News and Entertainment News here. Follow us on Facebook, Twitter and Instagram
also read
Entertainment
After a lot of speculation Priyanka Chopra's Citadel will be coming up with its Season 2 on Prime Video.
Entertainment
Priyanka Chopra Jonas starrer Citadel will or will not come out with Season 2. Some reports say that they wont. But the speculation is still on.
Sports
The actress has created a niche market of her own and enjoys a dedicated loyal fanbase across the country.