Emmy moments: A winner's joy — in song — lifts Emmy night
Sheryl Lee Ralph had already broken into tears before the show, when she'd been handed a tablet on the carpet with a recorded message of support from a beloved aunt.
As a kindergarten teacher on "Abbott Elementary," she can get an unruly class to sit up and listen. And that's exactly what Sheryl Lee Ralph did at the Emmys — capturing the attention of a packed theater and a global TV audience with a stirring acceptance speech for the ages.
It was the first Emmy (and nomination) for stage and screen veteran Ralph, at 66, and she made the most of it, delivering the ultimate feel-good moment of an Emmy show that sometimes felt flat or uneven, despite the well-known comic talents of host Kenan Thompson and the return of a pre-pandemic crowd.
It was a show that rewarded previous winners in several major categories. "Succession" and "Ted Lasso," the big winners in drama and comedy, were repeat winners, as were a number of actors.
Still, there were new and groundbreaking wins like that of actor Lee Jung-jae of "Squid Game," the first Asian to win the award and a major breakthrough for a foreign-language show along with Hwang Dong-hyuk's prize for directing. There was Ralph's acting prize and Quinta Brunson's writing award for "Abbott Elementary." And then there was winner Lizzo, crying as she reminded her audience of the urgency of young people being able to see people who look like them represented in media and culture.
A few notable moments of the night:
A teacher schools her audience
Sheryl Lee Ralph had already broken into tears before the show, when she'd been handed a tablet on the carpet with a recorded message of support from a beloved aunt. She declared that no matter what happened inside, she'd already won. Luckily, Ralph had more winning to do. Declared the victor for supporting actress in a comedy, she ascended the stage and sang the powerful opening to "Endangered Species" by Dianne Reeves: "I am an endangered species but I sing no victim's song. I am a woman, I am an artist, and I know where my voice belongs." She then admonished anyone watching who'd ever had a dream, to not give up. "This is what believing looks like," she said. Sometimes it's not clear early on what the big moment of an awards night will be. On this Emmy night, it was clear.
No 'Crown,' but a 'Succession'
Two actresses have already won Emmys for playing the late Queen Elizabeth II on the same show, "The Crown." Will there be a third, when Imelda Staunton takes over, after Claire Foy and Olivia Colman? In any case, "The Crown," last year's drama winner, was not in contention this year, and "Succession" was able to win its second prize, after winning in 2020. It was not the only repeat winner, by far. "Ted Lasso" repeated last year's win as best comedy, as did its star, Jason Sudeikis, and supporting actor Brett Goldstein. Other repeats: Zendaya of "Euphoria," repeating her prize from 2020, and Jean Smart, who won her second comedy actress award for "Hacks." There had been thoughts of an "Abbott Elementary" upset in the comedy category, but it was not to be.
Lizzo's poignant reminder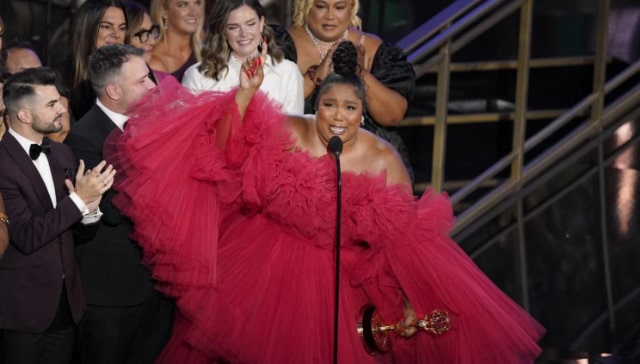 She was visibly blown away by Ralph's speech, but soon Lizzo was onstage for her own emotional win for her competition series, "Lizzo's Watch Out For The Big Grrrls," in which contestants vie to be her backup dancers, beating out frequent winner "Ru Paul's Drag Race." The singer gave a compelling lesson on how crucial representation is in our pop culture. "When I was a little girl, all I wanted to see was me in the media," she said. "Someone fat like me, Black like me, beautiful like me." She said she eventually did, but SHE had to be that person. Lizzo gave a shout-out to her dancers up in the balcony. "This is for the big girls!" she said.
Read all the Latest News, Trending News, Cricket News, Bollywood News, India News and Entertainment News here. Follow us on Facebook, Twitter and Instagram.
Entertainment
Trevor Noah's standup special shines the most when it makes sharp, pointed observations on human life. But these observations are overshadowed by convoluted setups and punchlines which don't quite land.
Entertainment
For Swifties, the ire for Ticketmaster is not just about a ticket: "It's the fact that you can't participate in your community and your fandom and it's part of your identity," Nisbett said.
Entertainment
Bruce Lee's wife Linda Lee revealed that the kung-fu expert had a fluid-based diet of carrot and apple juice before his death.