Emmy Awards 2018 predictions: Game of Thrones vs Handmaid's Tale — who will and should win?
Here's who we think will win and should win the top honours at the Emmys
Couch-surfing is not as easy as it sounds or looks. There are just so many quality shows currently airing that even in this era of streaming television and binge-watching, it is almost impossible to watch them all.
This Emmy season saw Netflix and co continue to expand their slate of original programming in order to compete with premium cable channels — the erstwhile prime movers of prestige TV. In the battle of the screens, cinema can no longer boast of having an aesthetic edge over television. Realising the ever-growing scope of the latter's longform storytelling, Hollywood's A-list talent are making a mass migration from the silver screen to the small for meatier roles.
With the conclusion of unsung, old favourites like The Americans and The Leftovers, a strong crop of newcomers — like Killing Eve and The Marvelous Mrs. Maisel — will hope to make a play for dominance in the current golden age of TV.
Looking ahead to the 70th Primetime Emmy Awards, there are many pressing questions to consider regarding who will win, who we think should win and who could be a dark horse. Here are our picks for the top categories.
Outstanding Drama Series
Game of Thrones is the most-awarded and nominated primetime scripted series in Emmy history, having earned 45 out of 132 nods. But, in its absence last year after missing the eligibility period, The Handmaid's Tale handed a streaming service its first best drama Emmy. And Hulu's flagship drama, based on Margaret Atwood's dystopian novel of the same name, is expected to repeat last year's success, according to awards prediction site Gold Derby.
The Television Academy is obviously filled with Thronies but if they looked at all the nominees' objectively, the second season of The Handmaid's Tale perhaps was a cut above the HBO fantasy drama's inconsistent seventh outing. Not to mention, its bleak vision of a near-future totalitarian society is a little more reflective of the times than a show about ice zombies, fiery dragons and incestuous alliances.
However, many of us do secretly wish The Americans — FX's gripping Cold War saga about sleeper Soviet agents in the US — finally gets its due and walks away with the top prize.
Will win: The Handmaid's Tale
Should win: The Handmaid's Tale (or The Americans)
Outstanding Comedy Series
Donald Glover broke new ground with a grittier, more thought-provoking second season of Atlanta. Unafraid to make his viewers uncomfortable with its absurdist humour, he continued to ask important questions about racial politics in contemporary American society. 2017 was an excellent year for comedy with three new excellent shows — The Marvelous Mrs. Maisel, Barry and GLOW, all of which had strong debut seasons. The Marvelous Mrs. Maisel, Amy Sherman-Palladino's period comedy-drama about a 1950's quick-witted housewife turned incendiary stand-up comedian, comes a close second to Atlanta's Robbin' Season. According to Gold Derby, the race is essentially between the two with Mrs. Maisel having the edge.
Will win: The Marvelous Mrs. Maisel
Should win: Atlanta
Outstanding Limited Series
The front-runners for the top limited series honours are The Assassination of Gianni Versace: American Crime Story (FX's uneven, unconvincing follow-up The People v. O. J. Simpson), Godless (Netflix's engaging enough reinvention of the traditional Western with a contemporary female empowerment edge) and Patrick Melrose (Showtime's faithful adaptation of Edward St Aubyn's  semi-autobiographical novels about upperclass life). Anchored by Benedict Cumberbatch's riveting performance, David Nicholls' serialisation of St Aubyn's exquisite prose is perhaps the most deserving candidate but the Television Academy might be leaning towards The Assassination of Gianni Versace.
Will win: The Assassination of Gianni Versace: American Crime Story
Should win: Patrick Melrose
Outstanding Variety Talk Series
This really should be a simple enough recount of last year's ballot and not many will argue against John Oliver, even over disrupters like Samantha Bee and Stephen Colbert, much less Britain's least favourite son, James Corden.
Will win: Last Week Tonight with John Oliver
Should win: Last Week Tonight with John Oliver
Outstanding Variety Sketch Series
With 21 nominations, Saturday Night Live is certain to add more hardware to its rapidly growing pile though you would think the weirdly delightful At Home With Amy Sedaris is perhaps a more worthy recipient. However, the best variety sketch series — Comedy Central's Nathan For You (Nathan Fielder's radical, unorthodox blend of documentary, reality TV and sketch comedy) — goes under the radar yet another year.
Will win: Saturday Night Live
Should win: At Home With Amy Sedaris
Outstanding Lead Actor and Actress in a Drama Series
After six underappreciated years of quality TV featuring largely overlooked performances, it could be the perfect icing on the cake if America's favourite spy couple — Matthew Rhys and Keri Russell — took home the top acting honours for The Americans. But, they do have some stiff competition from the likes of Sterling K. Brown (This Is Us) and Elisabeth Moss (The Handmaid's Tale), both of whom are Emmy favourites. Sandra Oh — and Jodie Comer, who was surprisingly not nominated — also turned in excellent performances in Phoebe Waller-Bridge's darkly funny and deliciously clever Killing Eve and could just spring a surprise.
Actor in a Drama series
Will win: Sterling K. Brown, This Is Us
Should win: Matthew Rhys, The Americans
Actress in a Drama series
Will win: Elisabeth Moss, The Handmaid's Tale
Should win: Sandra Oh, Killing Eve (or Keri Russell, The Americans)
Outstanding Lead Actor and Actress in a Comedy Series
Chances are looking good this year for America's tireless polymath, Donald Glover, who dazzled us with a much-more confident performance in Atlanta's second instalment. Among the other top nominees this year are the forever remarkable William H Macy (whose role as the self-destructive patriarch in Shameless has earned him his fourth nomination), the ingenious Bill Hader (who showed off his acting range as an actor in Barry) and sitcom veteran Ted Danson (who continues to impress all with his exceptionally layered performance as Michael in The Good Place).
Issa Rae (in Insecure) and Rachel Brosnahan (in The Marvelous Mrs. Maisel) are both so charismatic and endearing in two of TV's most sharp-edged comedies. It really is hard to choose one over the other.
Actor in a Comedy series
Will win: Donald Glover, Atlanta
Should win: Donald Glover, Atlanta
Actress in a Comedy series
Will win: Rachel Brosnahan, The Marvelous Mrs. Maisel
Should win: Issa Rae, Insecure / Rachel Brosnahan, The Marvelous Mrs. Maisel
Entertainment
Jason Sudeikis and Jean Smart collected back-to-back acting trophies, while Zendaya picked up her second drama actress prize for "Euphoria."
Entertainment
Here are some takeaways about who wore what at the Emmys: strapless dresses were big, as were metallics.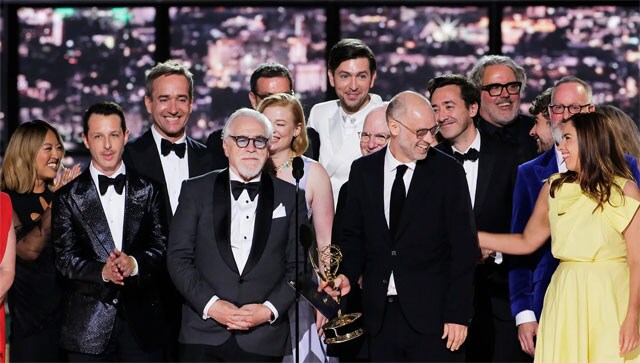 Entertainment
There was Ralph's acting prize and Quinta Brunson's writing award for "Abbott Elementary." And then there was winner Lizzo, crying as she reminded her audience of the urgency of young people being able to see people who look like them represented in media and culture.