The Marvelous Mrs Maisel: Why you should watch Amazon's newest (and possibly, best) sitcom
The Marvelous Mrs Maisel — in all its exuberant spirit — tackles an interesting aspect of sexism that's particularly poignant in the wake of #MeToo
It's difficult to not be jealous of Miriam "Midge" Maisel when you first see her: she's a lovely, intelligent, whip-smart Jewish young woman in 1958 New York, the kind of woman who's so confident in her coquettish charms that she gets away with giving a toast at her own wedding, with a well-earning and supposedly-doting husband who wishes to break into the world of stand-up comedy, two kids (if you're into that kind of thing), a gorgeous Upper West Side apartment (in the same posh building as her parents) that's perfect for hosting a traditional Jewish feast for 20, a ridiculously enviable wardrobe that looks like it's straight out of an Audrey Hepburn/Grace Kelly movie, and Tony Shalhoub for her father!
Everything she says drips with smart cultural and political references, is laced with wit (the kind you develop when you graduate from an elite women's school on the east coast, obviously) that threatens to upend her husband's wannabe-comedian credentials, and her more-than-just-comfortable life is set against a backdrop of the post-war decade in New York — not the New York with the poor and grimy underbelly that seems exotic to rich Upper Westsiders, but the one that's glamourous and gloriously comfortable and is called "home" by said rich Upper Westsiders.
Miriam Maisel seems to have it all — right down to the luminously rosy-and-peachy complexion that used to be the #lifegoals of so many model housewives back in the 1950s. It has to be too good to be true, and it is. Her husband is cheating on her with his secretary. Surprise, surprise. Not! And that's when The Marvelous Mrs Maisel turns the jilted and unhappy '50s housewife trope on its head; instead of being sad and morose and unhappy at the thought of her husband cheating on her (a la Mad Men's Betty Draper) and not allowing her to live her '50s dream to the fullest, Midge Maisel picks up the fragile pieces of her carefully-curated upper middle class life (often gracefully, but at times clumsily), lets go of her comfortable existence as she forges her way through the sultry nightclubs of Greenwich Village, and bursts on to the stage in the ultimate unintended revenge on her husband: by being funnier than him, and becoming a successful stand-up comedienne herself. It's a fantastically whirlwind ride; I was all up for it, and you'll be too!
The Marvelous Mrs Maisel is created by Amy Sherman-Palladino and Dan Palladino (Gilmore Girls' writer-creator duo), and to anyone who's familiar with their insanely witty, fast-paced, and Aaron Sorkin-like pop culture littered dialogue, the writing for Mrs Maisel might still seem like a revelation. This show isn't a period dramedy, despite being firmly rooted in an era that makes it impossible to view it as anything other than "period." It isn't a musical either, although the characters on Mrs Maisel — including Midge herself (played by the totally-deserving Golden Globe award winning Rachel Brosnahan, who was previously known to us as Doug Stamper's ill-fated hooker Rachel from House of Cards), her blustery, tweed-clad, Columbia-Math-professor father Abe (played by the utterly pitch-perfect Tony Shalhoub), her poised and stern mother Rose (played gratingly well by Marin Hinkle), her spoiled and sorta-sweet-sorta-douchey husband Joel (Michael Zegen), and her no-nonsense manager-turned-friend Susie Myerson (Gilmore Girls alumna Alex Borstein), as well as a bunch of other secondary and peripheral characters, all bathed in a soothing at-times-sorbet-at-times-pastel palette — seem to have the frothiness and whimsy that would make them the perfect ensemble for a Broadway musical.
Mrs Maisel isn't even a show about stand-up comedy. There have been a lot of shows about stand-up (comedy and the comedians) in the past, and the romanticising of this genre of entertainment has continued on television, even through the darkly self-examining lens of Louie. At its heart, however, The Marvelous Mrs Maisel is a coming-of-age story — not the stereotypical coming-of-age that usually happens in a person's teenage years, but a slightly more grown-up, less angsty version of it. With a very peculiarly pronounced feminist stamp on it.
Midge Maisel is the classic 1950s housewife: she wears the prettiest clothes, maintains her svelte figure even after giving birth to two children, and cooks a mean brisket. Her daily rituals include religiously measuring her thighs and ankles to note even the slightest increase in them (but there's never any change, of course!), getting out of bed at night after her husband Joel has fallen asleep, to remove her makeup, apply cold cream, and put on hot rollers, and then waking up early to ensure he finds her in bed next to him looking perfectly rosy-cheeked, coiffed, curled, and smelling like a summer garden. All in a day's work for Mrs Maisel, literally.
Fortunately for Joel, besides being a super-capable wife, Midge is also really smart and quick: she keeps a little diary in which she regularly makes notes to help him develop his comedy, while also making briskets to bribe the staff at the clubs Joel performs at (so they'll give him a decent time slot to perform). Unfortunately for Joel, Midge is funnier than him. And thank goodness for that!
The night Midge has her plush Persian rug pulled from beneath her as her marriage falls apart, she gets drunk, gets on the train to go to the Village, gets into the Gaslight Cafe (where Joel would sometimes perform, and where Susie is the manager who hates men like Joel), gets on the stage, and in a misery-induced-yet-comically-manifested stream-of-consciousness rant performs one of the funniest stand-up acts the club has ever seen. Oh, and she gets her applause.
Seeing Midge Maisel blossom into a strong, independent career-woman who lands herself a day job as a makeup counter girl at the department store B Altman and performs her trailblazing stand-up routine at night, is a heady Technicolour delight. Very frankly, Amy Sherman Palladino probably writes funnier, wittier dialogue for her funny, witty female characters than she does for a stand-up type of routine. But that doesn't matter. Because a significant portion of Mrs Maisel also deals with Midge's failures, especially her just-slightly-less-than-spectacular failures as a stage comic. Apparently, the writers who helped Sherman-Palladino write the routines that Midge performs, loved writing the bits where she bombs. After the roaring success of her maiden drunk and expletive-laden performance (which, by the way, ends in her being arrested for indecent exposure because she flashes her breasts to the audience!), the scenes where Midge's comedy falls flat make you cringe.
But Midge is intelligent, confident, and (like most women during that period) has been underestimated for her wit and other skills for most of her life; post-separation, as she teams up with Susie and befriends the legendary comedian Lenny Bruce (played by Luke Kirby), there's a thirst within her to compete and succeed in what was clearly a male-dominated industry back then (and is, to some extent, even now). Our girl knows she's funny and can be a riot and the life of a party, and she isn't going to let a sometimes-less-than-enthusiastic crowd take away this dream that she didn't know she had until then.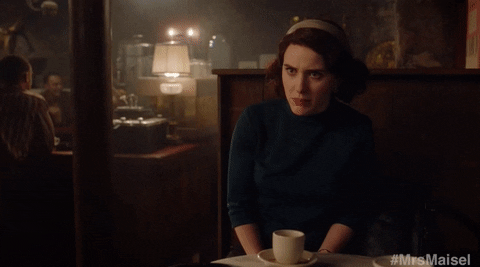 The feminist bent in Midge's comedy is pretty obvious too, especially considering her upbringing and the inherent sexism and patriarchy she has to endure (from society, as well as her mother) after her marriage ends, and the pent-up frustration inside her reaches its lycra limit with one scathingly feminist-and-hilarious stand-up routine after another.
And our Mrs Maisel doesn't just perform at bars and clubs and the Gaslight Cafe; she makes herself the must-see act even at house parties thrown by her friends and colleagues at the department store. As a viewer, it's a deliriously riotous and happy journey to watch, and even when it feels a tiny bit like a fairytale, Midge's experience (inspired by real-life icons like Joan Rivers) is just so delightfully fresh and colourful and joyous that you forgive the Palladinos for making it seem a tad too simplistic.
Besides the main and supporting cast (which includes a delightful turn by A Few Good Men's Kevin Pollak as Moishe, Joel's father), Mrs Maisel also stars Jane Lynch (as a comedienne in a hilariously deceitful role) and the incredible Wallace Shawn (as a so-bad-he's-good artist manager) to strengthen the already-crazy-good cast.
Two other things about The Marvelous Mrs Maisel that deserve a shout-out are the music and the costumes. I don't think any other show since Gossip Girl has ignited my love for fashion on TV as much as The Marvelous Mrs Maisel. Definitive rankings of Midge's incredible outfits on the show were inevitable, and to me personally, her clothes brought about a desire that can only be fulfilled by a severe buy-whatever-I-desire shopping spree. What stood out the most about the outfits on the show was costume designer Donna Zakowska's use of colour, style, texture and pattern to make clothes that certainly belong to the 1950s and yet feel gorgeously timeless and not even remotely dated. Midge's outfits (high-waisted pants, shorts worn over stockings, turtlenecks, coats in pastel shades and also in gloriously rich hues, and the most beautiful cocktail dresses in red and black that would look divine at any red carpet event in 2018) are tailored to perfection, which is obvious given her background. But there's also a hint of armour in the way she wears her tops and blouses to work, and knowingly wears her hottest red outfit in front of Joel and her best French designer-wear for her court hearing. Unlike Gilmore Girls, in which Lorelai's fashion was often thought to be a bit too kooky and quaint while Rory stuck to the standard good-girl-goes-to-school-and-then-college kind of wardrobe; Mrs Maisel has ensured that Midge's clothes on the show will be as much a talking point as Rachel Brosnahan's performance or Sherman-Palladino's comic-writing brilliance.
And then there's the music! From Barbara Streisand's 'In Old Peking' playing loudly as Midge makes her way from the Upper West Side to Greenwich Village to Robert Preston's baritone saying, "Friends, the idle brain is the devil's playground!" while Joel stands thinking about his a-little-bit-slow-on-the-uptake girlfriend to Blossom Dearie's 'A Gentleman is a Dope' playing rather pointedly when Midge encounters a rather idiotic fella, Mrs Maisel's soundtrack (highlighting the incredible music that was made back when women's hearts would melt at the sound of Elvis Presley and Frank Sinatra, and just before Bob Dylan, The Beatles, and Simon & Garfunkel became household names) is evocative and one of the best TV soundtracks of the past year (one that had some really good music already, courtesy Big Little Lies, Stranger Things 2 etc.).
I could go on and on about the beauty of The Marvelous Mrs Maisel — its exuberant spirit that manages to tackle an interesting aspect of sexism that's particularly poignant in the wake of #MeToo, the amazing performances by the entire cast led by the luminous Rachel Brosnahan, the wit and humour in Sherman-Palladino's writing, the snazzy sets and the jazzy tunes and the drool-worthy clothes that are perfection. But ultimately (and I think this matters a lot more at this point in time), The Marvelous Mrs Maisel is a joy to watch. It's triumphant and rewarding, and it does so without being particularly b*tchy or disdainful towards anyone, including those characters on the show who are clearly not entirely redeemable. And that, to me, feels like the best kind of television nowadays. I really do hope we get to see a lot more of Mrs Maisel!
also read
Entertainment
In an interview with Firtspost's Lachmi Deb Roy, actor Sonakshi Sinha says, "I had to learn how to ride a bullet and now I am a proud owner of it."
Entertainment
Prime Video today dropped the lyrical video of 'Kukunnu' from Kaadhal Enbadhu Kannula Heart Irukkura Emoji episode in Modern Love Chennai. The catch melody, sung by Vagu Mazan & Ramya Nambeesan and lyrics written by Yuga Bharathi