Ee.Ma.Yau. movie review: Lijo Jose Pellissery returns with a keenly observant, fabulously funny funeral film
Pellissery fashions Ee.Ma.Yau. into a keenly observant, fabulously funny insight into the politics, economics and theatrics around death.
For a city kid, there is nothing more amusing or revelatory about rural life than a death in the family, complete with rituals, ritualistic wailing and more. Growing up in Delhi as I did, my earliest education in the way country folk react to the demise of an acquaintance or relative came with the loss of my beloved grandfather who was in Kerala at the time. I can never forget the bawling and chest-beating by a particular household help called Pathumma who, while no doubt fond of the man we all called Appachan, seemed to be moved to hollering out weird weepy tributes only in the first few minutes of the arrival of each fresh batch of guests paying their respects to him, relapsing magically into normalcy and even laughter immediately after. I watched goggle-eyed and listened as an entire mountainside reverberated with shrieks of "Ende Appacho, the last time you spoke to me you asked me for biryani, but I did not make it. Now when will I ever get a chance to cook for youuuuuu?" etc etc.
My late aunt could summon up similar bouts of yelping and crying with every new visitor to her home for months after the loss of her husband.
Memories of Pathumma and my aunt came flooding back as I watched Lijo Jose Pellissery's Ee.Ma.Yau. written by P.F. Mathews, the story of an impoverished man who promises his father impressive last rites just minutes before the old chap passes away. It would be easy to adopt a lampooning tone in such a tale, but Pellissery and Mathews are never patronising or reductive in their portrayal of characters and circumstances here. The result is a delightful slice of reality among a small community in a coastal village in Kerala and an unexpected overview of larger existential questions.
Chemban Vinod Jose plays Eeshi, son of the elderly alcoholic Vavachan (Kainakiri Thankaraj) who is in the habit of disappearing from home for long stretches of time. We realise there is more to his disappearances than eccentricity when, upon his latest return, we learn that his daughter-in-law Sabeth, short for Elizabeth (Arya K.S.), intends to spike his food with something she expects will keep him in check.
Vavachan's wife Pennamma (Pouly Valsan) approves of the plan. Eeshi's younger sister Nisa, short for Agnes (Krishna Padmakumar), is too wrapped up in a clandestine love affair to notice what they are up to.
When Vavachan collapses in the middle of a drinking and dancing session with Eeshi, his death sets off a chain of occurrences that offer a highly entertaining, sobering study of the community.
Ee.Ma.Yau. (short for Eesho Mariyam Yauseppe a.k.a. Jesus, Mary and Joseph) is a prayer for and a salutation to the dying and the dead used by certain sections of Malayali Christians. With this choice of title, Pellissery has once and for all shown that he was genuinely indifferent to the ludicrous review of his otherwise widely acclaimed Angamaly Diaries (2017) by a Malayalam TV channel believed to be close to the RSS, in which the critic objected to what he considered a surfeit of Christian imagery albeit in a film with a Christian leading man.
Angamaly Diaries created waves nationwide, revealing to cinephiles outside Kerala what viewers within the state already knew: that Pellissery is an acute observer of human behaviour. The director brings the same quality to Ee.Ma.Yau., offering viewers a satirical take on Eeshi's funeral preps without ever allowing the comedy to descend into insensitivity even when people around him do.
Actor Chemban Vinod Jose, who made a smashing writing debut with Angamaly Diaries, displays his acting versatility as Eeshi here. His deadpan heartbreak at his father's sudden death is vastly removed from his villainous turn in the recent Swathanthriyam Ardharathriyil, or his menacing, spine-chilling appearance as a vengeful, lustful creep in 2016's Kali.
Other familiar faces in the cast include Vinayakan as Eeshi's fond friend and Dileesh Pothan as the local priest with a proclivity for crime sagas. Both are characteristically excellent.
The rest of the cast are not stars, but they, like the established names, act as if they are real people written into a film script and being shot without their knowledge. Pouly Valsan as Eeshi's mother comes up with a delicious take on a woman forced by social expectations to publicly, vociferously mourn an unfaithful spouse and using the opportunity to vent some steam.
Constantly present in the background are two unidentified characters who nonchalantly play cards and chat while mayhem unfolds around them, a metaphorical representation of the unending cycle of life and death in the village.
The other witness to the unstoppability of nature is Shyju Khalid's camera which appears unconstrained although the action in Ee.Ma.Yau. revolves largely around Vavachan's lifeless body. Khalid's cinematography makes the film's locales a pulsating presence in the plot. From that spectacular opening shot of an extravagant funeral procession on a pristine beach accompanying the credits, to the more unassuming, everyday frames within and outside the dead man's home, to two particularly luscious shots of coconut palm tops swaying in the breeze, Khalid swings seamlessly from the lavish to the modest, aided by Deepu Joseph's slick editing shorn of unnecessary flourishes. Together they ensure that we are aware of the beauty of the surroundings without ever allowing their glorious grandeur to overwhelm the emotional core of Ee.Ma.Yau.
Prashant Pillai's music is sparingly employed but supremely effective when it is. Renganaath Ravee's sound design is rich in detail though understated, especially in the use of rain as yet another reminder of the constancy of nature irrespective of the games humans play.
The technical polish in Ee.Ma.Yau. serves its purpose by enabling some great storytelling. By finding laughter in morbid situations and social commentary in the unlikeliest of places, in the tradition of other fine funeral films, Pellissery fashions Ee.Ma.Yau. into a keenly observant, fabulously funny insight into the politics, economics and theatrics around death.
Entertainment
Filmmaker Ashima Chibber's movie Mrs Chatterjee Vs Norway starring Rani Mukerji revolves around a mother's fight for her two young children who were literally snatched away from her on the grounds of bad parenting by the Norway Children's Welfare Program.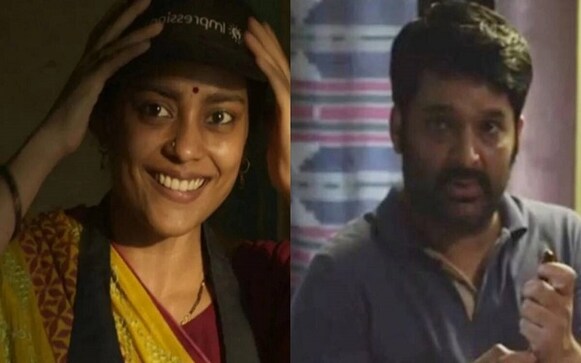 Entertainment
Nandita Das directorial Zwigato strikes a conversation on gig economy and unemployment situation of our country.
Entertainment
Thuramukham chronicles a workers' movement in Kochi with stunning cinematography, a charismatic cast but middling emotional heft