Director's cut: Lijo Jose Pellissery on Angamaly Diaries 2, violence on screen and Ee.Ma.You
Director Lijo Jose Pellissery's brilliant black comedy Angamaly Diaries is still running on certain days in select theatres across India. In an exclusive interview, he speaks about the journey of his film, and the possibility of a sequel.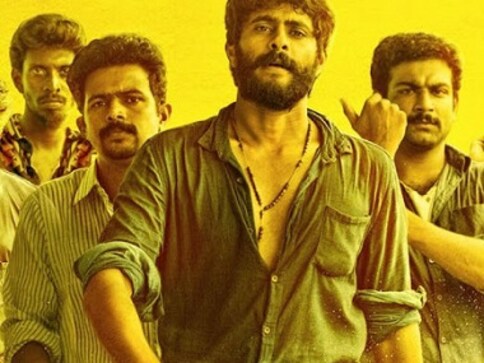 In an age when opening weekend collections are tomtommed by producers as a signifier of box-office success and where longevity in theatres is a rarity, Angamaly Diaries is different. Five months after its release, several weeks after exhibitors replaced it in their planned programming, Director Lijo Jose Pellissery's brilliant black comedy is still running on certain days in select theatres across India courtesy a new screening-on-demand service called 1018mb, based on audience requests. This small-budget Malayalam indie about gang wars in a Kerala town has caught the imagination of a national audience based purely on positive word of mouth, stupendous reviews and endorsements from film stalwarts ranging from Mollywood's Mohanlal, Prithviraj Sukumaran and Nivin Pauly to Bollywood's Anurag Kashyap.
Pellissery, meanwhile, has already moved on to his next venture. I spoke to the 38-year-old about the success of Angamaly Diaries, a possible sequel, that infamous review by a news platform believed to be linked to the RSS and more. Excerpts from our conversation:
Angamaly Diaries is not a conventional commercial film, and it is steeped in the local Angamaly idiom. What then explains its appeal across Kerala and outside the state too?
When a story is narrated in the right way, it appeals to everyone in the world. Even if the place, people, attire, language and dialect are different, what matters is that it tells a human story. That's how we enjoy a Korean or French film, and how others enjoy our films.
A very senior person from our industry recently told me, the more local the story, the more international it is. We were just trying to tell a story as we have seen it. I am about 10-15 km away from Angamaly, the writer (Chemban Vinod Jose) is born and brought up in Angamaly, so most of the characters, incidents, humour and crime in the film is what we have either seen ourselves or heard about from the people involved. Maybe that helped us to present everything in the right way, and made it look unconventional.
For me, the way to tell the story of a particular place in detail is to bring in the flavour of the local food, the humour, music, all of which are an essential part of Angamaly Diaries. Watching the film was like experiencing a new land. It worked because we were not sticking to one protagonist and one storyline, we were telling Angamaly's tale.
Raam Reddy, the director of Thithi (2016), told me something that mirrors your industry senior's view. He said it's because Thithi is so local, that it appealed to viewers across Karnataka, nationally and internationally. Do we like to travel through cinema?
Majorly. What is happening is that we see world cinema and we try to Westernise our films. Most of the time we're trying to match our cinema with cinema abroad. It should be the other way round. We should make films which are more local, portraying lives we've seen on a regular basis. Show the world what they have not seen. People from Tamil Nadu, Hyderabad or Mumbai have not seen life in Angamaly. I have not seen the interiors of Bihar or Uttar Pradesh. This exchange of the stories of places will appeal to a new person. Like you said, we travel through such cinema. Literally, the minds of viewers watching a film should travel to a different land.
A reader of my Angamaly Diaries review accused me of praising a film glorifying violence.
But the bloodshed in Angamaly Diaries is minimal. Most of it is not shown on screen, but is indicated through sounds and actions. We've not, for instance, actually shown the murder that happens at the interval. The climax too does not show massive bloodshed. We have hidden it all. What you get is sounds, screams and running.
When I make a film, I make what comes to me with no inhibitions. I don't keep the rulebook in front of me. You can't make good art like that. Let there be no rulebook in front of an artist – neither Censor rules nor society's moral setting. Let him create his art.
You can make that point to the Censor Board, or to people who demand bans, physically attack filmmakers and theatres. But a viewer has a right to an opinion. So what would you say to a viewer who non-violently expresses the opinion that your film glorifies violence?
I show just enough violence that is necessary to serve as a shocker for the audience, to present Angamaly in its raw form. We have not forced this film on anyone, we have not advertised it as a family entertainer. Even from the posters it's clear that it's quite a violent film. So if you feel you should not watch violent films, you should stay away.
But this person did not say you imposed the film on him. He thinks it glorifies violence.
I would say the film has the amount of violence required. I would not say it is a clean, non-violent film. It maybe has a little more violence than a regular film. Angamaly Diaries is talking about the city's criminal underground, the hero and his friends getting involved in a not-so-clean business, about a place that has pork farming and butchering, so (laughs) definitely it will look a bit violent. We could have made it more gory but have not so that more people would watch it.
So you're saying you are portraying a reality. The question is, are you glorifying that reality? Are you glorifying the violence in Angamaly?
After watching the film, I don't think people will see a glorification of violence. The aftermath is so bad for everyone involved in the second half. We have not shown them forming a gang and making more money, like in a regular gangster film. Instead, the film shows the reality of what happened after all that rage. Once it all ends, family, relationships, everything goes for a toss.
So I do not agree with the criticism that Angamaly Diaries glorifies violence. But at the end of the day, cinema is about perspective. Lots of people have taken it in the sense I intended, but someone may not.
I have shown only 1% of what is happening in the world around us. We live in a violent world. Newspapers report at least 250 murders a day. So we have tried to keep it less than the reality.
Another reader felt the hero suffers no consequences. You know how Pepe ends up with a calm life? In that sense, he felt Angamaly Diaries trivialises violence.
What more consequence you require than that he needs to leave the place he was born and brought up in? He had to leave all the relationships made over his life, he is somewhere on top of a tower crane, doing a job he's never done, in an alien land. That's why we have shown such a wide shot. It's like the entire world is now alien for him. He had an entire life in a different place, but no more.
That is one way of looking at it. The other is that he's married Lichi and gone with her to the Gulf, a place that is the average Malayali's paradise and goal. Is that not a reward?
That is entirely wrong. I know many people who left my hometown or Angamaly to live in the Gulf or elsewhere. Whenever they call, you can make out they miss their hometown. Maybe there are others who are happy but they are not so enjoying life there. In Angamaly Diaries, by the time you reach the climax you know how important the place is for Pepe.
That's how it is for all immigrants. And for Pepe in particular, even though he is out in the world doing a job, it's in a place that is not so happy for him. That's why in the last narration he talks about once in a while calling friends who are there, and about how good it will be in Angamaly even now. The film ends on him missing the place.
Would the meaning of the end have changed if he was not in the Gulf but somewhere else that is not considered a standard sought-after destination for Malayalis?
In the original script he ends up in the US, but we didn't have the budget to shoot there. (Laughs)
Why did the writer pick the US?
Same reason, a loss of home.
You don't think the meaning changed when you shifted it from the US to the Gulf?
I seriously have not thought about it. I thought Gulf will look more dry. It was not even Dubai. It was Bahrain because that was the only place we got permission to shoot with a drone. It's an islanded place.
In the beginning we thought of just chucking that segment, and ending on the firecrackers. Later we thought we should give a nice closing, to show his life after Angamaly. We even thought of ending in some north city, like in Rajasthan or some other dry place. And it had to look like a job that is not an everyday, easy job. I do not see any difference in meaning because of the change in location, but maybe someone else does. (laughs)
One reviewer in Kerala criticised you for showing too many visuals of churches etc in Angamaly Diaries, have I got that right?
Ya. I don't want to comment on that only because I don't know how to call it a review. (Pauses) I'm fine with it. It's another perspective, his perspective. I don't agree with it, that's all.
(Note: A review of Angamaly Diaries on the website of Janam TV – a Malayalam channel seen as being close to the RSS – went viral online and was lampooned by fans of the film in the week of its release, because the centerpiece of its criticism was that the film featured too many visuals of the town's church and church ceremonies, never mind that the imagery was natural considering that the hero is Christian. My Malayalam reading skills are limited, but here's an excerpt of a rough translation courtesy friends: "The title track – which shows the meat shops, public toilet, government offices, bus stand, railway station and even the carnival of Angamaly – has multiple visuals of the town's Christian church. Are there no temples in Angamaly? I don't remember seeing even one in the movie. Thereafter, you get church scenes, scenes with the church in the background, mass, betrothal, wedding, Easter, carols, procession, everything Christian. By the end of the movie, one wonders with alarm whether this Angamaly is some kind of Independent Christian Republic.")
Would you explain the nature of the criticism to those outside Kerala?
He started separating the kind of lifestyle and food habits we have from the recent times, so I don't know why it started happening. What kind of food one should have, that's coming from the culture we've lived in. I don't think anyone has a right to change us. So it's more inclined to such an aspect of the film. I don't even believe in that.
Are you saying he was offended by too much non-vegetarian food in the film?
(Note: The review makes a passing reference to the meat shops shown in the title track.)
No, I don't know. It was more inclined towards what his party is all about I think. Because he thought I was trying to go against a party. I don't even understand that politics.
When you say "his party", do I take it you see Janam TV as an RSS or BJP mouthpiece?
I seriously don't want to get into this, Anna. Why raise an unnecessary issue? I gave a comment at that time. Beyond that, people have answered the review.
(Note: When it was published, Pellissery responded to this particular review thus: "A beautiful review. Even I haven't viewed the film with all the minute aspects mentioned in the review. Thanks to the reviewer. Please convey my regards to all at your home.")
Everyone's talking about that long take towards the end of Angamaly. (The scene involves gangs clashing on the day of a festival.) How did you shoot it? What is its exact length?
It was almost 11 minutes. I'm fascinated with long single-take shots. I feel a scene should not be cut unless there's an instant where you feel you're not communicating. Almost all sequences in the film have less cuts. Initially, that's what we had in mind for the climax too, then we realised the location supported a single take.
Meaning?
We had an entire long street which stretched to the church, with houses on both sides that were structured in such a way that we could take diversions into backyards and come back. I designed the movements for the camera and the characters. But you cannot clean design such a fight, it has to come from the actors, so most of what you see in the movie are real fights.
You could not clean design such a fight, meaning?
I mean, stunt choreography would involve taking a close-up of a punch, of a hand, you take a kick separately, a close-up of a face, reactions. I had a stunt choreographer. We choreographed the sequence roughly, then left it to the actors. We said, okay you meet these guys and have a fight, from there you run and meet at that other place, from here only two of you run towards the fireworks, then we left it to them. Once the entire crowd gathered for the segment, the people of the place, the junior artists we arranged, the brass band section and the chenda melam, we had more than 1,000-1,500 people on the street. Then it was up to our DoP (Girish Gangadharan) to handle it. It's a completely physical job. He was using a digital camera on an equipment called Movi15, which is a much lighter alternative to a steadicam.
We knew rehearsals for an 11-minute take would be too tiring for the actors and the DoP, so we went straight into the job. We couldn't take more than two days, because the sequence involves a large crowd (for the festival). Without them the shot would look empty. We had planned that if we're not getting it right and it looks impossible, then we will go for cuts, but after the first attempt we felt that if we make a little more effort we'll do the job.
Getting such a massive crowd into the groove was the biggest challenge. It didn't happen on the first day. Most of the time something silly would go wrong around the 9th minute, like someone in the crowd looking into the camera, or hitting it, or laughing when they see the characters, then we would have to stop. On the first day, most people left after dinner, so we had an empty street. We did about 7-8 takes total over two days till we got that single, 11-minute take, ya. It happened because of the DoP's effort, the actors and the spirit of the place. Towards the end the people realised what we're trying to do, so they were a support.
Technically, what effect do you hope to have on a viewer with a single uncut take that long?
The basic idea is that the viewer is literally pulled in into that instant. Halfway through, you are part of the festival being shown in the scene, you literally forget that it's cinema. The sound mixing was done by Kannan Ganpat of A.M. Studios, Chennai, so beautifully that you literally feel you are caught in that sound, that it's on both sides of your head.
How much can you tell me about your next film?
It's called Ee.Ma.You which is a sort of Malayalam equivalent of R.I.P.
Would you explain that to non-Malayalam readers and spell it for me in English?
(Laughs) It's like Ee.Ma.You (his spelling). It stands for Eesho (Jesus), Mariyam (Mother Mary) and Youseppu (St Joseph, the father of Jesus). You will see it written on top of Malayalam obituary cards. It is not a translation of R.I.P. (Rest In Peace) but an equivalent.
The film is a black comedy set in a house in a fisherman's village, in the harbour in outer Cochin. I am directing it and it is written by the novelist P.F. Mathews. The three lead characters are played by Chemban Vinod Jose (the actor who turned writer with Angamaly Diaries), Vinayakan (who played Gangadharan in last year's hit Kammattipaadam) and Dileesh Pothan (the director of Maheshinte Prathikaaram).
It's not a character-driven film, the focus is the settings and situations. These three are the main players and all the other characters, women and men, are being played by fresh faces. They have been cast from Ernakulam.
Okay, is Angamaly Diaries 2 a possibility?
Uh. (Laughs) No.
You sound unsure.
Writers have been contacting me with ideas for a prequel and a sequel. We can always hear them out, but I'm definitely not making them.
You're 100% sure you won't either direct or produce such a film?
I don't think so, otherwise it has to be that exciting.
I'll be listening to ideas, but I don't think I'll direct one of them because I have a lot of other films in mind that I want to make.
But if you're listening to ideas, it sounds like you are open to an Angamaly Diaries 2.
(Laughs) As of now I'm ruling it out. Let's see. I never have a plan, I'm very instinctive when I select ideas and scripts for my films, so I don't know.
Entertainment
Jeethu Joseph's new film 12th Man takes off with some promise, but ends up as ordinary despite its credentials and cast.
Entertainment
Mohanlal is elated as the Hindi dub of Odiyan crosses 10 million views. He says, 'South Indian cinema is getting exposure to viewers from the entire country'.
Entertainment
Jeethu Joseph on OTT: 'The future of all film industries, especially Malayalam film industry, is going to be good thanks to OTT. This is just the beginning'