Captain Marvel early reactions: Brie Larson shines in 'awesome 90s period piece' and MCU feels 'more complete' with her in it
Captain Marvel also stars Jude Law and will release in theatres on 8 March.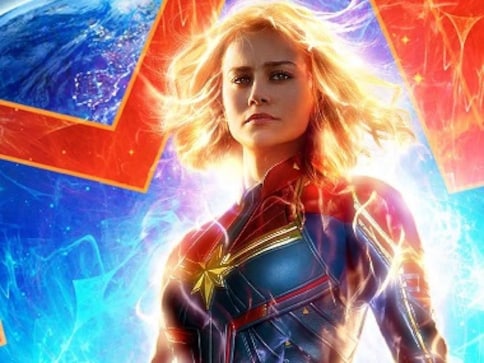 The social media embargo on Captain Marvel has been lifted and members of the press have shared their first impressions of the upcoming Marvel film. Academy Award-winning actress Brie Larson plays the titular superhero, the alter ego of US Air Force pilot Carol Danvers, in the first female-led Marvel Cinematic Universe (MCU) film. Set in the 1990s, Captain Marvel will follow the story of Larson's character as she navigates a monumental war between two alien races which transcends galaxies.
The film has received mostly positive reviews, with some calling the film "radical" and Larson's character a "welcome addition to MCU."
Some initial #CaptainMarvel reactions:

1. Cat people will love this movie.
2. Several truly magnificent music moments for this 90s kid.
3. Carol's hero moment was very cathartic/true to the female experience, imho.
4. The MCU feels more complete now that Carol is in it. ♥️

— Kayti Burt (@kaytiburt) February 20, 2019
#CaptainMarvel is a welcome addition to the #MCU. The movie is really well done with some great moments. #benmendelsohn steals almost every scene he's in. @brielarson literally shines in the role. So ready for #AvengersEndGame pic.twitter.com/GET0socRjl — Steven Weintraub (@colliderfrosty) February 20, 2019
Just out of #CaptainMarvel. So many fun surprises I didn't expect + new (and old?) characters to love.

— Kara Warner (@karawarner) February 20, 2019
#CaptainMarvel has a great '90s sci-fi vibe w/ a tone unlike any other Marvel movie, really. It's retro & trippy, mysterious & dorky. It's funny in surprising places & badass in all the right places. It remains entertaining because it's always changing. It's got the right stuff pic.twitter.com/o7AvqYY63x — Erik Davis (@ErikDavis) February 20, 2019
#CaptainMarvel is RADICAL! An awesome 90s period piece & total recalibration of the MCU as we know it! From the brief Winter Soldier cameo to the six full episodes of Friends that play consecutively through a majority of the film's runtime, this might be my favorite MCU flick yet

— Ben Mekler (@benmekler) February 20, 2019
Captain Marvel is an effective Avengers prequel in some ways akin to the 1st Captain America movie. It's pro-woman without being overdone with pre and post credit scenes that made me tear up and gave me goosebumps respectively pic.twitter.com/or2Oj7CdRV — sonaiya kelley (@sonaiyak) February 20, 2019
#CaptainMarvel is pure joy. I cannot wait for the generation of little girls who will grow up with Carol Danvers as a hero.

— Devan Coggan (@devancoggan) February 20, 2019
The future of the MCU gets even brighter adding #CaptainMarvel to the mix. Really fell for @brielarson's sass, strength & energy in the role. Same with @LashanaLynch too! Ben Mendelsohn is A+ casting as Talos. And yes, Goose is a scene stealer. 2nd viewing can't come soon enough.

— Perri Nemiroff (@PNemiroff) February 20, 2019
#CaptainMarvel: Well, Thanos is fucked.

— Angie J. Han (@ajhan) February 20, 2019
#CaptainMarvel is a great origin story. Brie's buddy cop chemistry with @SamuelLJackson is so much fun and her relationship with Lashana Lynch is the real heart of it. Ben Mendelsohn and the cat both steal the show.

— Peter Sciretta (@slashfilm) February 20, 2019
Captain Marvel, directed by Anna Boden and Ryan Fleck, is slated to release on 8 March, 2019.
Entertainment
Steve Gilula and Nancy Utley, senior executives at Searchlight Pictures for 21 of its 27 years, who shaped global culture with Oscar-winning hits like Nomadland, 12 Years a Slave, Black Swan, The Grand Budapest Hotel, and Slumdog Millionaire, announced their surprise retirement on 20 April.
Entertainment
Tallulah Willis, best known for appearing in The Whole Ten Yards, posted a series of photos on her official account in which Dillon Buss can be seen getting down on one knee.
Entertainment
Secret Headquarters is about a kid who discovers the secret headquarters of the world's most powerful superhero hidden beneath his home