Captain Marvel: Brie Larson's superhero film expected to earn $140-180 mn on opening weekend in US
Captain Marvel tells the story of Carol Danvers, an Air Force pilot whose DNA fuses with that of an alien, giving her superhero abilities.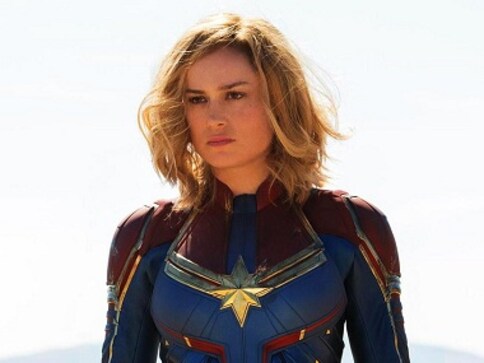 Brie Larson's upcoming superhero film Captain Marvel is expected to rake in $140 to $180 million in opening weekend earnings in North America, according to a report by Box Office Pro. The report has stated multiple reasons, which could contribute to the estimated earnings, including the demand for a female-led film from Marvel Cinematic Universe and the anticipation of her debut teased at the end of Avengers: Infinity War.
As it is set in the 90s, the nostalgia factor may attract older millenials and Gen X audiences, says the report. Captain Marvel has also witnessed massive sale of advance tickets in North America, second only to Infinity War and Black Panther.
CBR writes that if the predictions hold true, Captain Marvel will beat the earnings of Iron Man 2, which opened to $128 million in 2010. If it crosses $180 million, then it will be ahead of 2016's Captain America: Civil War.
Captain Marvel tells the story of Carol Danvers, an Air Force pilot whose DNA fuses with that of an alien, imbuing her with the powers of superhuman strength, energy projection, and flight.
Produced by Kevin Feige and directed by Anna Boden and Ryan Fleck, Captain Marvel stars Jude Law, Samuel L Jackson, Ben Mendelsohn, Djimon Hounsou, Lee Pace, Lashana Lynch, Gemma Chan, Rune Temte, Algenis Perez Soto, Mckenna Grace, Annette Bening and Clark Gregg.
Captain Marvel will release on 8 March.
Entertainment
Olympia Dukakis died Saturday morning in her home in New York City, according to her agent.
Entertainment
Despite the historic debut, Japanese animated movie Demon Slayer was beaten over the weekend by another release: Mortal Kombat, which raked in $22.5 million at the North American box office.
Entertainment
From Riz Ahmed becoming the first Muslim nominated for best actor, to Chloé Zhao's nomination as the first woman of colour in the directing category, this year's eclectic mix practically ensures Oscar history will be made.