Cannes Film Festival 2018: Netflix, Orson Welles, Nandita Das' Manto and #MeToo
Regardless of which side of Netflix vs Cannes Film Festival you fall on, one fallout is that the long-awaited Orson Welles film, The Other Side of the Wind, will not be premiered at the world's biggest, most prestigious film festival.
Does the distribution model determine what cinema is? The ongoing war between Netflix and the Cannes Film Festival – which recently announced its line-up for the coming edition (more on that later) – has brought this question to the forefront. Cannes artistic director Thierry Frémaux said, "Any film in competition should be open to distribution in theatres." As a film-lover, as someone who's grown up watching movies on the big screen, one certainly sees where he is coming from. But from another point of view, cinema is defined by the creation – the craft, the making. And a platform like Netflix takes cinema to large numbers, many of whom have opted, consciously, to watch films at home – not simply because they can, but also because not every art-house film plays at a nearby theatre.

Regardless of which side of the divide you fall on, one fallout is that the long-awaited Orson Welles film, The Other Side of the Wind, will not be premiered at the world's biggest, most prestigious film festival. Welles shot the film in instalments, between 1970 and 1976 – but he could not complete it before he died, in 1985. Over the years, the film's stature as The Great Unfinished Movie has only grown – along with other what-might-have-beens like Welles's own Don Quixote production, Alfred Hitchcock's Kaleidoscope (about a necrophiliac serial killer in New York; about sixty minutes of silent footage is all that exists), Stanley Kubrick's Napoleon and Francis Ford Coppola's Megalopolis (he called it "a little like an Ayn Rand novel.").
Netflix acquired the rights to The Other Side of the Wind and funded its completion (if that isn't cinephilia, what is?), with Peter Bogdanovich serving as executive producer. Bogdanovich was not only a star director in his 1970s heydays (his well-regarded hits include The Last Picture Show and Paper Moon), he was also a Welles acolyte – and his book of conversations with the great filmmaker, This is Orson Welles, rivals the Hitchcock-Truffaut book in its insights into the filmmaking process. This is what Welles said about the gestation of The Other Side of the Wind: "I was sleepless, and then I suddenly thought, 'I've got a story – I've worked on it for years – about an old director... My character, Jake Hannaford, is one of the machos, hairy-chests."
"I'm going to use several voices to tell the story. You hear conversations taped as interviews, and you see quite different scenes going on at the same time. People are writing a book about him – different books. Documentaries... Still pictures, film, tapes. All these witnesses... The movie is going to be made up of all this raw material. You can imagine how daring the cutting can be, and how much fun." When Bogdanovich asked if the screenplay had been written, Welles said, "Four of them. But most of it's got to be ad-libbed... If I were a nineteenth-century novelist, I'd have written a three-volume novel." In short, as an IndieWire report labelled it, The Other Side of the Wind is a "self-reflexive satire of the New Hollywood scene," shot in a largely improvisational manner.
But enough about what-might-have-beens. The Competition line-up is an intriguing mix of star-driven vehicles (Asghar Farhadi's Everybody Knows, with Penélope Cruz and Javier Bardem; David Robert Mitchell's Under the Silver Lake, with Andrew Garfield) and less red-carpet-friendly films, known mainly for the directors (Spike Lee, Kore-Eda Hirokazu, Jafar Panahi, Pawel Pawlikowski, Jia Zhang-Ke, and the indefatigable Jean-Luc Godard, whose The Image Book is reportedly "a reflection of the Arab world today, among other subjects"). At the Berlin film festival, there were rumours that the latest film from Turkish auteur, Nuri Bilge Ceylan, was a sure lock. (His Winter Sleep won the Palme d'Or in 2014.) His name isn't in the line-up, but films keep getting added until the last minute, so one never knows.
We, in India, are sure to hear a lot about Nandita Das's Manto, starring Nawazuddin Siddiqui – it will play in the Un Certain Regard section, whose mandate is to recognise young talent and encourage innovative and daring works. But otherwise, women directors are few and far between in the Competition section: Lebanese director Nadine Labaki with Capernaum (which explores the lives of migrants in Beirut), Italian filmmaker Alice Rohrwacher with Lazzaro Felice (about a man living on the margins of society who travels through time), and French director Eva Husson with Girls of the Sun (which follows a battalion of Kurdish female resistance fighters who set out to take back their town from extremists).
At the press conference announcing the line-up, Frémaux brought up Harvey Weinstein and the #MeToo movement. "The world is not the same as it was last September," he said. "The world will never be the same again, the Cannes Film Festival either." But when asked about the domination of male filmmakers, he brought up an important distinction. "A differentiation should be made between female filmmakers and Time's Up. The question of a quota in no case concerns the artistic selection of a festival. Films are chosen for their quality." And that is as it should be. Tokenism has no place in art. A film should never be chosen because of who made it (white, black, brown, gay, straight, male, female), but because of its intrinsic qualities. Besides, you may have heard that the jury is headed by a woman named Cate Blanchett.
Baradwaj Rangan is editor, Film Companion (South).
Entertainment
Director of Harry and Meghan's Netflix series reignites row with The Firm by claiming Palace officials 'tried to discredit documentary and its bombshell allegations by claiming filmmakers didn't reach out for comment.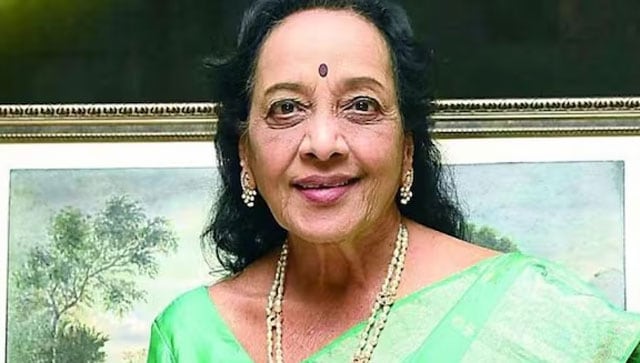 Entertainment
She had won the Filmfare award for Hindi Film 'Milan'. Some of her iconic films include 'Missamma', 'Gundamma Katha' and 'Sri Krishna Tulabharam'.
Entertainment
For the streaming platform in India, January was a remarkably unproductive month redeemed by two outstanding serials, both intimately inured to reality.