Cannes Film Festival 2018: John Travolta returns to French Riviera where Pulp Fiction won Palme d'Or
John Travolta has a strong connection with the Cannes Film Festival, where he made his comeback from a post-Grease slump in 1994 with Pulp Fiction.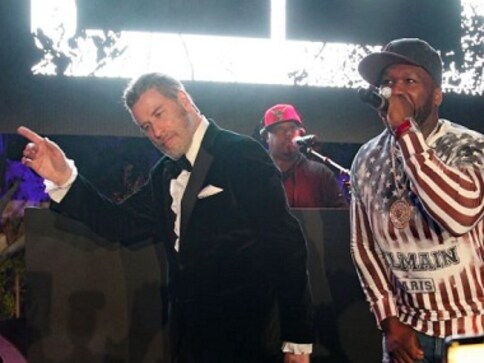 John Travolta first came to the Cannes Film Festival 40 years ago while promoting Grease, and he is still dancing along the Croisette.
The 64-year-old actor returned to the Cannes Film Festival in order to promote his new mafia boss John Gotti biopic Gotti, celebrate the anniversary of Grease with a screening on the beach, and, at a soiree on Tuesday night, share a few dance moves alongside rapper 50 Cent. Travolta loves Cannes; it is where Quentin Tarantino's Pulp Fiction debuted two decades ago and won the festival's top award, the Palme d'Or.
This year's trip is more of a victory lap (Travolta was also to give a Masterclass talk on Wednesday) while premiering Gotti. The film has had a long road to the screen. Barry Levinson was initially to direct it, then Nick Cassavetes. Eventually Kevin Connolly, the Entourage actor, took over.
Ten days before it was to open in theaters in December, producers purchased the movie back from Lionsgate (who had planned a largely video-on-demand release), and instead will release the film on 15 June with Vertical Entertainment and the distribution arm of the ticketing service MoviePass. Travolta has been with the project for more than eight years.
Kelly Preston, Travolta's wife, plays Gotti's wife, Victoria and their daughter Ella plays Gotti's daughter Angel.
"Even though I've played New Yorkers before, I haven't quite played that kind of New Yorker," Travolta said in an interview. Travolta memorably played the fictional New York gangster Chili Palmer in 1995's Get Shorty, about a mobster who comes to Hollywood and finds he loves it. Gotti, who died in prison 2002, likewise had a little glamour with his fondness for cameras and his carefully swept-back coiffure. The Gambino crime boss was known as the "Dapper Don," as well as the "Teflon Don", for his ability to avoid federal prosecution before being convicted for murder and racketeering. The film is based on the book Shadow of My Father by John A "Junior" Gotti, who was a frequent presence on set. Gotti's children also starred on A&E's 2004-2005 reality TV series Growing Up Gotti. Travolta said the Gotti family's shaping of the film was part of the appeal. "It was what lured me into it that the family chose me," Travolta said. "We were invited to reflect their truth, and their truth I found interesting because there was no altering of events. They were all historically correct. But what was never seen was their family life. I thought it was an asset to have them for authenticity and quality control," he added.
Critics, though, were less kind about Gotti, which takes a family-first view of the mobster and features songs from Pitbull. The Hollywood Reporter called it "an altogether hagiographic - one could even say pro-mob biopic." IndieWire said it is "an incoherent jumble of mob history".
For Travolta, though, there is value in Gotti. "It's the only truly modern iconic gangster. There won't be one like him again because the Mafia is gone," Travolta said. "In this movie, you're seeing the last of a generation that will never happen again.
"Television is making cinema a "vintage genre", John Travolta also said on Wednesday at the Cannes, lamenting that films were "not as sought after" as before.
The Grease and Pulp Fiction star, who brought his whole family to Cannes, went from jet black to grey for Gotti, which is directed by Kevin Connolly. Rapper 50 Cent tweeted a picture of Travolta dancing with him on-stage at the post-premiere party.
The actor, who shot to fame as a disco king in tight shirts and bellbottoms in the 1977 film Saturday Night Fever, seemed to be getting into the groove.
A planned photocall was cancelled the next morning. Addressing film students during a masterclass later Wednesday, the actor, who played OJ Simpson's lawyer in an American true-crime series in 2016, said television had shaken up Hollywood.
"It's not so good for us who have established ourselves in human drama on the big screen because they're not as sought after, those dramas and types of movies. We're trying to hold onto a kind of vintage genre on the big screen. Even with Gotti, we're looking at a throwback to the type of movie I became famous on," he added. "The old rules where, if you're in TV you shouldn't do film, and if you're on stage you shouldn't do film, have gone right out the window. It doesn't mean anything anymore."
Travolta has a strong connection with the Cannes Film Festival, where he made his comeback from a post-Grease slump in 1994 with Pulp Fiction. The cult classic won the festival's top prize, the Palme d'Or.
After that, Travolta said, "I could write my ticket for the kind of movies I wanted to do. The Pulp Fiction explosion gave me 24 years of choice."
With inputs from agencies.
(Also read — Cannes 2018: Cast, crew members of Brazilian film holds up placards to protest against 'genocide' of native people)
Entertainment
Tulsi Kumar mentioned that all the songs in this series are dedicated to her loving fans and is a treat to them for all the undying appreciation and support that they have shown her throughout her career.
Entertainment
The moment the Twitter CEO posed this cringe picture, all sorts of reactions dropped in the comment section, from amusing to alarming.
Entertainment
Shahana shared that what drew her to the script was the way it portrayed the resilience and positivity of the Mahto family despite their hardships.