Cannes Film Festival 2018: First look poster of film based on Ismat Chughtai's Lihaaf unveiled
The first look poster of award-winning director Rahat Kazmi's Lihaaf was unveiled at Cannes Film Festival on 12 May.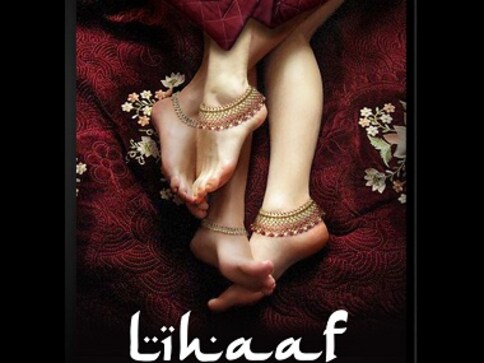 The first look poster of award-winning director Rahat Kazmi's Lihaaf was unveiled at Cannes Film Festival on 12 May. The film is a screen adaptation of Ismat Chughtai's controversial and most popular story of the same name which explore homosexuality and lesbianism in feudal Indian households.
The poster is a shot of the legs of two women sleeping on the bed. A maroon quilt is partly covering their payal-adorned legs.
The story is told from the perspective of a small girl who visits her aunty, Begum Jan and lives with her for a few days. She slowly begins to discover that the Nawab (Begum Jan's husband) is more interested in the other gender. Begum Jan, who has not had any sexual encounters with her husband, is finally 'saved' by her masseuse, Rabbo. The girl witnesses an odd episode between Begum Jan and Rabbo one night, which leaves her traumatised.
"Lihaaf (The Quilt) looks at an emotional and physical relationship of a neglected woman (Begum) with her lady masseur borne from a suffocating feudal environment as seen through the eyes of a teenager (Ismat). In her innocence, she cannot even make sense of it. But her story becomes a powerful critique of the contemporary society of rich land owning men lost in the pursuit of their male-centric pleasures to the utter neglect of their women folk, who then sought their joys from their female company," director Kazmi said.
Tannishtha Chatterjee plays the role of Chughtai while Sonal Sehgal and Namita Lal play Begum and Rabbo respectively. Lihaaf  has been co-written by Rahat Kazmi and Sonal Sehgal. Marc Baschett, who won an Oscar for No Man's Land, serves as one of the producers on the film.
(Also read — Cannes Film Festival 2018: Sonam Kapoor stuns in Vera Wang couture gown for second red carpet appearance)
Entertainment
Helen Mirren discusses filming a car chase sequence in hometown London for F9, working with Vin Diesel, and why she thinks stunt artists deserve an Oscar category.
Entertainment
Saira Banu's family friend Faisal Farooqui said the actress was back home and recuperating.
Entertainment
Kangana Ranaut will play Sita in The Incarnation, which will be directed by Alaukik Desai.