Cannes Film Festival 2018 Day 10 roundup: Sridevi posthumously honoured; Capernaum gets standing ovation
On Day 10 of the Cannes Film Festival, Sridevi was honoured posthumously and the star-studded amFAR gala took place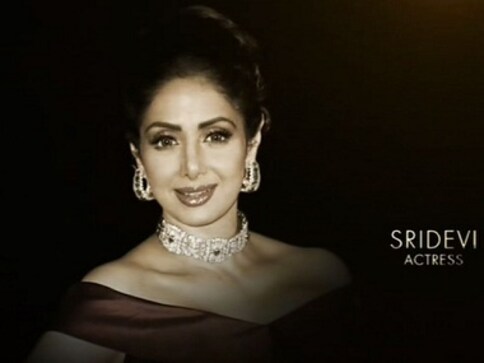 As the 71st Cannes Film Festival unfolds with starlets walking the red carpet, multiple movie premiers and announcements, we bring to you a day-wise roundup of the French event. On Day 10 of the cinematic spectacle, as the downfall of Harvey Weinstein weighed heavily on the amFAR charity event, Hollywood stars still managed to raise millions for AIDS research. Here are some other highlights of the day:
Indian screen legend Sridevi honoured posthumously
Indian superstar Sridevi, who passed away on 24 February in a tragic accident, was posthumously honoured at the 71st Cannes Film Festival. Filmmaker Subhash Ghai received the award on her family's behalf. The screen legend was honoured with the TITAN Reginald F Lewis Film Icon Award, which celebrates women of the film industry all over the world and also salutes the multicultural impact on the film industry.
Jim Sarbh's comments spark controversy
Comments made by Indian actor Jim Sarbh sparked controversy back home when a clip emerged online. In the clip, Sarbh was reportedly seen cracking a joke about physical abuse. Sarbh immediately released an official statement saying that his comments were taken out of context. "I do not now nor have I ever condoned any form of sexual violence. This (video) has been picked out of context without a prelude where I am actually enacting parts of a play which is a dark satire," he told IANS.
Syrian refugee boy shines at Cannes
A 13-year-old Syrian refugee boy, Zain Al Rafeea, became the star of the Cannes Film Festival on Day 10 for his heartbreaking performance in a Lebanese film. Many see Capernaum the likely winner of the Palme d'Or top prize. Zain plays a boy of the same name who runs away from home after his desperate mother and father sell his 11-year-old sister into marriage for a few chickens. He then takes his parents to court for having brought him into the world.
Whitney Houston's friends allege she was molested by cousin
Friends of Whitney Houston allege the singer was molested as a child by her cousin Dee Dee Warwick in a documentary that premiered on 17 May at the Cannes Film Festival. Houston's longtime assistant Mary Jones tells filmmaker Kevin Macdonald that the late singer told her that Warwick, the sister of Dionne Warwick, molested her at a young age. Houston's brother Gary Garland-Houston also says he was molested between the ages of 7 and 9 by a female family member, and says his sister was abused too.
AmFAR raises millions in first dinner after Harvey Weinstein scandal
After a shaky start and a wave of negative press, the AIDS relief charity amfAR attempted to focus the spotlight on its work instead of the stain left by one of its biggest benefactors Harvey Weinstein. "It's a brand new day now and this terrible disease in our society we have to find a cure for it," actor Pierce Brosnan said. This year's event featured a celebrity auction and performances by Grace Jones, Sting and Shaggy and Ellie Goulding.
With inputs from agencies.
also read
Photos
The week gone by has been marked by protests. In India, ace wrestlers are demonstrating against the alleged sexual abuse of women athletes. Far away at the Cannes film festival, an influencer covered herself in fake blood over the Ukraine war and in Rome, climate activists were seen bathing in mud
Entertainment
Iranian model, Mahlagha Jaberi sends a strong message in support of Ukraine on the red carpet by wearing dress with noose around neck
Entertainment
Her candid carousel mood makes a perfect vintage escapade dating back in time. Her dreamy gown is by Oscar de la Renta, the beautiful dainty jewels by Tuula Jewellery and shoes by katmaconie