Tubelight: On World Music Day, looking back at previous Salman, Pritam collaborations
Selfie Le Le Re, Character Dheela, Tu Chahiye and more. After Tubelight, looking back at successful musical hits between Salman-Pritam in the past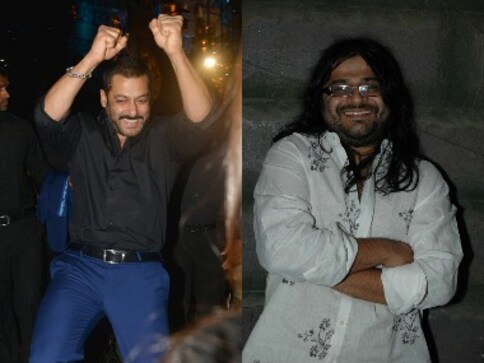 It is common Bollywood trivia that actor Salman Khan and music composer Pritam Chakraborty are accomplished stalwarts in their respective fields. It is no surprise then, that whenever the two of them come together — a hit is created.
The past has seen many collaborations between the two artists that have gone on to become musical chart toppers.
On the occasion of World Music Day (21 June) combined with the eagerly anticipated Salman Khan starrer Tubelight releasing on 23 June, it is but natural that we dissect the fruitful relationship that has been shared between the two maestro's of their art in the past.
Director Kabir Khan's Tubelight is Chakraborty and Salman's latest project together and the music has already made a sizable dent on the psyche of the Indian masses. 'Tinka Tinka Dil Mera' had us weeping, while 'Nach Meri Jaan' had us shaking our leg involuntarily. 'Radio' was declared a hit as soon as the song dropped, and 'Main Agar' touched us in those dark recesses of our hearts that we didn't even know existed.
Bajrangi Bhaijaan, Bodyguard and Ready are a few other movies during the course of which Chakraborty and Salman combined forces and gave the audience songs that had us tapping to their beats for months.
We have compiled a list of Salman Khan and Pritam Chakraborty's most successful songs - a list that most of us will be grossly familiar with, whether we admit it or not.
'Tu Chahiye'

Another Kabir Khan-Salman Khan collaboration from the megahit movie Bajrangi Bhaijaan, this song left us feeling romantically charged.
'I Love You'

This song from the 2011 movie Bodyguard directed by Siddique became a fad back in the day. From caller tunes to ring tones to being played on the radio on a loop, 'I Love You' was everywhere (and sometimes still is).
'Tu Jo Mila'

This emotional number from Bajrangi Bhaijaan came at a point in the movie where emotions were riding high. Everything about this song, its melody, its lyrics and its picturisation was in one word — harrowing. The song however, stayed with most moviegoers long after the scene had ended.
'Selfie Le Le Re'

The less that is said about this song, the better. Another one from Bajrangi Bhaijaan, the release of this song left the Indian audiences in a tizzy, especially in this millennial day and age where the tracks relevance is unmatched.
'Character Dheela'

This blockbuster hit changed the face of the music scene around the time that it was released. From weddings to school functions, Bollywood playlists on phones, to every.single.radio.station. atleast twice an hour —  'Character Dheela' from the 2011 Ready directed by Anees Bazmee, became an anthem of sorts.
Bonus Track
'Stumped'

We're just going to leave this here. Cheers.
also read
Entertainment
The producer Sajid Nadiadwala himself made sure that the scale of the song is as huge as any of his previous films including big blockbusters with Salman Khan or Akshay Kumar films
Opinion
The success of 'The Kerala Story' is a wake-up call for Bollywood. While most makers will not make films dealing with similarly controversial subjects, they should now realise that producing a remake or just any other film with an established male star without right content is not an option today
Entertainment
The awards will be interspersed with live performances by a mega star cast, with Bollywood's much-loved Bhaijaan, Salman Khan, leading the way.