Ribbon's story is very relatable to every young urban couple, says Kalki Koechlin
In an exclusive interview with Firstpost, Kalki Koechlin shares her experience of playing a mother in Ribbon and working with Richa Chadha in Jia Aur Jia.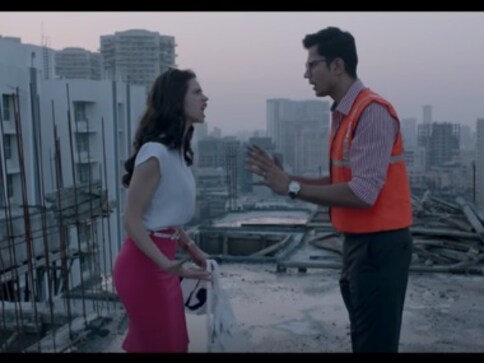 The first thing that Kalki Koechlin did after reading the script of Ribbon is check whether a woman can have sex in her eighth month of pregnancy. "I did that because there is a scene in the film. And yes, she can, it is safe. When a film is authentic and when these small details are real, I feel good that the team has researched their material," said Kalki, who won hearts of millions for her power-packed performances in films like Margarita With A Straw, Waiting and Death In The Gunj to name a few. 
Ribbon explores the complexities of contemporary couples and Kalki plays a young mother of a newborn baby girl. "It's a film about a couple who live in Mumbai. They are a typical urban couple. They are well educated and so-called liberal. But they are in a dilemma. Firstly, Sahana, my character, is pregnant. Secondly, they have a lot of money issues. They are in debt. They have to look after their aging parents. The story of the film spans four years, from pre-pregnancy to when the baby is four years old. There are a lot of changes in my characters in these four years," said Kalki.
She further said, "I immediately liked the relatability of the film. It is very relatable to every young urban couple. I had not seen any work of director Rakhi (Sandilya, the director of the film), who is a first time filmmaker but then I saw her documentary called My Baby Not Mine on surrogacy in India. I saw that how she used her camera, the way she observes people without disturbing them...staying at a distance and getting very real emotions."
To get into her character and make it look more authentic, Kalki spent many days with a young mother. "Rakhi's producer is a young mother. She had her first child when she was 20. I spent time with her and also her sister-in-law who had just had a baby, and that was an amazing experience. I stayed in their house and saw the maalish (oil massage), breast feeding and learnt how to change the nappies."
"At that age, it is only a spiritual connection, there is no verbal connection. Infants are sensitive to touch, smell and sound but they don't recognize you. It was a beautiful experience. So a lot of time was spent to know and understand. I also read various books on pregnancy and post-birth behavioral changes because at that time, a woman's body goes through hormonal changes," said Kalki.
The film was shot in 24 days flat without any break, and in the process Kalki and her on-screen daughter developed a deep bond, said the actress. "I had to connect with my daughter of three years and we spent all the time together. And now she is so attached to me that even after the film is over, I take her for swimming on Sundays. She wouldn't do a scene if I wasn't there and that kind of bonding was important," said the actress.
What really helped Kalki and her co-star Sumeet Vyas to stay in their characters was the director shooting without any cuts. "There are lot of happy and sad moments in the film, and Rakhi decided to not to have cuts in the scene. So there are no close ups. The camera followed us wherever we went. We had to get it right and if we fumbled, we had to start all over again which was tough. The pressure was huge. But it helped us to stay in character. Everything happened in one flow and it was quite a challenge but it gave us a very real experience. But Rakhi would also let us improvise all the time. She would tell us to keep the structure of the scene but change it and do it our way by bringing in our elements," said Kalki, who feels that there is always an advantage working with a new director. "It's their absolute conviction and enthusiasm because it is their first project and they have really worked hard on it. There is a reason why they want to make a film," said she
And Kalki is all praise for her co-star, Sumeet Vyas. "I liked working with him because he is from theatre and he is also a very good writer. He would keep fixing my Hindi. He would give me good lines because of his knack for the language and I had a great time improvising with him. There was this nice chemistry between us," said Kalki, who was recently seen in another release, Jia Aur Jia with Richa Chadda.
"I enjoyed doing Jia Aur Jia because I have known Richa for a long time, from her Gangs Of Wasseypur days. She is spontaneous and natural actress. It was great fun because I would teach her Tamil as her character is a Tamilian and she would teach me Punjabi. It was nice to have a girl friend on sets with who I could chat just about everything," laughed Kalki, adding, "She played an introverted character and I didn't envy her one bit because she had to be sad all the time, whereas I was having fun in a lovely place like Sweden."
(Also read — Richa Chadha on Jia Aur Jia: 'It took Bollywood so many years to make a girl-bonding film)
Considering that the film based on road trips are seen as a coming-of-age genre and privilege is rarely given to the females, Jia Aur Jia was termed as a wasted opportunity. But Kalki says that she doesn't bother much once she is over with filming. "I never read reviews. Once Friday comes, it's no longer my film. It belongs to the public. Reviews are very subjective and I don't think it is going to help me as an actor. I only listen to the criticism that I receive from my industry friends. Other than that I can't be responsible for everybody's opinion on everything about the film. We are just one part of a big creation," she said.
Kalki calls herself a sucker for commercial cinema, and she has also acted in few like Zindagi Na Milegi Dobaara, Yeh Jawaani Hai Deewani and Happy Ending but these days, she is not being seen in such projects. "What to do, nobody is casting me in big projects. I would love to. But I look at the work that is coming my way and take what's best for me. Right now, a lot of independent cinema projects are coming to me and lot of scripts are very interesting. But of course, if a good commercial role comes along, I would love to do it," she said, furthering, "In fact, Zoya Akthar's web series, Made In Heaven, that I am doing is very commercial. It is about rich Delhi weddings and how they go wrong and how there are many undercurrents underneath. It is hilarious."
Kalki will also be seen sharing the screen space with Konkana Sen Sharma in Scholarship which she starts shooting in November. "It is about corruption and the strong divide between the rich and the poor," said Kalki, who has also given a nod to Rajat Kapoor for his forthcoming film, Kadak, and Ashutosh Gowariker's untitled film opposite Kunal Kapoor.
Entertainment
'I made a lot of mistakes. But I've always told the truth," said Amber Heard in her first post-verdict interview about Johnny Depp.
Entertainment
As was the case with Miss Americana and Framing Britney Spears, Halftime joins the canon of documentaries that seeks to re-examine the inherent viciousness of the paparazzi culture that profited off turning female celebrities into tabloid fodder.
Entertainment
Shonali Bose, Sona Mohapatra, TaapseePannu, GuneetMonga and Shefali Shah chose unconventional routes to make it big and have never regretted their choices