Patel Ki Punjabi Shaadi trailer: Rishi Kapoor, Paresh Rawal's comic exchanges stand out
Patel Ki Punjabi Shaadi revolves around the conflict between a true blue Gujarati, played by Paresh Rawal, and a hardcore Punjabi, played by Rishi Kapoor.
Sanjay Chhel's comedy Patel Ki Punjabi Shaadi got everyone's attention, thanks to the hilarious teaser released by the makers a few days ago. Now, the trailer is out, which offers a fair share of laughs and duds within the span of three minutes.
Paresh Rawal plays a true blue Gujarati whereas his fellow veteran actor Rishi Kapoor is a Punjabi in every sense of the world. The trailer starts with an exchange between the two where they are singing praises for their respective communities.
The narratives moves on to the next generation when Rishi's son, played by a funny Vir Das, woos Rawal's daughter, played by Payal Ghosh, and lures him for a Gujarati wedding, an idea that his prospective father-in-law vehemently opposes. While the overall tone of the trailer is kept funny, there are certain  points when it assumes a graver tone which does not go down well with the mood of the film.
There are certain tacky dialogues and inconsistent editing too. But the USP of the trailer, and presumably of the film, is the exchanges between Rawal and Kapoor. Both of them are powerhouses of talent but only the film will tell whether they have been utilised to their optimum capacities or wasted in roles not worth of their towering statures.
Patel Ki Punjabi Shaadi is slated to release on 15 September, along with Hansal Mehta's slice-of-life entertainer Simran.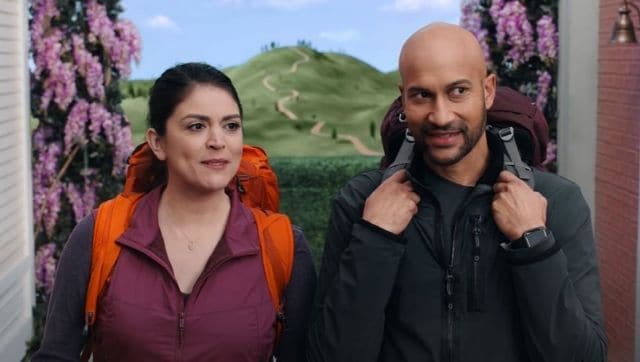 Entertainment
Though bumpy at times, Schmigadoon! is a feel-good comedy and a hat-tip to musicals, worth a slow-Sunday watch.
Entertainment
Britney Spears will have to undergo a psychological evaluation to end her conservatorship, which uneasily melds mental health criteria with legal standards.
Entertainment
This month two boxing dramas, Toofaan in Hindi and Sarpatta Parambarai in Tamil and Telugu, are set to release before Prime Day 2021.