Hichki music review: Jasleen Royal puts together an inventive, easy-on-the-ears album
Though Jasleen Royal has composed a few songs in Phillauri and Baar Baar Dekho before, she pretty much owns the Hichki soundtrack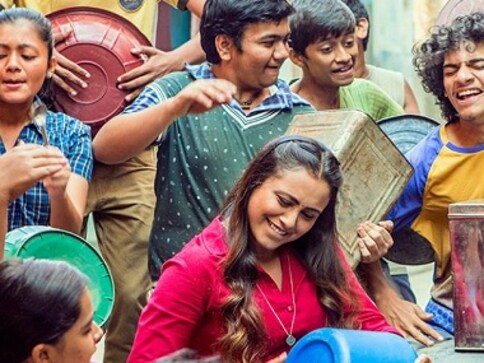 The title of the upcoming Rani Mukerji-starrer Hichki, directed by Siddharth P Malhotra, may take some back to the song in R Balki's 2009 slice-of-life film Paa, yet another story that dealt with a protagonist's disability. Composed by Ilaiyaraaja and sung by Sunidhi Chauhan, the song 'Hichki' alluded to how in-the-moment unprotected sex led to pregnancy.
But in Hichki the film, music composer Jasleen Royal does not miss a beat and offers a carefully crafted album. The wariness with which Jasleen must have put this album together (her first full-fledged one), does not surface in any of the songs, all of which are technically brilliant. All of them emit an unadulterated joy or an uplifting urge to overcome personal fears. Here, 'hichki' is not a bad word but just a part of life that needs to be dealt with as merrily as everything else.
The title song, 'Oye Hichki', though a promotional track that is not part of the cinematic narrative, punctuates the theme of the film. It is elevated by Jaideep Sahni's stirring lyrics and Harshdeep Kaur's vocals.
Jasleen peppers atmospheric sounds all over the track. Since the song is set in a Mumbai slum, she employs Marathi drums and percussion instruments, along with sonic sounds of spoons, tubs and steel utensils, to lend it an organic appeal. What helps further is the irresistibly tuneful chorus. Its loop, along with the underlying poetic rhythm of a hiccup, is a sure-shot hook.
Jasleen applies 'crowsourcing' in 'Madamji Go Easy' as well. She ropes in a child rapper from the Dharavi slum, David Klyton, who brings a south Indian touch to the song through a Tamil rap. Benny Dayal complements this Tamil touch with his stretched yet addictive vocals, a typical Tamil influence.
The song is from the point of view of slum children who request their teacher to 'go easy' on them as their brains operate on '3G' not 'WiFi' speed, because of their socio-economic background. The tone of the song, however, makes the request sound like borderline bullying. The lyrics by Raj Shekhar are quirky and gibberish in parts, underlining the space where the children come from.
'Khol De Par' proves no matter how unconventional the music, an album remains incomplete without an Arijit Singh song. We're not complaining though as he does a great job with his powerful vocals, as usual. Jasleen wisely contrasts Arijit's textured voice with her sugar-coated interludes. The overall feel of the track, enhanced by Raj Shekhar's inspiring lyrics, makes for a great journey song, irrespective of whether the flight is literal or symbolic.
After outsourcing the vocals to a range of reliable artists, Jasleen takes matters into her own hands with 'Teri Dastan'. The feeling of ownership, of getting to sing a song on her album, is reflected by the confidence in her voice. It is this command over her vocals that does not allow the song to turn into a gloomy melody.
The mood is dimmer than other songs but Neeraj Rajawat's thoughtful lyrics keep the spirits high. Also, Jasleen displays her conceptual prowess by not punctuating the song with any chorus. The song, thus, leaves you with a lingering feeling instead of satiating you with a resolution.
But don't worry as Shilpa Rao's energetic 'Phir Kya Hai Gamm' makes up for the void. She strikes back with her childlike excitement and hits with perfection every onomatopoeic note that Jasleen and lyricists, Rajawat and Aditya Sharma, incorporate into the track. The final drop of the song makes you skip a beat only to follow it up with a sense of fulfillment.
Listening to 'The Soul of Hichki' makes you hope that it is not the soul of the album or the film. It is merely an electronic version of 'Oye Hichki' which is where it loses the raw appeal that the title song boasts of. It also lacks the 'punch' as it neutralises the effect of all the sonic sounds. What it does is allow Harshdeep to take the forefront as her voice gains more prominence in this version.
'Naina's Theme' is an instrumental track that is more suitable for a live orchestral performance. Nonetheless, it underlines the essence of the entire film by giving all other songs the breathing space that they inherently require.
Overall, Jasleen Royal does an exceptional job in concocting this cocktail of an album, that inspires you with every song but does not conform to the stereotypical 'motivational song' template. It is an album crafted with due care and translates into seamless fun by the time it reaches the audience.
This quality of churning out inventive yet easy-on-the-ears music is what Jasleen must be credited with. Though she has composed a few songs in Phillauri and Baar Baar Dekho before, she pretty much owns this album. Her tremendous work makes us wonder why there hasn't been another full-fledged female music composer in Hindi cinema after Sneha Khanwalkar.
Hichki is produced by Aditya Chopra's Yash Raj Films. It is slated to release on Friday, 23 March.
Entertainment
The accused, Aditya Ajay Kapoor, had met the 24-year-old actress, who had worked in some Telugu movies, at the residence of a common friend in suburban Bandra.
Entertainment
Raju Srivastava's character Gajodhar bhaiya became a household name. The stand-up comic was also famous for his style of dialogue delivery that left everyone in splits. 
Arts & Culture
Social entrepreneur Shefali Khanna launches a new experiential space for creators, musicians, and artisans; the workspace-cum-studio is a uniquely curated space that aims at creating a conducive environment for nurturing art and craft.