Hichki music composer Jasleen Royal sources talent from Dharavi for rap sequence in song 'Madamji Go Easy'
For Rani Mukerji starrer Hichki, Jasleen Royal has tapped into the rap music scene of Dharavi that will also find a space in Zoya Akhtar's Gully Boy.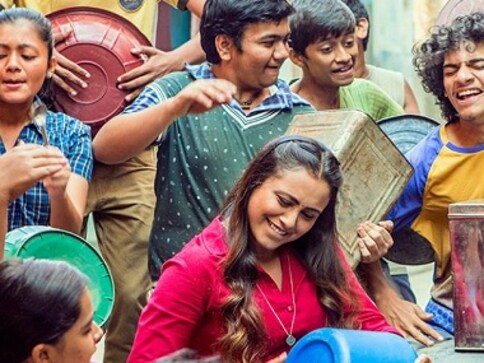 The 'Oye Hichki' composer Jasleen Royal has done a kind musical experiment in Rani Mukerji starrer Hichki. The music composer has got four Dharavi rappers to work with her on a sound track called 'Madamji Go Easy'.
The four rappers, David Klyton, Yogesh Kurme, Siddesh Jammi and Abhishek Kurme, have worked out a song which has vocals of Benny Dayal. The composer has also used a number of traditional musical instruments in the song.
"I came across the Dharavi boys while researching for the soundtrack. While David has done the Tamil rap, Yogesh and Siddesh have provided the additional vocals. Abhishek has done the cough beatboxing. We used a lot of dhol and tasha sounds to give the song a rasta (street) feel," Royal told Mid-Day.
While speaking about their energy, Jasleen said to Mid-Day, "They were damn quick; they didn't have any apprehensions. Their energy was infectious."
The song is a situational one that will see the school kids playing pranks on their teacher Naina, played by Rani Mukerji.
Dharavi and its rap culture, however, has got a lot of attention lately. Zoya Akhtar's Gully Boy, starring Alia Bhatt and Ranveer Singh, is inspired from two rappers from Dharavi named Divine and Naezy. Singh engaged in a rap exchange with the rappers in recently surfaced videos.
Jasleen, in her other song 'Oye Hichki', has used a number of unconventional elements too. In another media interaction, she revealed how the team used spoons and other utensils to create the background score.
"In this song 'Oye Hichki', we have used utensils, tubs, spoons because that's the sonic space of the film for that particular sequence. The album is the entire journey of Naina (Rani) in the film and exploring the world of Hichki was a lot of fun," she told Business Standard.
Hichki is produced by Aditya Chopra's Yash Raj Films. It will release on 23 March, along with Sudhir Mishra's Daas Dev.
Find latest and upcoming tech gadgets online on Tech2 Gadgets. Get technology news, gadgets reviews & ratings. Popular gadgets including laptop, tablet and mobile specifications, features, prices, comparison.
Entertainment
Letter To You, created in five days, will see Bruce Springsteen perform with E Street Band first time since The River 2016 tour.
Entertainment
Ronald Bell wrote and composed some of Kool & the Gang's biggest songs, like 'Celebration,' 'Cherish' and 'Jungle Boogie.'
Entertainment
BTS band members said via a video message that they were grateful that so many people in India showed such passion and interest in the music genre.