Happy Phirr Bhag Jayegi is more chaotic with both Sonakshi Sinha and me in the film, says Diana Penty
Diana Penty points out that while her Happy was outspoken, Sonakshi Sinha's character in Happy Phirr Bhag Jayegi is more controlled and measured.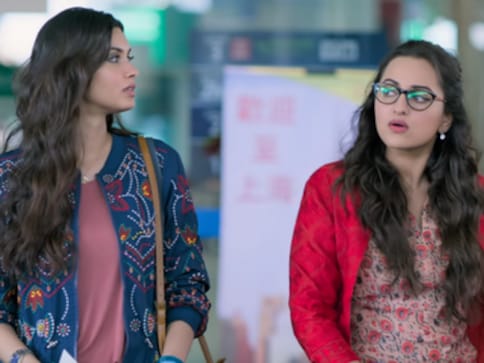 Diana Penty is beaming when I meet her to interview for her upcoming film Happy Phirr Bhag Jayegi. The reason seems to be double fold: the success of her previous flick Parmanu: The Story of Pokhran and the upcoming sequel to the much acclaimed 2016 release Happy Bhag Jayegi. This time though, the actress is not in the lead role as the makers have roped in Sonakshi Sinha for the sequel. The positive outlook of "it's the film that counts" is plastered everywhere across her expressions.
"To be honest, when Mudassar narrated the story to me, I think it was really beautiful how he managed to keep the two Happys completely different from each other yet there is something about them that's very similar. Personality wise, I think, me and Sonakshi are quite different in the film as well. I think my character Happy, as was the original, is a small town girl who is completely moohfat and impulsive, and said whatever came to her mind while Sonakshi is more measured and controlled," informs Diana. The actress also adds that when she read the script, she was not jealous of Sonakshi as she comprehended the importance of both the characters and how it was essential that both take the film forward.
When Happy Bhag Jayegi released in 2016, it showed a facet of Diana which was in complete contrast with the slightly subdued and serious persona of the actress which audiences witnessed in her debut film Cocktail. The U-turn helped filmmakers took notice of the acting shades in Diana who once could have made her Bollywood debut with Imtiaz Ali's Rockstar but had said no to the film. Later on, her range was revealed in films like Parmanu: The Story of Pokhran and Lucknow Central. While the first instalment of the laugh riot had its comedy rooted in the chaos that ensued between India and Pakistan, the second installment will see addition of another country – China. "It's (the sequel) far more chaotic. There are two of us now, so there is double of everything. There is double happiness, double confusion, double trouble and double fun too. We did not have to speak Chinese because in the film, me and Sonakshi just happen to land in China and had to speak our own language. The onus to speak Chinese in the film fell on Jassie Gill. His character is someone who works in the Indian embassy and thus speaks Mandarin," reveals Diana.
The bonhomie and the camaraderie that both Happys must have shared while shooting for the film is evident when the mention of Sonakshi crops up in the conversation. "I love her spontaneity and spunk. She is really vivacious and it rubs off on to the people who are around her. It was great having her on the sets because the set often became high-spirited and full of energy, because of Sonakshi."
Six films in a span of six years speak a lot about Diana's modus operandi of picking her films. While her debut film Cocktail hit theatres in 2012, she has taken her own sweet time to choose all her subsequent films. Does that make Diana a choosy actress? "I don't think choosy will be the right word. It's not so much about being choosy, but it's all about picking the right opportunities that come your way, for me at least. If I am giving myself to a film, I would want to give my hundred percent to that film, so I would hate to take a project that I am not feeling from within," discloses the actress.
But amidst the joy and happiness, the recent death of ex-Prime Minister Atal Bihari Vajpayee has also saddened the actress. Diana's last flick Parmanu: The Story of Pokhran, which was based on India's race to become a nuclear power, took wing under the regime of Vajpayee. She informs that while researching and reading up on material during the pre-production phase of Parmanu: The Story of Pokhran, she got to know a lot about the late PM and his involvement in making India a nuclear power. "He is definitely one of the finest visionaries that we ever had. He was a courageous leader who could pull off such a mission which was quite complex in the way it was and how it was. It was under his leadership that we could manage to do that. India is a nuclear power on the world map because of him and because he had the courage to undertake a mission like that. My respect for him has shot through the roof. We have lost one of the finest and it's a sad moment."
Entertainment
Arjun Kapoor was seen jamming on Rakul Preet Singh's Mashooka' during his makeup session; Jackky Bhagnani responds
Entertainment
The Official Handle Of Forrest Gump on Twitter Announces The Release Date Of Laal Singh Chaddha; Releases In Theatres Worldwide On August 11th.
Entertainment
To keep the thrill and the mystery element high, the makers of Dobaaraa release another intriguing poster.