Danny Denzongpa on replacing Amitabh Bachchan in Bioscopewala and rejecting Gabbar's role in Sholay
Danny Denzongpa says it is possible that Amitabh Bachchan deliberately walked out of Bioscopewala because he knew Danny is already involved in the film.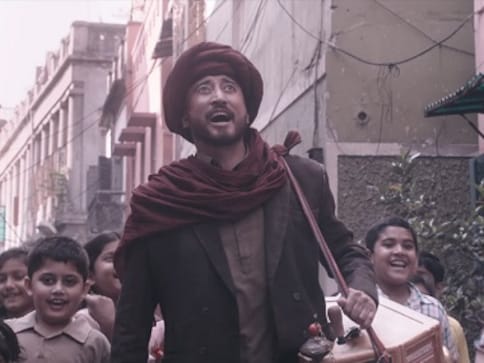 Be it Kancha Cheena in Agneepath (1990), Bakhtawar in Hum (1991) or the crippled Thakur Ranjit Singh in Dhund (1973), Danny Denzongpa — the unlikely star of Bollywood — has portrayed some memorable characters in Hindi cinema with such flair. But now it looks like these kind of menacing and ruthless avatars will take a back seat for the suave actor until he sinks his teeth into yet another baddie role.
In his upcoming film Bioscopewala (releasing on 25 May), Denzongpa plays the titular role of an Afghan immigrant in India in the adaptation of one of Rabindranath Tagore's classics and most beloved short stories, Kabuliwala, which was earlier adapted for the big screen by acclaimed filmmakers Bimal Roy and Tapan Sinha. Then, in Kangana Ranaut-starrer Manikarnika: The Queen of Jhansi, an epic biographical film, Denzongpa plays a pivotal and positive part, of Ghulam Muhammad Ghouse Khan, the army general of Jhansi who is like a father figure to Rani Laxmibai.
Talking about Bioscopewala, writer-director Deb Medhekar took the essence of producer Sunil Doshi's idea — a cinema hall owner in Kabul during the Taliban era who becomes a bioscopewala in India that travels, sings, and influences a little girl — and adapted it further. The original tale traces the friendship between an Afghan dry fruit seller and a Bengali girl who reminds him of his daughter, and in Bioscopewala, which was shot in a remote place in Ladakh and a few portions under the Howrah Bridge in Kolkata, the girl has grown up, and she sets off to find the bioscope man and his daughter.
Denzongpa was excited to bag the project because Kabuliwala (1961 release with Balraj Sahni in the lead) is one of his three favourite Hindi films (the others being Raj Kapoor's Jagte Raho from 1956 and V Shantaram's Do Aankhen Barah Haath from 1957). "It's a Tagore story and as a kid, when I saw the film, I was really moved. The character had such an impact on me that after watching the movie, I drew his sketch in my class. Later on, I wanted the rights of Bimal da's version of Kabuliwala and wanted to make it exactly the way it was done, sometime in late '70s but that didn't materialise. Then suddenly, after so many years, I am playing that same role," said Denzongpa in a phone interview from somewhere in northern Sikkim where he runs the successful Yuksom brewery, whose brands include beers such as Dansberg and Denzong.
Incidentally, the film that also has Geetanjali Thapa, Tisca Chopra and Adil Hussain in significant roles, was originally meant to star Denzongpa's dear friend and his frequent co-star Amitabh Bachchan. But when it did not work out, apparently owing to the latter's busy schedule, Denzongpa stepped in. "It's a coincidence that I am part of this project. But it is also possible that Amitabh deliberately stepped out because he knew that I was very involved with the story. He is not the kind who would take the credit for it. He is very subtle when he does something for his friends," said Denzongpa, who is happy that most of the cast and crew in the film are from Pune's Film Institute (FTII) as he himself graduated from the Institute along with distinguished actors like Shabana Azmi, Jaya Bachchan and Shatrughan Sinha among others sometime in the late 60's.
Denzongpa has been a Hindi film regular since 1971, averaging a film a year even now when he is 70. He played a crooked scientist in Shankar's Enthiran (2010), a politician in Salman Khan-starrer Jai Ho (2014) and a high-ranking intelligence officer in Neeraj Pandey's Baby (2015). The actor attributes his longevity in the industry to steering clear of PR. "For 46 years, I have had no PR and it was deliberate because I would want genuine reactions about my work without any help from external sources, or by blowing my own trumpet which I suppose works for many people in the industry. I don't go to functions, I don't appear on television. Even if I win an award, I send someone to collect it so people don't know much about me. Whatever I have earned, appreciation or criticism, is genuine. From that, I can learn, improve and rectify the mistakes I have made," he said. "Initially I would feel quite a misfit in the industry because people those days were making films for their family. I would think that I was wasting my time and that I should go back and try some other profession. But I continued struggling and finally BR Chopra's Dhund (1973) happened and that film made me a star," he further added.
And if there is one question that Dengzongpa will have to field forever is why he refused the role of the iconic Gabbar Singh in Sholay. "Looks like this question is never going to leave me," he laughs. Denzongpa was the original choice for the Gabbar Singh dacoit character in Ramesh Sippy's Sholay (1975) but he lost the role to Amjad Khan because he was shooting for Feroz Khan's Dharmatma in Afghanistan. "If I had done that film then that wonderful actor called Amjad wouldn't have been there. It benefited me and all of us because Amjad became such a huge star after Sholay, that the character actors and villains' price went up by six times," he said.
And despite his 150-film repertoire, Denzongpa does have a regret, for instance, not being able to use his FTII training by working in realistic cinema. "I could have done better films and chosen better subjects. I would tell my friends that I want to act in commercial movies, become a star and then act in good cinema but then my image became so larger than life that I couldn't fit into those realistic films. I waited for some time and did a film called Frozen (2007) in which I played a jam maker. The film went to 36 festivals and won about 18 awards. Even Bioscopewala is a very simple film and doesn't have any gimmick unlike the films I did in '70s and '80s. I want to do more of these kind of films as I find it easier. I find it very difficult to work in a '70s and '80s film because there are situations that are unbelievable, like you jump from the second floor and you get up and start running without breaking your ankle!"
He narrates one such situation in his 1976 release, NN Sippy's Fakira – a lost and found story that had celebrated golden jubilee all over the country. "In the film, Shashi (Kapoor) played my elder brother. I dump him in  sea with rocks tied to his ankles. When I return to the shore and learn that he was my brother, I go back, jump into the sea and rescue him from drowning. Thanks to his yoga, he's fine despite having been underwater for over 30 minutes. We have a happy reunion on the boat and I was told to hug him, cry and mouth some emotional dialogues. But I refused to do the scene as I found it so unconvincing. Shashi was a very busy star those days doing three shifts in a day. He tried to cajole and convince me that I should do the emotional scene fast by putting glycerin on my eyes, say the lines, hug him and just allow him go for the shoot of his next film (laughs out loud). I was holding him for long. He was quite senior to me and I listened to him. Later, I went to watch Fakira in a theatre and saw that people were lapping up the scene, and women were sobbing and wiping tears with their sari pallu. After that, I never questioned my directors or actors. I decided to do whatever I was told and kept on doing that for years," wrapped up Denzongpa with the famous words of his directors: "Once the audience accepts you, you can play any part".
(Also read: As Bioscopewala comes to theatres, a look at other films inspired by Rabindranath Tagore's works)
also read
Entertainment
This year, Esha Gupta shall walk the red carpet in a specially curated designation led by Union Minister of State Dr. L Murugan.
Entertainment
The collaboration between Rema and Faisu shows how Faisu didn't recognize Rema is the voice behind Calm Down.