Blackmail: This promising Irrfan Khan-starrer kills its thrills with a linear, predictable narrative
Instead of telling us 'S#!T Happens' like he did with his debut Delhi Belly, Blackmail director Abhinay Deo cleans up all the crap with a toilet paper before it can even make a splash.
Blackmail starts on a promising note. Its protagonist, Dev Kaushal (Irrfan Khan), works at a toilet paper selling firm. He puts his source of rozi rot, i.e., the toilet paper to good use to as he steals the pictures of his colleagues' wives from their desks and uses them to masturbate in the washroom.
Clearly, there is no 'action' in his life, and it does not take him long to discover why. His wife Reena (Kirti Kulhari) is having an extramarital affair with Ranjit Arora (Arunoday Singh) whom Irrfan discovers is the husband of a rich alcoholic woman Dolly (played by Divya Dutta).
 Since he has an aversion towards 'voilence', he decides to blackmail his wife and her lover. He sends them an SMS from an unidentified unregistered sim card, threatening to inform their respective spouses about the affair if they do not pay him one lakh rupees. What starts then is a quagmire of blackmails that end up involving Dev's colleagues as well.
As long as the film sticks to the primary three characters, it holds. Director Abhinay Deo returns to his long lost Delhi Belly form and delivers some memorable scenes laced with his signature adult comedy.
Dancing just right to his distant beat is Irrfan who never misses a note. His expressions and body language stay true to his not-trying-too-hard approach yet he manages to tickle the funny bone with his droopy eyes that are brought to life by a glint of mischief.
But the curse strikes much before the second half, thanks to the film's weakest scene featuring Irrfan's colleagues, played by Pradhuman Singh and Marathi actress Anuja Sathe. The scene coincides with the ravishing Urmila Matondkar's zero-impact song 'Bewafa Beauty'. The whole sequence of the dialogue between the two actors at a cheap bar, with Urmila's much loved thumkas in the background, could have been completely done away with.
Instead, it sets the tone for a film that was projected as a thrilling cat and mouse chase in its trailer. What it turns out to be, however, is a linear narrative of events as they unfold. It gives the viewers no scope to indulge in the pleasure of joining the dots because there are no dots to join in the first place. The film's graph, despite the interesting premise, is just plain simple flat.
Dumbing down the narrative can be justified as a leveler but giving them no meat to chew or giving them such a cushioned armchair that they do not bother to reach the edge-of-the-seat is as good as inviting them for a nap as the film unfurls before them.
While Irrfan and a few hilarious, witty scenes sustain, the characters of Divya and Aunoday are only occasionally engaging. Besides giving the audience a limited number of laughs, their sketches remain as patchy as that of Kulhari, whose most sinister way of exacting revenge is to delete her ex-boyfriend's contact. While there are murders, blackmails and gunshots all over the second half (we won't tell you who dies. Let at least some suspense sustain), Kirti confines her evil best to deleting contacts.
Amit Trivedi's music, 'Badla' in particular, amp up the film but does not retain its trip as it pitches way higher than the drama or thrills unfurling on screen. What is commendable is the incredible production design. The use of small objects which have a larger symbolic relevance has been used rather creatively, as the detailing works in perfect tandem with the inventive cinematography.
But the film fails where it should have definitely scored brownie points. Given the potential of the premise, it could have easily made the viewers think on their feet and enjoy speculating every turn. However, instead of telling us "S#!T Happens" like he did with his debut Delhi Belly, Deo cleans up all the crap with a toilet paper before it can even make a splash.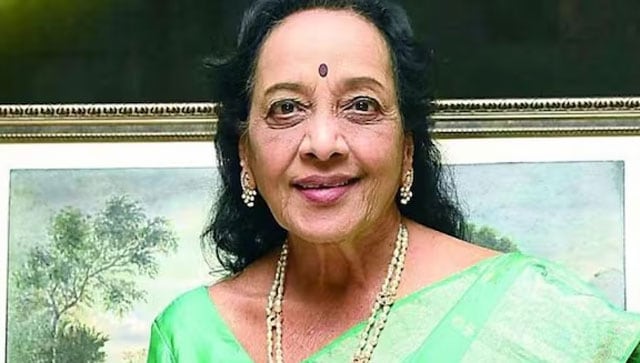 Entertainment
She had won the Filmfare award for Hindi Film 'Milan'. Some of her iconic films include 'Missamma', 'Gundamma Katha' and 'Sri Krishna Tulabharam'.
Entertainment
Here is how the war between Meghan Markle and Kate Middleton over fashion designer Erdem Moralioglu's outfits started.
Entertainment
Jennifer Lopez walks down the aisle in Shotgun Wedding with fun, romance and loads of action.