Beyond Lucknow Central and Qaidi Band, films with similar themes that released in the same year
Ahead of the release of Ranjit Tiwari's musical Lucknow Central this Friday on 15 September, there seems to be an air of familiarity around the film given that the audience was recently exposed to another film with a similar premise — Habib Faisal's Qaidi Band.
Barely a month ago, Yash Raj Films released Qaidi Band, a film that revolved around a group of undertrials who form a band to channel their pain of being victimised by the system, into music. The trailer and synopsis of Lucknow Central revealed a similar setting and premise. While Qaidi Band was a launch pad for new talent (Ranbir Kapoor's cousin Aadar Jain, and Anya Singh), Lucknow Central is fronted by Farhan Akhtar.
But this is not the first time that two films, having the same premise or setting, have seen the light of the day within the same year. While the reason behind the same could be two like-minded filmmakers banking on the flavour of the season or even serious cases of plagiarism, this phenomenon of the clash of ideas dates 15 years back, to 2002.
The Legend of Bhagat Singh vs 23 March 1931: Shaheed
On 7 June 2002, two identical biopics on freedom fighter Shaheed Bhagat Singh released on the very same day. Rajkumar Santoshi's The Legend of Bhagat Singh, starring Ajay Devgn, and Guddu Dhanoa's 23rd March 1931: Shaheed, with Bobby Deol, had a head-on collision at the box office.
While neither film fared too well at the box office, The Legend of Bhagat Singh gained the upper hand critically as it went on to win two National Awards the next year. This box office clash probably also turned out to be a lesson learnt the hard way for filmmakers who dared to release similar films on the same day.
New York vs Kurbaan
Seven years later, two big production houses — Yash Raj Films and Dharma Productions — offered two similar looking films, though positioned five months apart from each other. Kabir Khan's New York (starring John Abraham, Neil Nitin Mukesh and Katrina Kaif) had glaring similarities to Rensil D'Silva's Kurbaan (starring Saif Ali Khan, Kareena Kapoor and Vivek Aanand Oberoi).
Both the thrillers revolved around three key characters, living in the US, who find themselves in the midst of the conflict between the West and the Islamic radicals. There was a terrorist (John and Saif), his long-suffering wife (Katrina and Kareena) and an avenging supporting character (Neil and Vivek) who masquerades as an ally of the terrorist in order to gain his confidence and then thwart him.
While the tone and other plot points of both the films differed, they nonetheless made for a clash of ideas that seemed too much of a coincidence.
Sultan vs Dangal
The success of films like Shimit Amin's 2007 outing Chak De! India and Rakeysh Omprakash Mehra's 2013 biopic Bhaag Milkha Bhaag, opened Bollywood to the avenues of sports dramas. Since it became the flavour of the season, every top star vied for a sports film of his own.
Last year, Salman Khan and Aamir Khan starred in Ali Abbas Zafar's Sultan and Nitesh Tiwari's Dangal. Both these films were set in Haryana and boasted protagonists who are top wrestlers in their prime but settle for early retirement owing to family issues.
The settings had more similarities than the plots but it marked the first instance when the film that had the edge of releasing first, failed to outperform the other at the box office. Though Sultan earned almost Rs 600 crore at the global box office, Dangal became the highest Hindi grosser ever when it neared the astronomical figure of Rs 2,000 crore in worldwide box office collections. In fact, Aamir Khan's film is still adding to its coffers with its stint at the Hong Kong box office. Sultan may follow suit when it releases in China later this year.
This gave a newfound hope to filmmakers who would shelve their films as soon as they discover that another film, of the same premise or setting, is already in the pipeline. Getting your film out there first ceased to be a fool-proof shortcut to success. At the end of the day, it was the content (both technical and creative) that decided the film's fate at the box office.
Raag Desh vs The Forgotten Army
This year, besides the two 'Jailhouse Rock' (musicals within the confines of a prison) movies, there is yet another clash of ideas which, just like Bhagat Singh, has another revolutionary freedom fighter as its focal point. Tigmanshu Dhulia recently released a period film Raag Desh, based on three soldiers of the Indian National Army (INA), famously led by Netaji Shubhash Chandra Bose.
Bose seems to be the new flavour of the season, along with the yet untouched subject of the 1975 Emergency, probably owing to the new political leadership of the country. Filmmakers Kabir Khan and Hansal Mehta have also announced their respective web series on Bose.
While Hansal's Bose — Dead or Alive, starring Rajkummar Rao as Netaji, will stream on Ekta Kapoor's ALT Balaji this month, Kabir's project, tentatively titled The Forgotten Army, will be Amazon Prime Video India's first original and will focus more on the INA than its revolutionary leader, just like Raag Desh did.
Kesar vs Sons of Sardar: Battle of Saragarhi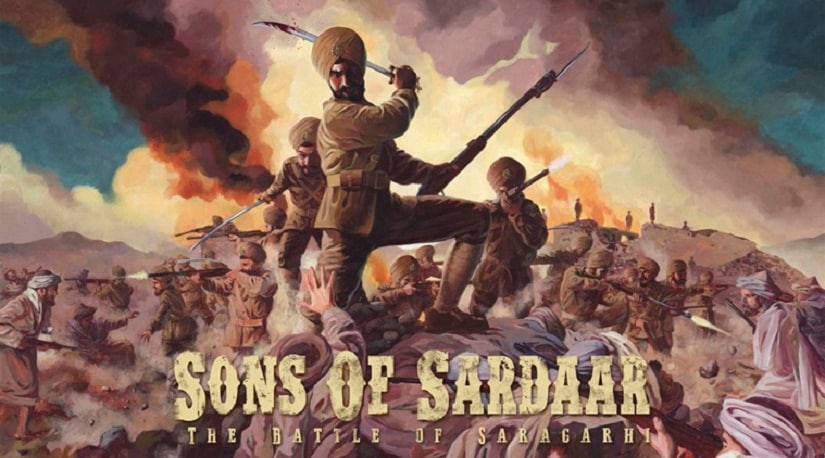 As far as upcoming films are concerned, there are two clashes that are in store. Firstly, the Battle of Saragarhi has emerged as hot property with Ajay Devgn and Karan Johar respectively producing films based on this historical incident.
Karan Johar, who announced the project reportedly titled Kesar, will release it next year. The film is co-produced by Salman Khan Films and will star Akshay Kumar in the lead role. On the other hand, Devgn has revealed that since his film is mounted on a huge budget, he will take two or three years to produce it. His ensemble, titled Sons of Sardar: Battle of Saragarhi, also stars Randeep Hooda.
Similarly, filmmakers Omung Kumar and Ashutosh Gowariker are planning their respective biopics on the same historical figure — Maharaja Jam Sahib Digvijaysinhji Ranjitsinhji, former ruler of Nawanagar. While Omung has already commenced with pre-production, there is no official confirmation on the stage Gowariker's film has reached so far.
History bears testimony to the fact that while the themes, settings or premises of two films may be similar, there is space for both of them at the box office, as long as the makers ensure they adorn their respective products with their signature styles and position them in a way that the two films end up complementing each other rather than eating into each other's market.
Updated Date: Sep 13, 2017 12:42:37 IST
Your guide to the latest election news, analysis, commentary, live updates and schedule for Lok Sabha Elections 2019 on firstpost.com/elections. Follow us on Twitter and Instagram or like our Facebook page for updates from all 543 constituencies for the upcoming general elections.