Anushka Sharma, Virat Kohli sent legal notice by Arhhan Singh, the commuter actress pulled up for road littering
In a viral video posted by cricketer Virat Kohli, his wife Anushka Sharma was seen schooling a fellow commuter, Arhhan Singh, about road littering.
Arhhan Singh, who was famously pulled up by Anushka Sharma and for littering on the road, has sent a legal notice to the actress and her cricketer-husband Virat Kohli. As per TV reports, Anushka and Virat have not responded to the notice yet.
Last week on 17 June, Kohli posted a video on Twitter which showed Anushka and him sitting in their car, the actress rolling down the window to scold a man in a luxury car next to them. She gave the commuter a piece of her mind, when she saw him throw something on the road. "Why are you throwing garbage on the road?" Anushka was heard asking on a video shot by her husband Virat Kohli, also present in the car. The man, visibly taken aback by the sudden encounter, did not reply. "Please be careful, you can't just throw plastic around on the streets," Anushka said.
Virat then tweeted the video. The video went viral within minutes of being posted, also leading to a slew of comments on the post. While most people lauded the couple for taking on the errant commuter, some made jokes out of the incident.
The commuter, at the end of the scolding, turned out to be an actor. Arhhan Singh, who has also shared the screen space with Shah Rukh Khan, took to Instagram and slammed Virat and Anushka for posting the video merely for the sake of publicity. He added that Anushka could have been more considerate as that would not have made her a lesser star.
Find latest and upcoming tech gadgets online on Tech2 Gadgets. Get technology news, gadgets reviews & ratings. Popular gadgets including laptop, tablet and mobile specifications, features, prices, comparison.
First Cricket News
30-year-old left-hander Srivastava took to social media to make the announcement but did not specify his new plans.
First Cricket News
De Villiers, who ended his international career two years ago, smashed six sixes in a 33-ball blitz in Sharjah on Monday that set up a big win for the Royal Challengers Bangalore over the Kolkata Knight Riders.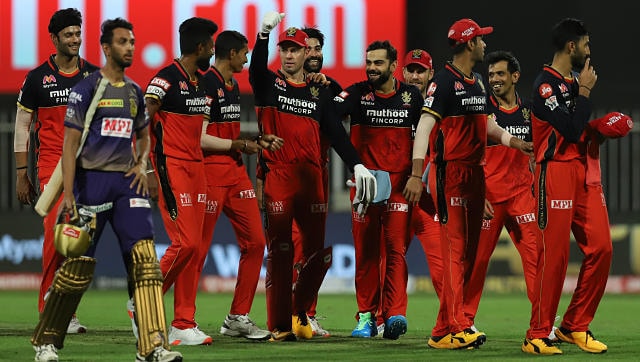 First Cricket Photos
Check out the key moments from IPL 2020 clash between Royal Challengers Bangalore and Kolkata Knight Riders.