Ashish Vidyarthi's first wife drops cryptic post after his second marriage to Rupali Barua
Veteran actor Ashish Vidyarthi and fashion entrepreneur Rupali Barua tied the knot in a close ceremony in Kolkata on 25 May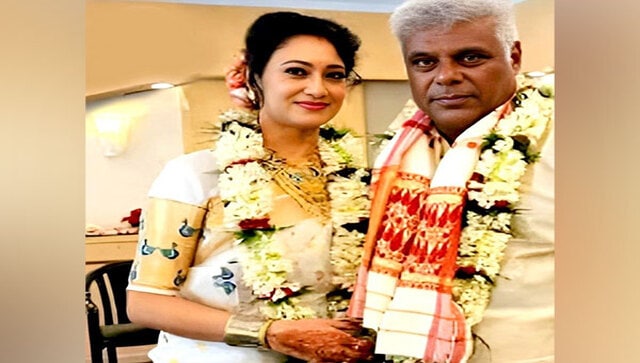 When it comes to matters of heart, love transcends age and everything in between becomes insignificant. Talking of which, veteran actor Ashish Vidyarthi surprised everyone after photos of his marriage with Rupali Barua surfaced the internet. The wedding took place in an intimate ceremony in Kolkata on Thursday. The event has put a spotlight on Ashish's first wife Rajoshi or Piloo Vidyarthi.
A series of Instagram stories
Rajoshi apparently expressed her mixed reactions through a series of Instagram stories. In the first story, she shared a quote by Najba Zebian as a repost from the 'thirdeyethoughts' page. "The right one will not make you question what you mean to them. They will not do what they know hurts you. Remember that," she wrote.
The second story, another quote from the same page, talked about overthinking and finding clarity. "May the overthinking, and the doubt exit your mind right now. May clarity replace confusion. May peace and calmness fill your life. You've been strong long enough, its time to start receiving your blessings. You deserve it," she shared.
In her latest Instagram post, Rajoshi wrote, "Don't get puzzled in the puzzle called LIFE."
View this post on Instagram
Who is Rajoshi or Piloo Vidyarthi
Originally from Kolkata, Rajoshi is the daughter of popular Bengali actress Shakuntala Barua. She is the co-founder of Ashish Vidyarthi & Associates. The organisation aims to transform lives through theatre, music and conversations.
She has a son named Arth Vidyarthi, 23, with the veteran actor and former husband Ashish Vidyarthi.
On the work front, she has starred in various Hindi films and TV serials including Suhani Si Ek Ladki (2019) and Imlie (2020)
Husband's second marriage
Speaking of Vidyarthi's second wife Rupali Barua, she hails from Assam and is a fashion entrepreneur.
In an interview to The Times of India about his wedding, Ashish earlier said, "At this stage of my life, getting married to Rupali is an extraordinary feeling. We had a court marriage in the morning, followed by a get-together in the evening."
The 60-year-old actor added, "We met some time ago and decided to take it forward. But both of us wanted our wedding to be a small family affair."
Read all the Latest News, Trending News, Cricket News, Bollywood News,
India News and Entertainment News here. Follow us on Facebook, Twitter and Instagram.
also read
Entertainment
Prominent celebrities and politicians from across the country have paid their tribute to Sarath Babu
Entertainment
In his latest interview, Manoj Bajpayee was asked about his rumored Rs 170 crore net worth. He replied amusingly saying he was not from south Mumbai to have such a value to his credit
Entertainment
Popular actor Nitesh Pandey passed away on Wednesday after suffering a sudden cardiac arrest