Alone movie review: Is Mohanlal in a race to give us the worst Mohanlal film yet?
It is heart-breaking to see an artiste who has made us laugh and cry and given us food for thought for years, wasting himself. Alone is zero-impact, zero-purpose fare.
Cast: Mohanlal
Director: Shaji Kailas
Language: Malayalam
Imagine being stuck alone in a haunted house during the severest, most restrictive lockdown in the COVID-19 pandemic. Imagine feeling driven to help the spectres in that house wrap up the unfinished business that caused them to linger on Earth.
What you don't have to imagine is writer Rajesh Jayaraman and director Shaji Kailas arriving at this promising concept for a solo act, bagging one of Indian cinema's biggest names for their film, and then making a mess of it – you don't have to imagine this happening since you can witness the unravelling for real if you choose to watch Alone that is currently in theatres.
Set in Kochi, Alone stars Mohanlal as Kalidasan who moves into a flat in a posh residential complex just when the Coronavirus first confined us to our homes. Kalidasan starts hearing conversations floating around within those four walls right away, writing surfaces on a mirror, and he decides to investigate the strange goings-on. In this quest, he has the help of various characters who – in addition to a friend, a therapist and a neighbour – don't physically appear on screen but are only heard on the phone or on the other side of a shut door.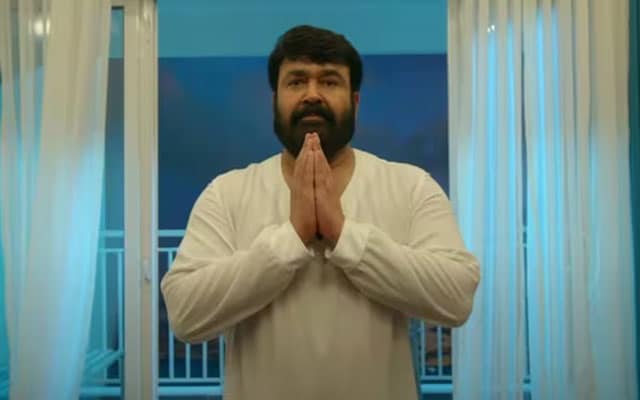 The illustrious voice cast includes Manju Warrier and Prithviraj Sukumaran.
A single-actor film set entirely in a single space places a huge burden on its central artiste. From the best of Mohanlal's work in his over-four-decades-long career including, most recently, the Drishyam franchise, we know that if anyone has what it takes to deliver the goods in such a project, it is he. The chasm between capability and delivery has rarely been as wide – or as embarrassingly poor – as it is here.
Irrespective of the potential of the basic plotline, Alone is off-key from the moment it opens on Mohanlal's mannered acting as he enters the condominium. The intention is, in all probability, to convey his character's eccentricities, but the performance is way off the mark, coming across instead as fussy, cutesy over-acting no different from Lalettan's work in that disgrace titled Monster (2022) and other mindless entertainers over the years.
Considering the premise and theme, Alone is a surprisingly crowded film. When the spirits in Kalidasan's home are not speaking, his friend/girlfriend/lover is calling to check on him. When she disconnects, he is consulting one of his allies on the phone, making inquiries with the management of the condo, fraternising with his elderly neighbour through closed doors, or pulling odd faces. All through this and even when none of these are in play, the sound designer, music team and cinematographer are unrelenting. It's not that the overall soundscape and background score are loud, but that they are never given a rest. And the camerawork is needlessly all over the place. Alone is bereft of silences and stillness.
If the team of this film wanted tips on how to handle a solo-actor venture, they need not have gone far. The Malayalam film industry itself gave us the compact, tightly edited, thoughtfully directed, well-acted Sunny starring Jayasurya in late 2021. Sunny was also set in the pandemic and was about a man alone in his apartment during the quarantine enforced on travellers just arrived in Kerala back then. The eponymous protagonist was dealing with various crises in his life, he was an alcoholic and he was suicidal. Director Ranjith Shankar was unafraid to leave Sunny alone with his thoughts. Alone is too busy trying to look busy and impressive.
The only point worth noting here is that Alone is different from Shaji's last two films: the noisy, bombastic Kaduva and the stereotypical gangster saga Kaapa, both released in 2022. Different is not good though. Alone cannot be accused of being formulaic like the other two, it's just empty, and its imagination took a vacation after the single-line description was written.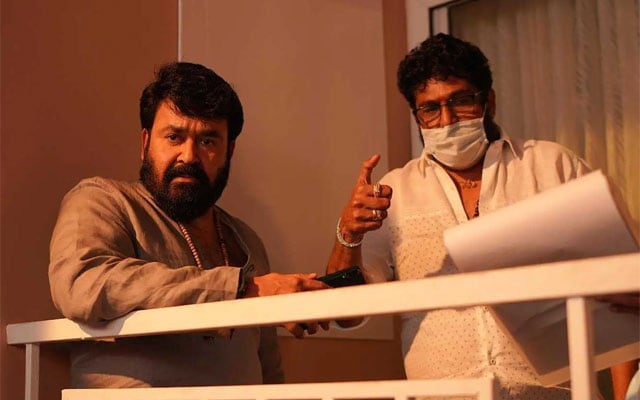 In recent years, Malayalam cinema has taken a lead in spreading awareness about mental health and normalising therapy in a way that no other Indian film industry has. Directors and writers have been persistent in this regard, with the likes of Kumbalangi Nights, #Home and Sunny foregrounding psychiatry in their storylines. This is important in a country where depression and other psychological disorders are stigmatised even today. Alone messes up even on this front with a random, thoughtless insertion of a serious psychological condition into the plot.
The two Big M-s have been pillars of the Malayalam film industry for decades. One of the happiest developments for long-time followers in the past two years has been Mammootty's decision to go off the beaten track with the likes of Puzhu, Rorschach and Nanpakal Nerathu Mayakkam even as his overtly mass-targeted Bheeshma Parvam steered clear of the extreme misogyny and clichés that abounded in too many of his earlier films. Mohanlal, on the other hand, is floundering in the face of the new Malayalam New Wave. Last October's Monster directed by Vysakh – featuring the star's cringe-worthy acting as a Sikh, horrendous homophobia and its treatment of lecherousness as comedy – felt like an all-time low, but Alone gives it stiff competition for a top rank on the list of worst ever Mohanlal starrers. It is heart-breaking to see an artiste who has made us laugh and cry and given us food for thought over the years, wasting himself in this fashion.
Alone is zero-impact, zero-purpose fare. The point of its existence is a far bigger mystery than the occurrences in the flat where the story unfolds.
Rating: 0 (out of 5 stars) 
Alone is in theatres.
Anna M.M. Vetticad is an award-winning journalist and author of The Adventures of an Intrepid Film Critic. She specialises in the intersection of cinema with feminist and other socio-political concerns. Twitter: @annavetticad, Instagram: @annammvetticad, Facebook: AnnaMMVetticadOfficial
Read all the Latest News, Trending News, Cricket News, Bollywood News, India News and Entertainment News here. Follow us on Facebook, Twitter and Instagram
Entertainment
Guru Randhawa says, "I am thrilled to be releasing a lyrical animated video for 'Mountain Peak.' The song has heartfelt lyrics with catchy beats, so I can't wait to see how the audience reacts."
Entertainment
Tulsi Kumar mentioned that all the songs in this series are dedicated to her loving fans and is a treat to them for all the undying appreciation and support that they have shown her throughout her career.
Entertainment
Baldwin's legal team in February sought to disqualify special prosecutor and Republican state Rep. Andrea Reeb of Clovis based on constitutional provisions that safeguard the separation of powers between distinct branches of government.