Akshay Kumar's Toilet: Ek Prem Katha tops opening weekend in China box-office; earns Rs 61.1 cr in three days
The three-day gross of $9.05 million at the China box office has steered Toilet: Ek Prem Katha's cumulative overseas total to $13.55 million, making it the highest-grossing movie of Akshay Kumar in offshore markets.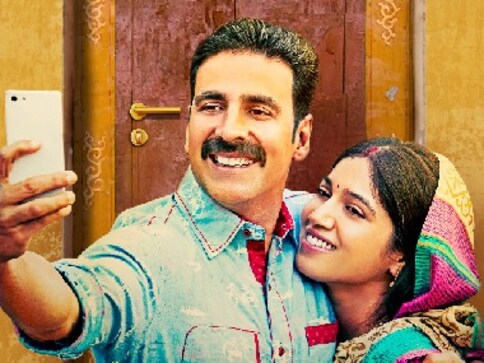 Akshay Kumar's satirical comedy-drama Toilet: Ek Prem Katha (TEPK), which landed in mainland screens on 8 June, has topped the opening weekend in China box-office with a cumulative three-day gross of $9.05 million (Rs 61.1 crore), holding off competition from Disney/Marvel's blockbuster Avengers: Infinity War, the local smash hit How Long Will I Love U and Jean-Claude Van Damme's action thriller Black Water.
The opening weekend total of $9.05 million (Rs 61.1 crore) has powered the film's worldwide earnings to Rs 277.6 crore. Although the PRC weekend takings of TEPK surpassed Salman Khan's Bajrangi Bhaijaan ($8.75 million) and Baahubali 2: The Conclusion ($7.63 million), it fell short of weekend performances of other Indian films such as Secret Superstar ($27.72 million), Hindi Medium ($21.2 million) and Dangal ($14.2 million).
However, TEPK, with a day-one theatrical revenue of $2.35 million (Rs 15.8 crore), registered the fourth biggest opening for an Indian film, only behind Secret Superstar ($6.97 million), Hindi Medium ($3.43 million) and Baahubali 2: The Conclusion ($2.43 million). It edged past the $2.24 million opening day bow of Bajrangi Bhaijaan which released for the Lantern festival weekend in March. While TEPK debuted at No.2 on 8 June, the film topped the box-office chart on both 9 and 10 June and witnessed an excellent 53 percent growth on day two.
Talking to Firstpost, an elated Shibasish Sarkar, COO, Reliance Entertainment, said, "The film has definitely performed well in the first three days. It's more than what we expected initially. But, the crucial time starts on 11 June. It has a lesser rating than Dangal and other films. Although the ratings were out on 8 June (Friday), the film witnessed good growth on Saturday and Sunday with word-of-mouth picking up. Now, we have to see how it performs on the weekdays. And, Jurassic World is releasing next week in China, which will definitely take up substantial number of shows"
With close to 12,000 screens, TEPK received the fourth biggest Indian release in China after Secret Superstar (21,000), Baahubali 2: The Conclusion (19,000) and Hindi Medium (17,000). However, it received the widest release for an Indian film with a show count of over 66,000. It's the third Indian movie after Secret Superstar (55,860) and Baahubali 2: The Conclusion (52,955) to open with 50,000+ shows in the Middle Kingdom. For a genre like satirical comedy, TEPK holds a good score of 8.2 on China's popular ticket selling and box-office platform Maoyan and a decent 7.2 rating on review aggregator site Douban from 10,148 votes.
Shibasish says Chinese market has become more receptive to Indian films, which are either content-based or social-themed stories, which they can connect.
"Aamir Khan has undoubtedly made a mark for himself, and he is in a different league in China when compared to other Indian stars. The business Hindi Medium did in China surprised everyone. Relatively, Baahubali 2 could not perform well since visual spectacle is something Chinese moviegoers are accustomed to in Hollywood films and local movies. They expect content-driven films from India. I think the market has opened up well for India. I know it's going to be tedious to score a simultaneous release in China, but if we figure it out somehow, it will be a huge potential market for content-based films. For TEPK, the distributor has already recovered his cost on the second day itself," he explained.
Produced by Reliance Entertainment and directed by Shree Narayan Singh, TEPK, which is titled Toilet Hero in China, is the fifth Indian film to be imported into the Middle Kingdom this year after Aamir Khan's Secret Superstar, Salman Khan's Bajrangi Bhaijaan, Irrfan Khan's Hindi Medium and Prabhas-SS Rajamouli's Baahubali 2: The Conclusion, which winded up its China theatrical run with $11.9 million (Rs 80 crore) gross.
TEPK also marks Reliance Entertainment's second film in the world's second-largest market after Aamir Khan's 3 Idiots, which grossed nearly $2.2 million and sparked off the ascent of Indian movies in China when it released in 2011, two years after its Indian release. Donald Tang's Tang Media Partners, a Reliance Entertainment affiliate, has handled the distribution rights of the film and Lianrui Picture of PRC's state-owned corporation China Film Group has released the movie.
In April, Toilet: Ek Prem Katha and Salman Khan's sports drama Sultan were screened at the 8th Beijing International Film Festival in the Horizon section of Beijing Film Panorama. Shree Narayan Singh and producer Shital Bhatia of Friday Filmworks attended the screening and participated in a post-screening Q&A session with the audience, who showered lavish praise on the movie.
The three-day gross of $9.05 million has steered the film's cumulative overseas total to $13.55 million, making Toilet: Ek Prem Katha the highest-grossing movie of Akshay Kumar in offshore markets.
Entertainment
Madhuri Dixit will play the role of a Bollywood icon, Anamika Anand in the series, who seemingly has a perfect life. The series was earlier known as Finding Anamika.
Entertainment
Imran Khan has opted for anonymity over fame. There is no chance of a comeback. Imran is just not interested in being a film star.
Entertainment
"I'm deeply humbled to have been bestowed with the prestigious Padma Shri award. I have been fortunate enough to creatively collaborated with some of the best minds of the Hindi film and television industry," Dr. Chandraprakash Dwivedi says.