Aadhi Pinisetty on his desire to experiment with roles: It's easy to get into a comfort zone; I don't want that
In an exclusive interview with Firstpost, Aadhi Pinisetty opens up about his upcoming Telugu and Tamil projects, and his penchant for remakes.
Ever since he made his comeback in Telugu cinema in 2016 with Sarrainodu, it won't be an exaggeration to say that Aadhi Pinisetty has become one of the most sought after actors in Telugu cinema. After playing a menacing villain in Sarrainodu where he locked horns with Allu Arjun, he surprised everyone in 2017 with Ninnu Kori as Arun, a soft-spoken guy who believes in the institution of marriage. And then, earlier this year, his fame shot through the roof when he delivered a knockout performance in Sukumar's Rangasthalam in which he played the role of Kumar Babu, a morally upright character who fights against the injustice and tyranny of a ruthless village president. But ask Aadhi the reason behind this dramatic turnaround in his career, he simply says, "I've always been working hard, and it took me plenty of time to figure out where I want to fit myself in, and deliver what the audience expects from me. It all boils down to being patient, choosing sensible scripts, and taking right decisions. But ultimately, films should work too. Otherwise, no matter how much we plan, nothing will work."
Although he made his acting debut way back in 2006 with Teja's Oka V Chitram, it took him a while to establish himself as a hero in Tamil cinema. Films like Mirugam and Eeram portrayed him in a different light, but even in subsequent years, nothing was conventional about his choices per se. Reflecting on the choices that he has made over the past decade or so, Aadhi says, "I never wanted to be an actor. After graduating from college, I had dreams to become a commercial pilot, but fate had other plans for me. I would like to believe that the actor in me grew along with the films I had done. I can't pinpoint to one film which changed my approach. It truly has been a gradual process and it took me a lot of time, and all sorts of experiences, to shape me as an actor. I became more choosy about what I want to do. In fact, for all the projects I've signed in the last couple of years, I have rejected scores of films too."
His criteria to say 'yes' to a film has got a lot to do with his faith in his abilities to pull off the role, and more importantly, making a conscious effort to avoid being stereotyped. By his own admission, he said no to several films post-Sarrainodu in which he had similar roles. "I'm open to all types of scripts and genres. The fundamental question I ask myself is whether I can pull it off and is it challenging enough for me? It's easy to get into a comfort zone and I don't want that. If I say yes to a film, it shouldn't be too easy for me," Aadhi adds.
Perhaps, it's this ability to put himself in the shoes of an Arun and also a Kumar Babu with great ease that has made him an actor to reckon with in the industry. "People ask me if I'm taking up these offers because I'm not getting roles of a hero! (Laughs) But then, I don't believe in the very definition of what constitutes a hero in films. I can't be fighting against villains all the time - it's too boring. In my view, heroes protect our borders. We are just actors trying to to act like a hero. There's a big difference. I just see myself as a protagonist. I don't have any typical qualities that you expect from a hero. Perhaps, that's why people relate to the characters I play. I'm just experimenting with my films, roles, and having a blast doing all that these days," he chuckles.
In his recent film Neevevaro, Aadhi played a visually impaired chef, Kalyan, who goes on a mission to find a girl he falls in love with. The film is the remake of a Tamil film, Adhe Kangal, and Aadhi confesses that he was quite impressed with the core emotion of the film. "It's a very sensible film and I could relate a lot to Kalyan. Besides, it was a wonderful experience working with Taapsee (Pannu) once again after Gundello Godaari. Both of us are quite focused on our work and we struck a good balance," he adds. And then, there's Pawan Kumar's U Turn, the Telugu-Tamil remake of a Kannada film of the same name. In this film too, he teamed up with Samantha Akkineni. The duo had recently collaborated for Rangasthalam, although for a very limited number of scenes. "Samantha is a lovely human being and I believe that's essential to be a good actor. For me, one of the most important factors to sign a film is the director. I had watched Pawan Kumar's earlier film, Lucia, and I was quite impressed with his body of work. When an important role in the film was offered to me, it didn't take me too long to say yes."
Interestingly, the actor surprised quite a few people recently when he announced that he'll be playing the lead role in the Tamil remake of Ajay Bhupathi's RX100, which turned out to be a huge hit in Telugu recently. It's his third remake in a row; however, Aadhi is nonchalant about signing a streak of remakes. "Moviegoers don't care if it is a remake or not, as long as the film keeps them engaged. I don't see why we shouldn't be doing remakes. I loved the soul of RX100 and I was more than happy to sign the film. I must also add that I'll have to work doubly hard to play the role in Tamil. We have a strong foundation already, and we have to build something even stronger. In a way, I'm scared about playing this role in RX100's Tamil version. It's quite scary and challenging," Aadhi confesses, adding, "People have changed a lot over the years, and I've to change accordingly to impress them every single time."
Lifestyle
Captured on camera in a single take, 11:11 is a response to the growing disaffection induced by the pandemic in a year that has pushed us online with a vengeance.
Entertainment
Shefali Shah, Manav Kaul, Fatima Sana Shaikh and Shashank Khaitan open up about an equally heart-warming and heartbreaking film.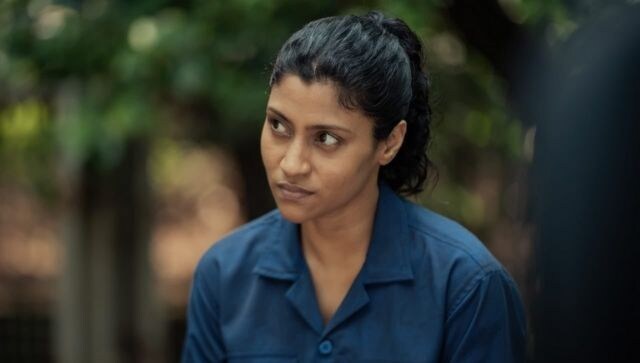 Entertainment
"There's something very contemporary about his outlook. I love his politics and aesthetics," Konkona Sensharma says about working with director Neeraj Ghaywan in Geeli Pucchi, where she plays a Dalit woman.