65 movie review: Adam Driver's sci-fi thriller both salutes and subverts the idea of heroism and hope
Writers and directors Scott Beck and Bryan Woods present a story about survival, and design it with style with their new film 65.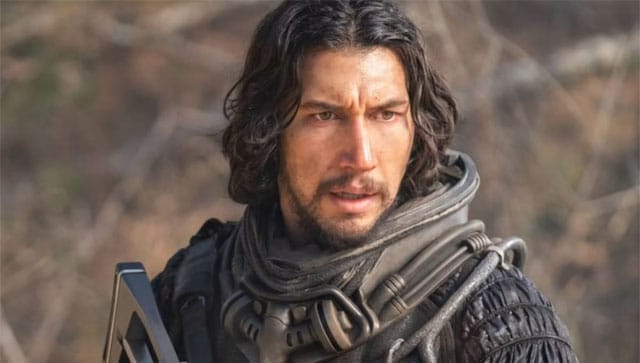 Cast: Adam Driver, Ariana Greenblatt, Chloe Coleman
Directors: Scott Beck and Bryan Woods
Language: English
Why would someone title his film 65? The answer lies in the plot. A pilot called Mills (Adam Driver) is stranded on an unknown planet after a catastrophic collision and soon realizes he's been marooned on Earth 65 million years ago. He now has nowhere to go, no means to escape, but he does have company to communicate with, Koa (a sure-footed Ariana Greenblatt).
Writers and directors Scott Beck and Bryan Woods present a story about survival, and design it with style. Because this is the same duo that wrote A Quiet Place, 65 brims with silences and shocks. There are moments of deep quietness before an overwhelming surprise makes an appearance. But they have far more complex and compelling ideas in mind. Since the makers flirt with the idea of making a science-fiction, there are shots of dinosaurs and other creatures.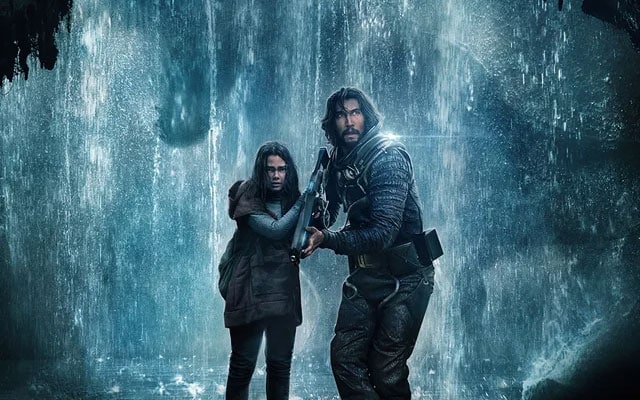 Cinematographer Salvatore Totino shoots the film meticulously with his lenses and at places, 65 bursts with imagination. There are minimal dialogues because it's more important for Mills and Koa to escape than to sit and chatter. They do, in spurts. At one moment, tired and exhausted of finding means to escape, Mills says 'I'm just tired,' and Koa repeats those words. The moment may be amusing since she has the tendency to repeat verbatim what he says; but what if she's tired too? What if she too wishes to escape from this unknown territory?
And that's precisely why Beck and Woods' writing works even when the film relies more on camerawork and visual effects. Adam Driver, for all his machismo, is a man of vulnerability. The character not only salutes but also subverts the idea of heroism. Here's a hero that has the balls to be thrown into the deepest end but also who can feel panic and fear. And that's precisely what Mills does.
65 may not be as refined or ravishing as the other survival thrillers or sci-fi adventures, but if you're tired of mush and masculinity, this may be a slightly different experience.
65 is now playing in cinemas
Rating: 3 (out of 5 stars)
Read all the Latest News, Trending News, Cricket News, Bollywood News,
India News and Entertainment News here. Follow us on Facebook, Twitter and Instagram.
also read
Entertainment
She also said, "I am thrilled to make my Cannes debut with Kennedy being screened here. It's only a dream few actors get to live, and I take a lot of pride in being a part of such a prestigious event."
Entertainment
Hollywood veteran Harrison Ford has revealed that the upcoming film "Indiana Jones and the Dial of Destiny" will mark his last gig as the titular bullwhip-wielding adventurer