2.0 VFX supervisor Srinivas Mohan says Rajinikanth, Akshay Kumar film makes Enthiran look like a teaser
2.0 VFX supervisor and producer Srinivas Mohan talks about the similarities of Shankar and SS Rajamouli, and why the VFX of 2.0 delayed the film twice.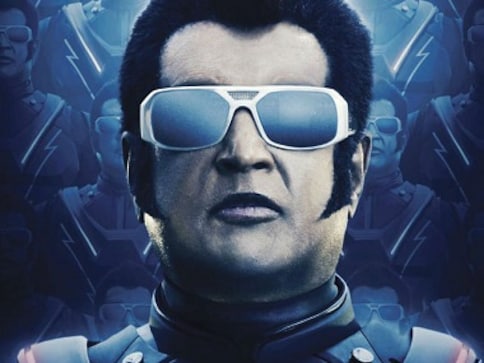 Srinivas Mohan, VFX supervisor and VFX producer of 2.0, has worked on every Shankar's film since Boys, which released back in 2003. In these 15 years, the duo collaborated for some of the biggest films in Tamil cinema, including Anniyan, Sivaji, Nanban, I and Enthiran, which at the time of its release was the biggest film in Indian cinema.
Their latest film, 2.0, is not just the most expensive film ever made in India but also is expected to set a new benchmark for 3D films made here. The sci-fi adventure, starring Rajinikanth, Akshay Kumar and Amy Jackson, is a spiritual successor to Enthiran. It will see Dr Vaseegaran and Chitti make a comeback to save the day from an unstoppable force, played by Akshay Kumar.
Admittedly, it was during the making of Vikram and Amy Jackson-starrer I that Shankar first dropped a hint about his plans to make 2.0. However, he did not have the full story in mind back then. Srinivas Mohan recalls, "Soon after I released, I went on to work on SS Rajamouli's Baahubali and in the due course of time, Rajamouli decided to make it into two parts. A month before Baahubali: The Beginning released, Shankar told me that the script for 2.0 was ready and that he would like to start the pre-production as soon as I get done with my work in Baahubali. The best part of working with Shankar is that he doesn't change anything once he locks the script. He goes into the details of shot division, how he wants the camera to move etc. It's so detailed that the script becomes almost like a bible for the whole team. And right from the beginning, he was very clear that he wanted to make it in 3D because he was very keen on providing an unforgettable experience to the audience. The day Shankar narrated the script and explained what he was looking for, I knew that 2.0 was going to be at least 10 times bigger than Enthiran (Robot in Hindi). It made Enthiran look like a teaser."
Ask him what the most challenging aspect of 2.0 was, when compared to Enthiran, Srinivas explains, "In terms of visual effects for Enthiran, we had a lot of limitations with respect to budget and resources. The climax sequence, in particular, had a lot of formations, where hundreds of robots club together to form a sphere, a snake, a giant man and things like that. If you have one character or an element in the frame, we can take care of the intricate details. But those formations have a lot of elements and simulating all that is really tough. It needs a lot of research & development, time, resources, and budget to make it look right. Now, 2.0 is all about what we couldn't achieve in Enthiran. In VFX, anything to do with particles, fluid simulation, fire and water is both expensive and time-consuming. A lot of R&D has been done for water and fire simulation, and there are quite a lot of algorithms too. But working with particles is a lot tougher. And unlike creating a single human or a character in VFX, you can't just design something and be assured that it'll look the way you want after the execution when it comes to particles. Both of them have to happen parallely, and the challenging part is, you won't know whether something is working or not until it is executed."
Quoting an example, Srinivas Mohan shares that creating the giant bird, that was featured prominently in the trailer, was one of the toughest aspects of the film. Apparently, the initial version of the bird did not look good enough from certain angles and the VFX team was under immense pressure to get it right since it features in one of the most exhilarating action sequences in the film. "We locked the giant Chitti, cell man, regular cell man… but the bird was always an issue. Finally, we approached Legacy Effects to design the bird. The 3D concept art was done using ZBrush software and the execution was completed in two weeks. The whole process, after we went to Legacy Effects, took less than a month. In the previous set-up, we kept working on it for almost a year and a half, but in the end, it just didn't feel right."
The fact that the film had to be shot in 3D added a lot more complexity to the equation. Initially, the film was supposed to release in November, 2017. However, it was postponed twice because of delay in completing the visual effects. Explaining why the film took a long time to complete, Srinivas says, "We had a lot of tasks at hand during the shoot. First, we had to track and store a lot more data, and since it was being shot in 3D, if you are doing roto for one eye, you have to do exact same for another eye too. Otherwise, the edges look distorted. In the West, the studios are well-versed with 3D. However, in India, not a lot of studios understand stereoscopic 3D. When we began working on 2.0, one of our crucial tasks was to creating set-ups and frameworks before executing something. We wanted to use Houdini (software) for the project, and there are very few studios which work on this FX software, and that too on a limited scale. Moreover, there are hardly 20 to 30 FX artists who can work on complex set-ups, and executing such a big VFX-heavy project requires a lot of infrastructure too, because we are handling millions of particles. Almost 80 percent of the VFX budget we had in mind initially, went into R&D and creating set-ups because a project like 2.0 has never been done before in Indian cinema. The studio that we were working with initially wanted more time and money to execute some of the most complex VFX shots. That's when we decided to approach a bigger studio which can handle both the scale and complexity of the project. This transition took a lot of time, which also led to the delay in film's release. But once you see the film, the experience is so good that none of this will matter."
The bigger studio that Srinivas approached was Double Negative, now known as DNEG, a London-based VFX company which won multiple Oscars for their work in films like Inception, Interstellar, Ex Machina and Blade Runner 2049. Back in 2014, the company merged with Prime Focus World and it now has a huge team in India working on multiple Indian and Hollywood films. "Rif Dagher, VFX supervisor at DNEG, and his team did a brilliant job once they took over the project. I'm happy that almost 80 percent of the VFX team that worked on 2.0 is from India," Srinivas says, adding that apart from DNEG, a few other VFX companies like London-based Unit Studio, El Ranchito (based in Madrid) and Post Modern from Ukraine too contributed to the film.
Another significant achievement by the 2.0 VFX team, Srinivas reveals, was to retain the character of its two lead actors - Rajinikanth and Akshay Kumar, no matter what avatar you see them in. "Even in Hollywood, except for a character like Hulk, most of the giant characters you see are independent entities. Be it Transformers or dinosaurs, they can be of any shape and don't have to resemble anyone. The team at Marvel Studios has done a great job with Hulk in their recent films. I'm really thrilled that we have made something really cool in 2.0. Whether it's a giant Chitti or a giant cell man, you'll still see Rajinikanth and Akshay Kumar respectively. We couldn't achieve this in Enthiran in the climax portion. However, in 2.0, we took advantage of the small elements to create more expressions. With cellphones as a main element, we could play around a lot and retain the character because, no matter how much VFX the film has, people would still want to see Rajinikanth and Akshay on screen."
Srinivas is all praise for both Shankar and Rajamouli, and says that both of them are wonderful creators who blend storytelling with VFX. "VFX plays a crucial role in 2.0, just like it did in Eega. There's a lot of talent in India, and when big projects like Baahubali and 2.0 are made in the country, it's good for the whole VFX industry. All we need is a spark, and also we need to big films to do well to keep the momentum going. I'm confident that 2.0 will set a new benchmark in a lot of aspects, especially for VFX and 3D films made in India. But more than that, it has a beautiful story that will resonate with everyone," Srinivas signs off.
All images from Twitter.
(Also Read: 2.0 movie review: Shankar's story is pedestrian; but VFX, Rajinikanth and Akshay Kumar carry the day)
also read
Entertainment
Commenting on the success of their movie, Denzil Dias, VP and Managing Director – India Theatrical at Warner Bros Discovery, said, "The Fast and Furious franchise has always stood the test of time. Audiences have always showered every installment with immense love, but Fast X is special."
Entertainment
The women in both Dahaad and Kathal operate in different genres, but seem to occupy the similarly flawed worlds. It adds nuance to the way we contemplate our socio-political problems
Entertainment
The official Twitter page of "RRR" shared a behind-the-scenes photo of the late actor filming a crucial action scene in the movie. "He was 56 years old when we were shooting this difficult scene but he did not hesitate while performing this stunt."