The Great Indian NPA Mess: Bad loans can snowball into banking crisis; Jaitley's solution has political overtones
NPAs on the other hand, have been growing. The problem was that banks did not have the capacity to assess infrastructure projects which were much bigger now.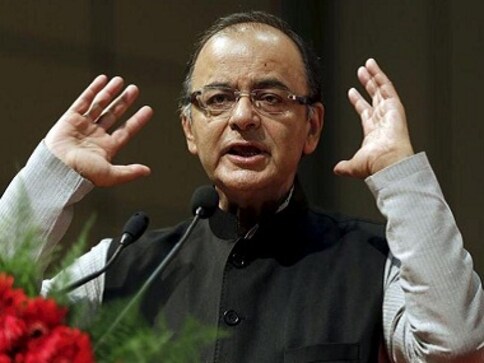 Editor's note: A political blame game is on after the recent revelations of former Reserve Bank of India (RBI) governor Raghuram Rajan to a Parliamentary panel about the origin of the bank NPA (non-performing assets) mess. About 90 percent of NPAs in India's banking sector is on the books of state-run banks. This is the second part in a series in Firstpost where experts analyse the issue.
Hindsight is 20:20, but you are wearing tinted lenses, especially politically tinted ones, and you will miss the trees for the forest. As Finance Minister Arun Jaitley announced the merger of three public sector banks (PSBs) on 17 September – Bank of Baroda, Vijaya Bank and Dena Bank – as a way of strengthening 'weak banks', he also laid the blame for the current non-performing asset (NPA) crisis at the door of the UPA government of former Prime Minister Manmohan Singh. Unfortunately, that characterisation is both inaccurate and oversimplification.
True: With non-performing assets (NPAs) at nearly 11 percent of total bank loans, we may be bordering on a banking crisis. Some experts think we are already in the middle of one. But this is not the first time that we have an NPA problem of such proportions. Between 1997 and 2002, NPAs reached 11 percent of the banking system's loans.
For PSBs as a group, gross NPAs were 11.7 percent of total bank loans, according to data compiled by the Reserve Bank of India (RBI). If you add State Bank of India and its associate banks (they were classified separately), gross NPAs came to 12 percent. The lower numbers for private and foreign banks brought the overall average down. While you are digesting those numbers, take a wild guess at who was in power in those years.
The difference in comparison with our present conundrum is Fin the scale: In 2002, total bank credit was roughly Rs 6,81,000 lakh crore (NPAs were about Rs 71,000 crore, up from Rs 47,300 crore at end 1997, according to the RBI's 2002 Trends and Progress in Banking report). Today's gross NPAs are roughly one and half times that, and still counting. Think about that. NPAs currently are one and a half times the total loans of the entire banking system in 2002! At end-September, they are likely to go up further, perhaps go through the roof as it were.
So how did we get here in the first place? To answer that, we have to go back just a little before the first NPA crisis of 1997-2002 for a little perspective. Despite the high level of NPAs, bank loans amounted to less than 50 percent of the total assets of the banking system (government securities and bonds made up the rest).
The difference – project loans and other long-term lending – was made up by development finance institutions (DFIs): ICICI, IDBI and IFCI. But reforms that frees interest rates also took away an important source of funding for them: Low-interest bonds that qualified to meet the Statutory Liquidity Ratio (SLR) that commercial banks had to maintain at the RBI.
Time and cost overruns on several of the projects DFIs lent turned bad; add the rising cost of funds without access to cheap public deposits, the rising NPA levels (a sampling: at end March 2001, IFCI's NPAs were 21 percent, IDBI's were 18 percent and ICICI's net NPAs – because of accelerated provisioning in 2001 - were about 5.2 percent).
Stir that pot with the Asian crisis of 1998 and the economic slowdown that resulted (GDP growth declined from 7 percent in 1994-97 to 5 percent in 1997-2002), the dotcom bust of the early 2000s, and we have the origins of the 1997-2002 crisis. In sum, that NPA crisis was due to structural changes to the economy accentuated by internal and external events.
Two things stand out though: One, the NPAs were concentrated in just three or four sectors, viz., steel, commodities, textiles, among them. Two, weaknesses in credit appraisal within banks, and flawed lending practices were a feature of the 1997-2002 crisis as well. As a response to the structural and environmental changes, the development finance institution (DFIs) became universal banks.
From 2003 to 2008 – the year the Global Financial Crisis (GFC) almost blew up the global financial system – the banking sector in India grew at a phenomenal rate, and continued after a brief stutter. The combination of a low-interest rate environment and low inflation reduced 10-year bond yields from 12.1 percent in 2000, to 6.9 percent in 2003. That meant a huge capital gain – remember that government-backed bonds made up almost a third of bank assets – and substantial expansion of bank balance sheets. Telecommunication, aviation, electric power and roads – physical infrastructure, in short – became a huge recipient of bank credit.
Look at a couple of numbers for comparison: In 1997, bank credit was 18 percent of the GDP and grew at 12 percent. In 2012, which could be considered the start of our current NPA crisis, bank credit was nearly 32 percent of GDP and was growing at over 24 percent. Thank the fiscal stimulus and policy responses to the global financial crisis (GFC) for that.
Some experts suggest that the combination of macroeconomic conditions and productivity gains bailed the banking sector out of the 1997-2002 NPA crisis. The V-shaped recovery in the early 2000s through infrastructure investments and expansion of bank balance sheets slowed down the addition of fresh NPAs. But good things don't last.
The 2008 GFC triggered some initial fears, but the industry shrugged them off believing that India was insulated from the crisis. Credit growth continued to grow unabated till 2011. Then things began to level off. Real GDP growth from 2012 to 2016 averaged at about 6 to 7 percent, but questions about the official estimates linger. Company level data suggested that economic activity has been declining since from 2011, and hasn't yet recovered. Exports and private sector investment have been declining since 2013.
NPAs on the other hand, have been growing. The problem was that banks did not have the capacity to assess infrastructure projects which were much bigger now.
They are politically contested – environmental clearances get delayed, land acquisition is enormously difficult, time and cost overruns are endemic political risks that banks didn't have – and still don't have – the ability to assess.
The RBI began some form of regulatory forbearance by introducing debt restructuring schemes from 2011-12. Sadly, bank managements used them to hide the real level of NPAs rather than recognise them (this is a common outcome of forbearance). In 2015, the RBI used the Asset Quality Review (AQR) to force banks to recognise NPAs accurately. In 2016, the Insolvency and Bankruptcy Code (IBC) became law.
In February this year, the RBI issued another circular that would force banks into faster action on NPA recognition. If companies couldn't comply with the requirements of the February 2018 circular (issued at midnight on 12 February), they would end up in the Insolvency and Bankruptcy Code (IBC). There have been several challenges in the courts to the IBC but they failed after the Supreme Court upheld its legitimacy.
So here we are on the brink of another NPA crisis that could potentially snowball into a banking crisis. Oddly enough, the biggest NPAs are in segments that were dominant in the previous episode of 1997-2002 -- steel, commodities, textiles, and now infrastructure, of which power constitutes a massive amount.
Jaitley's announcement on Tuesday presents another solution to the problem, but the political overtones and undercurrents behind that statement we can do without. Think of the banking system as a car: You cannot drive it with your hands on the rear-view mirror.
(The author is a former senior journalist and communications consultant)
Read Part 1 here: UPA's sins were of commission while NDA's are of omission
Business
Bharat Co-operative Bank has been fined Rs 50 lakh by the RBI for not complying with its directives. The Zoroastrian Co-operative Bank was fined Rs 1.25 crore as well
How To
There won't be any extra charges for UPI-enabled cardless cash withdrawals from ATMs.
Business
Bank loans to NBFCs have been constantly rising at a time when corporate bond yields have substantially increased due to expectations that the RBI will continue to raise the repo rate from its present level.